70th Annual Saskatchewan CWL Provincial Convention, June 3-4, 2018
at Holy Trinity Parish, Regina, Saskatchewan
Theme: Inspired by the Spirit Women Respond to God's Call
Sunday June 3, 2018, the 70th Annual convention of Saskatchewan Provincial Council of Catholic Women's League of Canada was opened with Presentation of Colors, placement of CWL banners, and the singing of "O Canada". The CWL flag was carried by National CWL 1st Vice President Fran Lucas. The Canadian flag was carried by Honorary Life Member Heather Kolla, the convention parliamentarian. The Saskatchewan provincial flag was carried by Provincial CWL President Margaret Schwab.
Connie Crichton, Provincial Spiritual Development Chairperson led us in the Prayer of Thanksgiving, acknowledging all those who came before us in the past 70 years. They proudly served God and Canada.
Provincial President Margaret Schwab welcomed everyone to the 70th Annual Provincial Convention. She acknowledged that we were on Treaty 4 Territory and the traditional homeland of the Metis people. She explained the significance of this.
Greetings were brought by Holy Trinity President, Debbie Bulych, Diocesan Spiritual Advisor Fr. Ed Hengen, Regina Diocesan President, Marilyn Schuck, Hosting Spiritual Advisor Rev. Fr. Ronald Andree and city of Regina Councillor Sharron Bryce.
Presenter from National CWL 1st Vice-President, Fran Lucas spoke on the topic of The Servant Leader in You. Introduction to Fran was given by Chantal Devine. Fran taught us the strategic planning process in the CWL will mean that we will need leadership from the grassroots up to make the process a success. Everyone has a bit of leadership in them and from there we can grow.
The Servant Leader shares power, puts people first, develops people, and delegates. Servant Leader characteristics are: respect, enthusiasm, good listening, problem solving, collaboration, organization, self-awareness, persuasiveness, resourcefulness and supportiveness. Appreciation was given by Connie Crichton.
Presenter from Euthanasia Prevention Coalition, Alex Schadenberg, spoke about his organization. Introduction to Alex was given by Marian Zsomber. He spoke about the film Fatal Flaws as well as challenges Prevention of Euthanasia faces both in Canada and around the world. Appreciation was given by Marion Laroque.
Business session started with President Margaret introducing parliamentarian Heather Kolla. The Call of Convention was read by recording secretary Marion Laroque. Credential report states total accredited delegates is 65.
Reports were presented by President Margaret, Spiritual Advisor Fr. Gerard Cooper followed by Prince Albert's Shirley Lamoureaux, Regina's Marilyn Schuck and Saskatoon's Ingrid Eggerman as Diocesan Presidents.
The reports are downloadable Adobe Acrobat (PDF) file. Click on the title below to download.
The opening mass procession included provincial executive, Honorary Life members, Life members, diocesan presidents and Spiritual Advisors. The celebrant and homilist Fr. David Reilander co-celebrated with the nine priest in attendance.
Evening reception and banquet were held in Holy Trinity Hall. Banquet was chaired by Marilyn Schuck.
Entertainment was presented by some members of Saskatoon Diocesan and Provincial executives, CWL members and Honorary Life members. The play was called "Resolved: The CWL Must Live on". The script was adapted from the play written by Rosemarie Danica from Ontario.

Actors: Marlene Kuch, Tillie Aessie, Heather Kolla

Actors: Margaret Schwab, Mary Nordick, Clare Heron, Connie Crichton, and Fr. Peter Nnanga
Monday June 4 Morning liturgy was led by Connie Crichton. It was a very meaningful service titled Together in Spirit focusing on the tragedy of missing and murdered indigenous women.
Cathy Pitts of the hosting parish, Holy Trinity, explained the room decorations, which were inspired by our convention theme. Twenty six small flags with tracings of a hand and a heart, individually decorated were displayed about the head table with a gently curvature to represent a smile. We are individuals and all that we do comes from the heart, and is done with a smile.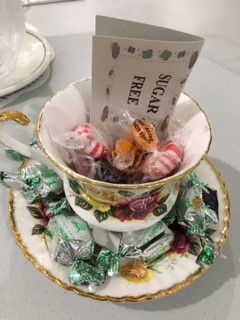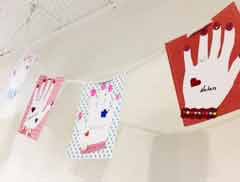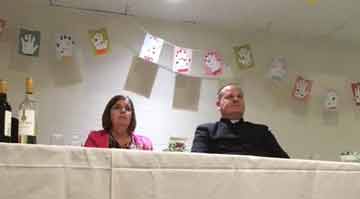 Credential report showed 62 accredited and voting delegates for June 4.
All provincial executive presented their oral reports.
Presenter Fr. David Reilander, President of Catholic Missions, was introduced by Susan Melchiorre. He presented us the activities of the Catholic Missions in Canada. The funding sources have changed and now all fundraising must come from within Canada so the need is greater. In 2018 Saskatchewan will receive $533,485 to support the Catholic faith in our province. Missions found throughout the entire province of Saskatchewan from north to south. Relationship between Catholic Missions and the CWL is important to their organization. Appreciation was given by Adele Giblin.
2018 Social Justice Award was announced by Mary Nordick goes to Ashlyn Fro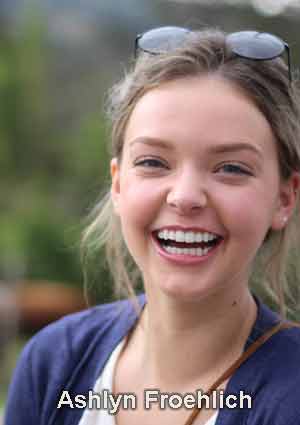 ehlich.
Ashlyn was not present, but writes:
"Being a part of the Intercordia Program and having the opportunity to live with an indigenous host family in Ecuador has taught me to be more understanding and accepting, not only of others who are different from myself, but of my own human flaws and struggles. This cross-cultural learning experience has helped me develop a greater respect for diverse cultures and it has helped me understand the importance of moral responsiveness. As a result of 'being with' people, rather than 'doing for' them, I have been able to stand in solidarity with people of different backgrounds from mine for the sake of the common good."
Catholic Women's Leadership Foundation report was presented by Clare Heron, Honorary Life Member. She expressed gratitude to the Bishops of Canada for their generous support. The first group of women have received their acceptance were from across Canada but none from Saskatchewan.
A Poetic Invitation to 2019 Provincial Convention was said by a group of Saskatoon Diocese CWL members We head to Humboldt June 2019.
Invitation to Sask Provincial Convention Humboldt 2019
Way Hey
Humboldt's here
Strong at Heart and strong in faith
Different cultures
Humboldt's Great!
We provide the art and song
Like the Broncos we are strong
Thank you for your prayers and love
Compassion is a gift from God
Way Hey
We welcome you
Make the next convention date
We'll try hard to make it great!
Remember now the dates to come
June second and the third next year
St. Augustine is our Church
If you're lost, use your phone for a search
Way hey
Humboldt's here
Give us all a great big cheer!
Total registration was 200 for this convention. Convention closed with Retirement of Colors.
Closing mass was celebrated by Fr. Gerard Cooper and fellow priests.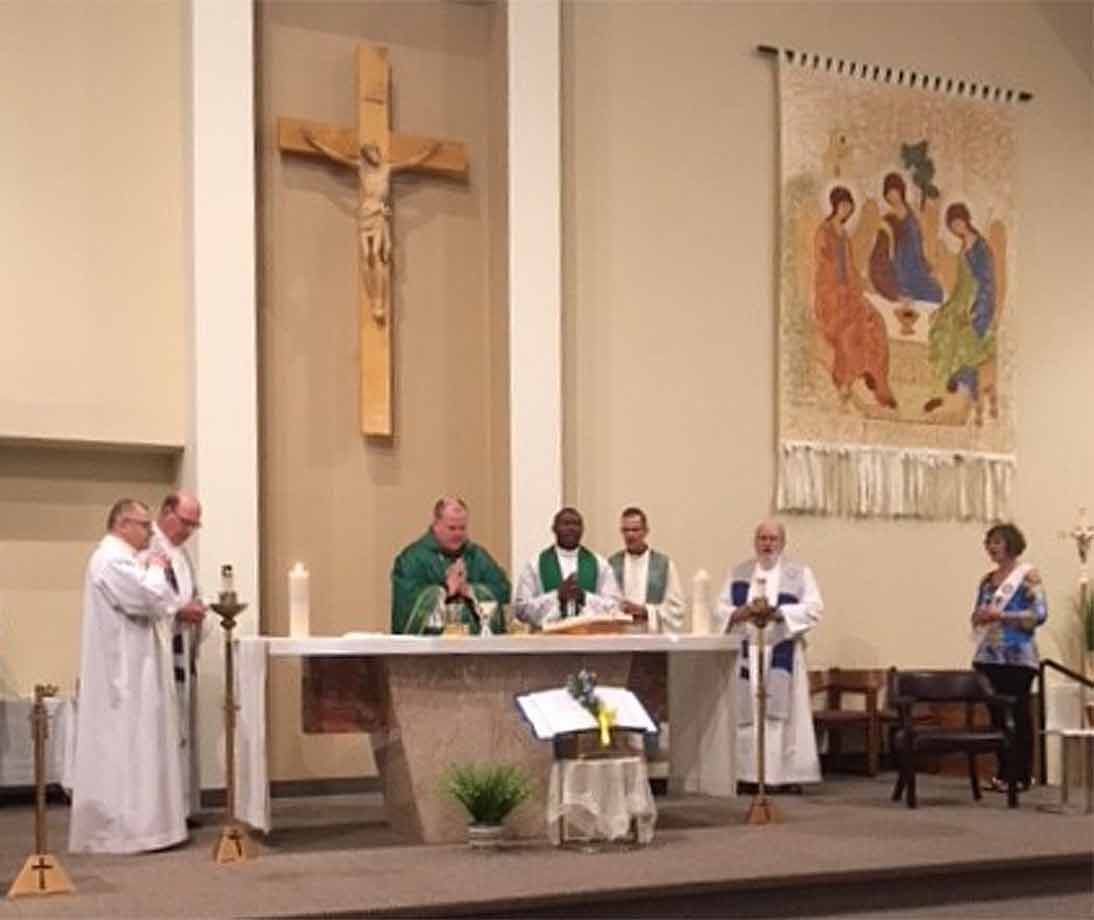 At conclusion of Mass, Marge Szabo led the reaffirmation of the provincial executive and installation of Fr. Peter Nnanga as the provincial Spiritual Advisor.
The 2018 Provincial Executive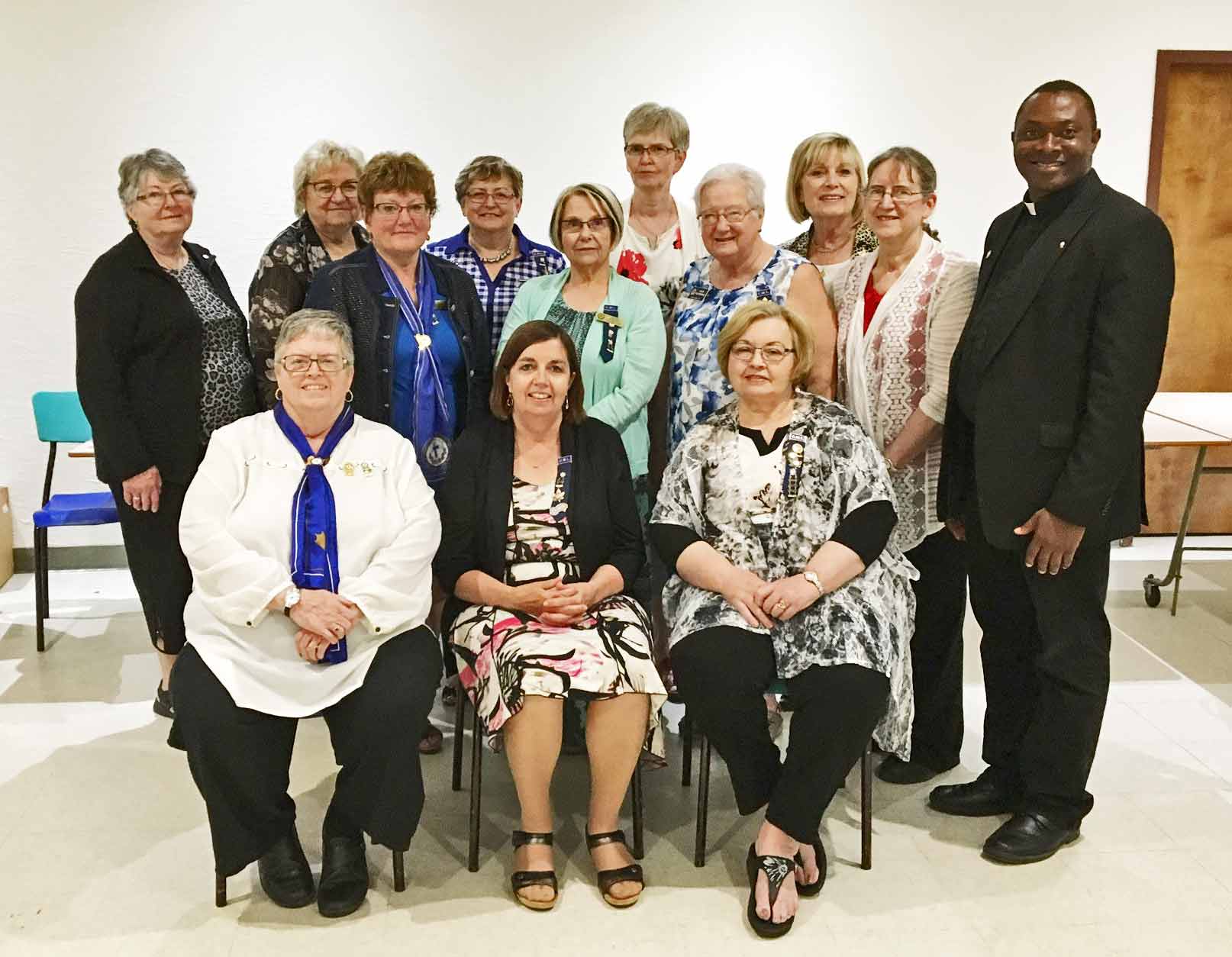 Left to right, Back row: Marian Zsombor, Marge Appell, Adele Giblin, Marion Laroque, Chantal Devine
Middle row: Connie Crichton, Helene Marceau, Susan Melchiorre, Lorraine Thibeault, Fr. Peter Nnanga
Front row: Jean Reader, Margaret Schwab, Marge Szabo
Past President: Jean Reader,
President: Margaret Schwab,
President–Elect: Chantal Devine,
1st Vice President: Connie Crichton,
2nd Vice-President: Susan Melchiorre,
Recording and Corresponding Secretary: Marion Laroque,
Treasurer: Helene Marceau,
Christian Family Life: Marge Appell,
Community Life: Lorraine Thibeault,
Education and Health: Marian Zsomber,
Communications: Adele Giblin,
Life Member Liaison: Marge Szabo,
Prince Albert Diocesan President: Shirley Lamoureux,
Regina Diocesan President: Marilyn Schuck and
Saskatoon Diocesan President: Ingrid Eggerman.