CURRENT ORGANIZATION COMMUNIQUÉS
GO TO: Organization Communiqué #1 - June 2015
Organization Communiqué #2 - June 2016
Catch the Fire! Download the PowerPoint Presentation, the soundtrack or a PDF!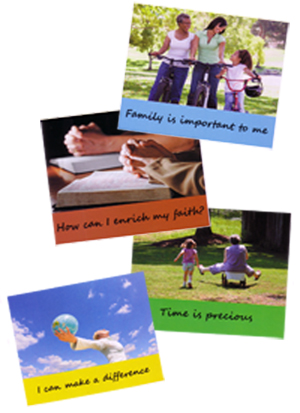 Family is Important to Me

Do you want to join an organization that recognizes and celebrates healthy family life?

Your primary role as parent, provider and caregiver is respected and honoured by the CWL; attend meetings and events as your time permits.

Helping other people in your community allows you to live your Christian values and be a positive role model for your family.

You can take part in activites and fundraising efforts that promote family life and lovingly support life in its entirety, from fertilization to natural death.

You can apply for educational bursaries.

Your membership adds power to the CWL's voice as the League lobbies government on social justice issues on behalf of a national sisterhood of Catholic women.


How Can I Enrich my Faith?

Would you like to join women from all across Canada in an organization that can foster and celebrate your Catholic faith?

The CWL is rooted in gospel values and calls you and all members to holiness through service to all people of God.

You are invited to join League sisters as you pray for one another and walk the gospel road together.

Special CWL occasions are often celebrated at the Eucharist.

The CWL mottos is "For God and Canada". Mary is honoured as Our Lady of Good Counsel.

You are encouraged to deepen your spiritual understanding and study Catholic teachings -- an important CWL initiative.

As a CWL member, you joyfully affirm that God's presence blesses every aspect of ordinary life including meetings, volunteer projects and celebrations.


Time is Precious

Are you searching for something worthwhile that makes the best use of your time and talents? Consider the CWL?

Your commitment could be as easy as maintaining an inexpensive yearly membership, even when you are unable to attend meetings or other events. As time permits, you may enjoy helping with one project.

You will notice that prayer and a spirit of joy are important parts of CWL projects as members journey together in faith. Fresh ideas are always welcome; share them with the new friends that await you.

The benefits of the CWL are eternal! Life is a series of new beginnings; make the CWL a priority in your life!


I Can Make a Difference

Are you called to advocate for human rights and social justice? Add your voice/support to a national sisterhood of Catholic women who promote awareness and respond to political and social issues that affect all Canadians.

You can offer welcome and comfort to the vulnerable, the needy and the marginalized.

You can take an active role in the creation of resolutions that are presented to government annually on issues that impact families and communities at home and abroad.

You can improve your organizational and leadership skills through CWL training and service possibilities.

Through the CWL you become part of/join the World Union of Catholic Women's Organizations representing Catholic women and the church around the globe. CWL outreach supports many initiatives in developing countries.

Through your efforts, prayerful service and sharing your gifts, you can be blessed with grace-filled moments. As the prayer of St. Francis says, "for it is in giving that we receive."

Come, join us!
Margaret Schwab, Provincial Organization Chairperson
June 2016
We have reached summer! It is a time to relax and enjoy a less hectic pace, hopefully. This is also a good time to go through your files and clean out what is no longer necessary for your committee and add some updated information. Often we pass boxes on to the next committee chair without giving them a thorough cleaning and papers pile up through the years until it becomes an unmanageable monster which no one wants to deal with. Keep what you need – current minutes, annual reports, updated information from the National office. As Organization chair, it is part of your job to keep the National Policy and Procedure and the Constitution and Bylaws current. The National P&P can be found on the CWL website and you can easily print off and replace any outdated material. It is very important that each council has a copy available at meetings to refer to when questions arise. The newest Constitution and Bylaws was published in 2013 – check to make sure that is what you are using.
To prepare for the fall, you might want to go through the latest annual reports to see what ideas have been submitted for obtaining and maintaining memberships. There is always at least one thing worth trying to give your membership drive a lift. This might also be a good time to think about presenting a S'Mores program in your parish/diocese to kick off the new season. The National Development fund is available for councils at all levels to help when planning educational events. All the forms are available on the cwl.ca website or contact me and I can send them to you. There are definite criteria for applying for this funding – one is that both the diocesan and provincial presidents have to approve your application, so it is important that planning is done well in advance of the event in order to take full advantage of this funding.
Some executives have changed this spring, so, new people are moving into new positions. This is the time to spend doing some mentoring. We welcome new leadership at all levels, but often, we do not spend any time helping the new leaders to fulfil their full potential. We cannot expect people to step into any job knowing exactly what to do. Those who have already completed their term on the committee are the best equipped to teach. Mentoring is a big step in ensuring that the League has strong leadership committed to its future.
As with all things, changes will be coming for our process in submitting annual reports. National has been testing an on-line annual report in some of the provinces and we will hearing more about that this fall as we all move into the updated method.
May we continue to build the League together through new memberships, strong leaders and a community of commitment to God and Canada.
Margaret Schwab, Provincial Organization Chairperson
June 2015
As this is my first communiqué, let me tell you a bit about myself. I have been a member of the Catholic Women's League of Canada for 40 years. It has been my pleasure to serve on the Saskatchewan Provincial executive for the past 4 years – as Resolutions chairperson, then Spiritual Development chairperson and now on to Organization. I have always loved working with other members of the League. It is a wonderful organization of strong, faith filled women.
To all of you who are new to the position of Organization Chair, welcome and I look forward to getting to know all of the chairpersons in this position.
By now, most memberships should have been sent to National. But recruiting of new members goes on all year as does keeping those members. When we speak of the League in a positive fashion, we are planting the seed of new membership at all times. Father Francis Hengen, past Provincial Spiritual Advisor, gave a wonderful message at our provincial convention earlier this month. He challenged all of us to really know why we are members and to be able to pass that joy on to others as we speak to them about becoming members. We cannot encourage others if we do not know ourselves. We must always take the time to recognize the service to the League by our members. Service pins are a great way to do this – National now has more pins available having added pins starting 20 years to 75 years in five year increments.
We need to make sure that all members understand the League. We are a National organization, with parish, diocesan and provincial councils. Each level has its own purpose and is a necessity to the existence of the League. We all have a good idea about what our parish council does, but we need to teach our members about our diocesan council – they are members from all over the diocese who provide us with information, direction relating to specific situations throughout the diocese, and representation at church and public events where leadership is required. It is the Diocesan council that receives the parish annual reports, amalgamates the information from all parishes in the diocese and sends them on to the provincial level. The provincial council represents us at the National level. They provide information directly handed down from National meetings, meet with Provincial government when there are pertinent discussions to be held, and are the connection between the National council and the grassroots parish councils through the annual reports. One other task of organizations chairpersons is to help educate members – future leaders must be equipped with knowledge.
Hopefully, councils have had an opportunity to do at least one S'mores program. There is great information in all of these programs and each gives members a great opportunity to share their own experiences.
There are many resources available to help with this position – The National Policy and Procedure is a great place to start. Check out the National website for other information including the S'mores program. Check to make sure that your council has current League resource material. New updated brochures as well as new handbills and notecards to promote the new theme are available through National.
May we move forward with excitement and joy through being members of the League encountering Jesus with One heart, One voice, One mission. Let us celebrate our theme together.
I wish you all a happy, relaxing summer. Please feel free to contact me if I can be of assistance.
Your sister in the League,
Margaret Schwab
1-306-374-4214
Email: maschwab@shaw.ca