PAST ORGANIZATION COMMUNIQUÉS
Organization Communiqué - November 2010
Organization Communiqué #1 - June 2011
Organization Communiqué #2 - November 2011
Organization Communiqué #3 - March 2012
Organization Communiqué #4 - June 2012
Organization Communiqué #5 - November 2012
Organization Communiqué #1 - June 2013
Organization Communiqué - June 2014
Organization Communiqué - September 2014
Organization Communiqué - November 2014
Organization Communiqué #1 - June 2015
Catch the Fire! Download the PowerPoint Presentation, the soundtrack or a PDF!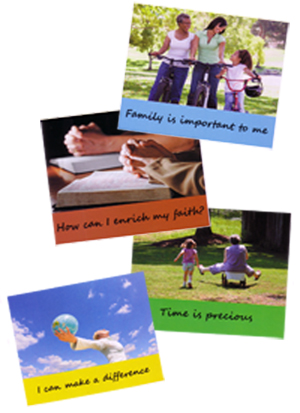 Family is Important to Me

Do you want to join an organization that recognizes and celebrates healthy family life?

Your primary role as parent, provider and caregiver is respected and honoured by the CWL; attend meetings and events as your time permits.

Helping other people in your community allows you to live your Christian values and be a positive role model for your family.

You can take part in activites and fundraising efforts that promote family life and lovingly support life in its entirety, from fertilization to natural death.

You can apply for educational bursaries.

Your membership adds power to the CWL's voice as the League lobbies government on social justice issues on behalf of a national sisterhood of Catholic women.


How Can I Enrich my Faith?

Would you like to join women from all across Canada in an organization that can foster and celebrate your Catholic faith?

The CWL is rooted in gospel values and calls you and all members to holiness through service to all people of God.

You are invited to join League sisters as you pray for one another and walk the gospel road together.

Special CWL occasions are often celebrated at the Eucharist.

The CWL mottos is "For God and Canada". Mary is honoured as Our Lady of Good Counsel.

You are encouraged to deepen your spiritual understanding and study Catholic teachings -- an important CWL initiative.

As a CWL member, you joyfully affirm that God's presence blesses every aspect of ordinary life including meetings, volunteer projects and celebrations.


Time is Precious

Are you searching for something worthwhile that makes the best use of your time and talents? Consider the CWL?

Your commitment could be as easy as maintaining an inexpensive yearly membership, even when you are unable to attend meetings or other events. As time permits, you may enjoy helping with one project.

You will notice that prayer and a spirit of joy are important parts of CWL projects as members journey together in faith. Fresh ideas are always welcome; share them with the new friends that await you.

The benefits of the CWL are eternal! Life is a series of new beginnings; make the CWL a priority in your life!


I Can Make a Difference

Are you called to advocate for human rights and social justice? Add your voice/support to a national sisterhood of Catholic women who promote awareness and respond to political and social issues that affect all Canadians.

You can offer welcome and comfort to the vulnerable, the needy and the marginalized.

You can take an active role in the creation of resolutions that are presented to government annually on issues that impact families and communities at home and abroad.

You can improve your organizational and leadership skills through CWL training and service possibilities.

Through the CWL you become part of/join the World Union of Catholic Women's Organizations representing Catholic women and the church around the globe. CWL outreach supports many initiatives in developing countries.

Through your efforts, prayerful service and sharing your gifts, you can be blessed with grace-filled moments. As the prayer of St. Francis says, "for it is in giving that we receive."

Come, join us!
Margaret Schwab, Provincial Organization Chairperson
June 2015
As this is my first communiqué, let me tell you a bit about myself. I have been a member of the Catholic Women's League of Canada for 40 years. It has been my pleasure to serve on the Saskatchewan Provincial executive for the past 4 years – as Resolutions chairperson, then Spiritual Development chairperson and now on to Organization. I have always loved working with other members of the League. It is a wonderful organization of strong, faith filled women.
To all of you who are new to the position of Organization Chair, welcome and I look forward to getting to know all of the chairpersons in this position.
By now, most memberships should have been sent to National. But recruiting of new members goes on all year as does keeping those members. When we speak of the League in a positive fashion, we are planting the seed of new membership at all times. Father Francis Hengen, past Provincial Spiritual Advisor, gave a wonderful message at our provincial convention earlier this month. He challenged all of us to really know why we are members and to be able to pass that joy on to others as we speak to them about becoming members. We cannot encourage others if we do not know ourselves. We must always take the time to recognize the service to the League by our members. Service pins are a great way to do this – National now has more pins available having added pins starting 20 years to 75 years in five year increments.
We need to make sure that all members understand the League. We are a National organization, with parish, diocesan and provincial councils. Each level has its own purpose and is a necessity to the existence of the League. We all have a good idea about what our parish council does, but we need to teach our members about our diocesan council – they are members from all over the diocese who provide us with information, direction relating to specific situations throughout the diocese, and representation at church and public events where leadership is required. It is the Diocesan council that receives the parish annual reports, amalgamates the information from all parishes in the diocese and sends them on to the provincial level. The provincial council represents us at the National level. They provide information directly handed down from National meetings, meet with Provincial government when there are pertinent discussions to be held, and are the connection between the National council and the grassroots parish councils through the annual reports. One other task of organizations chairpersons is to help educate members – future leaders must be equipped with knowledge.
Hopefully, councils have had an opportunity to do at least one S'mores program. There is great information in all of these programs and each gives members a great opportunity to share their own experiences.
There are many resources available to help with this position – The National Policy and Procedure is a great place to start. Check out the National website for other information including the S'mores program. Check to make sure that your council has current League resource material. New updated brochures as well as new handbills and notecards to promote the new theme are available through National.
May we move forward with excitement and joy through being members of the League encountering Jesus with One heart, One voice, One mission. Let us celebrate our theme together.
I wish you all a happy, relaxing summer. Please feel free to contact me if I can be of assistance.
Your sister in the League,
Margaret Schwab
1-306-374-4214
Email: maschwab@shaw.ca
Jean Reader, Provincial Organization Chairperson
Hello everyone!
Here we are getting ready for one of the biggest celebrations in our Church year and in our Communities, CHRISTMAS. It is the time when we become busy preparing our homes, buying gifts for family and friends, starting to do special baking and addressing our Christmas cards. Again we become "Marthas" instead of "Marys". Before it gets too hectic take a deep breath, relax and contemplate what the birth of Christ really means to you!
Christmas is the beginning of our new year in the church, Christ's birth means we look forward to what is in our future. In our CWL family January 2015 means that we have a new theme "ONE heart, ONE voice, ONE mission" as chosen by our new National President Barb Dowding. Let us strive to make this year even more successful, more faith filled, having more enthusiasm in our day to day lives. Are we make our meetings a place where women like to come, are we welcoming? Do we set the example that makes women want to join the CWL?Membership is the heart of our organization, we all know that, but what are we doing about it? We cannot just cruise along assuming that everyone wants to join us, no we must make special efforts to reach out to those who do not belong. I know that every council has a different approach; the population of this province is so spread out it is sometimes difficult to reach out to our sister parishes to find out what works for them or how we can help them. We must never give up hope. Why not have a "get together" with another council, talk about how they are dealing with recruiting new members and getting lapsed members back in the fold, and enjoy each other's company!
So, have we still got the same enthusiasm when our hearts decided to "Catch the Fire"? Did you decided to move on by joining the "S'Mores" campaign? What is "S'Mores"? Well check it out on the CWL website. Diocesan councils should have this information on hand so they can go out to the various councils and spread the word. The "S'Mores" can be broken down into various workshops, I have been to one that was on "resolutions" and I am beginning to find them less intimidating, which is a big step for me. The second "S'Mores" I attended was on discernment; are we really doing what God wants us to do? Are we using all our talents that we were given or just the ones that we are comfortable with? Do we encourage others to let their talents show, or do we just sit there and think "ya she's got the talent, she can do it". Let us be the loving, caring, women who follow Mary's example … let us encourage each other as we work to have one heart, one voice, one mission.
Sometimes we like to sit in "the comfortable pew" and let things either come to us or let them just happen! Let's make this an exciting year, get out those new brooms, and sweep apathy out the door; open the windows and let the rays of Faith fill your hearts; pour yourself a cup of enthusiasm and plan for a wonderful new year! Remember ONE heart, ONE voice and ONE MISSION … that's us … the members of the Catholic Women's League.
Jean Reader, Provincial Organization Chairperson
Warm fall greetings to one and all,
The birds are gathering to go south; farmers are rushing to finish harvesting; gardeners are gathering their produce and preparing for winter. We are back into our routines now CWL parish councils are up and running! Time to think about our CWL family.
Membership:
As of December 31, 2013 there were 88,610 members in 1,252 councils. With membership fee due January 1st it is time to encourage your counterparts to start their membership drives. What ideas do you have to encourage renewal of memberships? Do you know of any new ideas to encourage new women to join? One parish offers new brides a free membership for one year, there is no limit to the ideas that we can share!
Consider online membership remittance, the form is on the website. Contact Amanda McCormick membership@cwl.ca for help.
There were 7,698 who did not renew in 2013 … why! We must work at finding out why these women did not renew as we need them.
Leadership development:
Have you attended a CATCH THE FIRE workshop and if so are you spreading the word about how great these workshops are! Attend a couple of them if you can, you learn something new every time and you get to meet new people. Please encourage everyone to attend one of these and you too will CATCH THE FIRE.
League resources:
Many resources are available from National, go on line or use the material printed in the League magazine. There are handbooks for every convenor chair so make sure they have them. The more of yourself you put into your meeting agenda the better they become.
Annual reports:
This is where we must put our best foot forward, by example. It is so important the parish councils get their reports to you in a timely fashion with relevant information. In turn you must send your reports in by the deadlines laid out. Remember a chain is only as strong as its weakest link. So the chain looks like this … Council Reports to Diocesan Chairs … on to the Provincial Chairs … on to the National Chairs. We need to know what is going on in our councils in our province it is so important … do not use poetry or quotations what we need are the facts.
Life members:
These women are the most valuable resource that we have. The Honourary Life Members have been a National President at one time while the Life Members have been a Provincial President. Make sure you take time to talk to them; I found that they were always ready to lend a hand and share their experiences with you.
What a wonderful faith sharing group of women the CWL is! These last two years with our theme being WE HAVE SEEN THE LORD it has given us an opportunity to share our experiences with one another about how each one of us has seen the Lord. It has been an uplifting experience for everyone I am sure. We are so blessed to belong to a group of women, who share their faith with one another, who love, listen, learn and laugh together.
If I can be of assistance at any time please get in touch … if I do not know the answer I know someone who does!
Jean Reader, Provincial Organization Chairperson
"Calling our members to holiness through service to the people of God" ... that is our Mission Statement. Our job is to strive to meet the challenges we have by keeping a healthy balance with the many commitments we have made. All members of the CWL are encouraged to tell people about our organization and to welcome new members, as leaders in Organization we have the job of leading the charge to make this happen. I encourage one and all to talk to your friends and neighbours about joining the CWL, sometimes it only takes a friendly chat to get them to "Catch the Fire".
We have five main headings under Organization Chairperson.
Recruit new members.
Leadership development.
League resource material.
Annual reports.
Life membership.
Check the materials that you have on hand for your Chairmanship, be familiar with it, talk to people that have had this position before and pick their brains for ideas. You never know where a good idea will come from. Don't forget your new CONSTITUTION & BYLAWS book that came out in 2013, there is lots of interesting material there.
When it comes to recruiting new members don't forget your Diocesan counter-parts, talk to them and see what ideas they have that worked for them, and don't be afraid to give me a call. Be open to new ideas and ready to share yours.
It is also our job to develop leadership. Remember the people that told you that "you can do the job?" well it is now your turn to look for the talent in others and encourage them. We all need encouragement from the top to the bottom of our League, through love, prayers and a hug you can be "the one" to lead.
The web is a bottomless well of information; let your fingers do the walking.
Annual reports are so important, try to instill that at the ground roots level. If we don't know how/what our parishes are doing we cannot see where we are or where we are going ... it is vital.
Let your light shine for the entire world to see! We have seen the Lord, let us go forth and spread the good word.
Your sister in the League
Jean Reader.
Jean Reader, Provincial Organization Chairperson
The strength of the League is in its membership and the gifts each member brings … her special interests and abilities. Our League sisters have a wealth of "God given gifts" and it is our job to encourage each and every one to develop these talents and use them to the best of her abilities. Leadership development is so important, it is what makes our League grow.
As Organization chairs our role is to recruit members and maintain membership. As we have seen our numbers are decreasing because we are not able to replace those members that are deceased or unable to be fully functioning members any more. How can we do this? What ideas do you have to attract women to this wonderful organization called "The Catholic Women's League of Canada"?
Did you "Catch the Fire" this year? It is an excellent program and I recommend that not only do you attend it (I have attended several times) but encourage everyone at every level to attend one of the workshops in your area. It is very inspiring, full of information to share with other League members … check it out, you'll be glad you did.
I will be depending on those around me not only for their prayers and support in the upcoming months but also for guidance from those who have gone before me setting out the ground work of "Organization" in the years past. There is a lot to learn and I see this as being a steep learning curve … but … I am sure that with God's help I will be able to do my best for all concerned. Let us work together to make other CWL members as enthusiast about the League as we are.
Working together we become stronger, working with guidance from the Holy Spirit makes us confident. I look forward to working with you all and in this day and age we are only a click away on our computers so let's keep in touch.
Marge Szabo, Provincial Organization Chairperson
Greetings to all,
The harvest was bountiful in most of the province, and the leaves have fallen, followed by a blanket of snow. It again feels clean and bright around us: a time to sip hot chocolate by the fire. Did I say "fire"? This thought brings me to a CWL program, "Catch the Fire" that is designed to rekindle our enthusiasm and to develop leadership skills for our members. This program unfolded at the National Convention held in Edmonton at a workshop for about 150 members to train as facilitators in their dioceses. The various modules are labelled in fire word themes like spark, kindling, heat, energy etc. and are designed for a daylong workshop. It includes a variety of activities including a DVD movie, songs, with group work and sharing.
In order to love the League, we must know the League. The Development Fund, for the next two years, has been especially designated to be used for Catch the Fire workshops. Apply on line for the workshop and then watch the web page to see how the flame is moving throughout our nation. Regina Diocese held their first workshop in Vibank, so we are now on the map.
It was election year for the National Executive held in Edmonton. Our new National Organization Chair is Barb Dowding from Vancouver, B.C. also the President Elect. Her years of expertise in the League promises a year of fulfilment and guidance for our future endeavours in the League.
It is once again renewal time for memberships. Are you ready? It takes time and planning to do a good job.
Are you asking new members to join?
Have you made a poster or bulletin insert to bring attention to your membership drive?
Have you asked your spiritual advisor to say a few words or either a member to speak from the pulpit?
Have you made a phone call to a prospective person in the parish?
Don't forget to approach your own daughters and relatives, even offer to pay their first membership.
Remember to send in the membership dues as soon as possible. Do not wait till all are gathered.
It is up to us to pass the flame nurtured within us, to others: if we don't, who will?
Wishing you a good membership renewal time, also, a Blessed Advent Season ahead of us.
Marge Szabo, Provincial Organization Chairperson
Greetings,
I hope you are enjoying your summer. Take time to smell the roses and watch the birds in the air. We try to cram so many activities into our days of summer.
For most of us, this is our second year as Organization chair, but I would like to welcome Fran Stang as Saskatoon Diocesan organization chair, who is beginning her first year. While we would like to say that we "know the ropes" by now, I challenge you to make the coming year be a creative one in your plans for the future of your council. We depend on you to make it happen!
The Organization Chair is responsible for the following headings:
Recruitment and Maintenance of Membership
Our Saskatchewan membership has again deceased, thus bringing up recruitment as a priority for all councils. Personal contacts have always been the best to get new members. Make them welcome, value and encourage them to develop their talents. Reward your members with CWL pins and certificates for service. Remember, dues are paid yearly and if dues are lapsed, their service years continue after renewing their membership. You do not lose years of service.

The following are certificates that are available from

National Office:

Certificate of Merit
Anniversary Certificate
Scholarship Certificate
Maple Leaf Service Pin (form required)
Bellelle Guerin Pin (form required)





Regina Diocese offers these certificates upon request:

Council Anniversary Certificate
Charter Member Certificate
Long Standing Service Certificate (50+ years & increments of 5 years)





Saskatoon Diocese offers these certificates upon request:

Certificate of Merit
Anniversary Certificate (both from National office)





Prince Albert Diocese offers these certificates upon request:

Certificate of Merit
Anniversary Certificate (both from National office)

Leadership Development
This year, we are all excited for a new program to be launched after the National Convention In Edmonton this August. "Catch the Fire" will be held on Thursday, August 17. It is a leadership-training program for our future leaders of our League. In attendance will be our National Executive, provincial presidents and president- elects, and 2 members from each diocese, some 150-170 in total. These trained members will be commissioned to hold training sessions throughout their dioceses, therefore, throughout the country. It will be an awesome undertaking. We pray for fruitful results. More information about this program will be given after this date and will be sent to you in the next communiqué. National has set aside funds to provide workshop opportunities for members.
League Resources
Many resources are available to order from National. Check them out to see what your council might need. More members now have access to the computer, so use the material printed in the League Magazine and the monthly "Be League" publication. There is a handbook for all areas of the League. Try to have each convenor chair take turns to supply information about their designated headings in their convenorship. Your meeting agenda is only as good as the effort you put into it.
Annual Reports
Each council completes annual reports and sends them to their diocesan chair. After, each diocesan chair summarizes the reports and sends a copy to the provincial counterpart. Since Saskatchewan has only 3 dioceses, only 3 reports are summarized and a copy sent to their National counterpart.

Council reports >>> Diocesan Chairs >>> Provincial Chairs >>> National Chairs

These reports are very informative and a great over-view of what is happening across Canada. It is, also, one way of getting a new idea for your council.
Life Members
Our Honourary Life Members (once National Presidents) will soon welcome Velma Harasen, present National President to this list as she finishes her term this coming August. At present there are 4 Honourary Life members from Saskatchewan. Our Life members in Saskatchewan have all been Provincial Presidents to earn this title. These members are our mentors and guides to help when needed. There are 16 Life members.
You, as organization Chair, are asked to continue to be positive and enthusiastic about the League. "Let your light shine for all the world to see…"
May Our Lady of Good Counsel guide us and protect us in the summer months ahead. See you at our National Convention in Edmonton.
Please use this communiqué to help write yours to your councils. If you need any assistance, feel free to contact me.
Your Sister in the League.
Marge Szabo, Provincial Organization Chairperson
Have you made a genuine effort to recruit new members this past year? In Saskatchewan, the statistics again show a decline in membership. One factor is the aging of our members and not replacing membership of the next generation. We have to appeal to them by promoting our accomplishments and values because we know that they want the best for their families and our world.
Saskatchewan membership deceased by 189 to a total of 7734 members as of December 31, 2011.
Prince Albert Diocese, membership is 1006, decrease of 22, or 2.1 %
Regina Diocese, membership is 3669, decrease of 140, or 3.8 %
Saskatoon Diocese membership is 3059, decrease of 27, or .88 %
My challenge is to celebrate our 93rd year of Our League by increasing our membership of at least 93. It is one way of remembering our year at hosting the 2013 National Convention in Saskatchewan. Can we do it? Yes we can.
I received an email on January 12 from Betty Anne Brown Davidson, National Organization Chair, requesting a reply on an inquiry from a member on a First Nations reserve. Questions were; are there any First Nations council in your area? What special things do they do? How can we support one another? To my knowledge, Saskatchewan does not have a council on the reserve but have First Nations members within our councils. Perhaps we will hear more about this issue.
National executive have made leadership training and development a priority for 2011- 2012. They have 3 different workshops to choose from and it is hoped that leadership training will take place at every level of the League. Are training sessions happening in your dioceses? On January 31, I received a communiqué from our National Organization Chair, stating that the National Ad Hoc Leadership Development Committee will reveal its new program called, "Catch the Fire" at the national convention in Edmonton. This program is a day-long development day to be presented nationwide in the fall to members in every diocesan council. It will be presented by 3 trained facilitators and expenses covered by the National Development Fund. Two facilitators per diocese will be chosen by each executive, and training will take place on August 16, from 9 AM to 4 PM. To qualify, these members must already be planning to attend convention. National executive members, Provincial presidents and provincial President-Elects will be trained at the same time; thus about 150 –170 facilitators will be trained together to present "Catch the Fire", nationwide. More information will be coming. Read about it on the CWL web page.
Diocesan annual reports have now been completed, summarized and forwarded to their provincial counter-parts. Now it is the provincial executives' turn to write their annual reports and forward it to your national counter-part by March 15. Also forward me your report so that I can print the Provincial Annual Report Book. Please c.c. a copy to our president, Tillie as well. Just a few housekeeping instructions for you, so as to make our booklet unified looking, as your computer copy will go directly to the printers, thus giving us a sharper print.
Bold print for heading (name of your committee, also stating date)
Use font size 12, Times New Roman print
1 inch margins all around, and if you need a few lines to finish, raise top or bottom margin. Try not to have just a few lines on a page.
Finish with---This concludes my report. Make sure your name is underneath.
Booklets will be ready for distribution by your diocesan convention or sooner. Thanks for your co-operation.
I attended the Ukrainian CWL Convention held in Regina on October 14, 15, 16.
I was invited to the Regina Catholic Connection Forum on February 6, 2012. I was unable to attend so Jean Reader went in my place. I prepared replies to the 2 linkage questions that were asked.(1) As we plan for the future, what can the Board do to make our Division better? (2) As you plan for the future, what can our CWL organization do to make our Division better?
On February 6, Marlene Schnell and myself and husband Mike, drove to Kennedy, Sk. to attend the funeral of Theresa Istace's husband, Emile. Theresa is a past Regina Diocesan President, as well as having served on Provincial Council.
Much of my time is now focused on the planning of the 2013 National CWL Convention.
I send my regrets that I can't be at the meeting this weekend but I'll be thinking of you with a smile and a prayer somewhere out in the ocean on our Panama Cruise.
This concludes my report.
Marge Szabo, Provincial Organization Chairperson
Greetings,
We've all enjoyed a nice fall season. The colourful leaves have fallen, and they are now carpeted with a blanket of snow. Of course, the snow helps to turn our thoughts to the liturgical season of Advent. At this time, we are also preparing to implement the revised translation of The Roman Missal into our mass celebrations.
Membership Renewal
It is time for membership renewal. Has your council tried a new recruiting technique? Here are a few ideas. Let me know if you have some other ideas.
Church bulletin insert, with eye-catching pictures and information
Announcements from the pulpit or your spiritual advisor's invitation
Contests, a draw for a free membership
A visual poster to measure the number of renewals to date
Recognition of members that recruited a new member
All members should take an active part in recruiting. Remember to send in your members' renewal to national as soon as possible. Do not wait till all renewals are in.
Leadership Development
We had a very successful Provincial Leadership workshop this fall. I'm hoping you will carry on this enthusiasm to your councils. In my first communiqué, I outlined why it is important to have leadership workshops. If your diocese did not have time to plan a workshop for the fall season, there is time for one in the spring. Leadership is not seasonal, so just pick a date. Funding is available from the National Development Fund.
Certificates and Awards
Councils are encouraged to make the presentation of all League pins and awards, a special occasion. Members receiving an award must be a current member with membership dues fully paid. If there is a lapse in paying dues, those years are not counted.
It is important that awards are recorded in the council minutes. A separate space in the archivist book would be a good place to keep this record. If this isn't done, perhaps this is the year you could start. There is also a ceremonies booklet available from National Office, if you wish to choose to use it.
Criteria for awards are listed on page 21 in the Manual of Policy & Procedure.
Wishing you a Blessed Advent Season and a Merry Christmas time for everyone.
Marge Szabo, Provincial Organization Chairperson
Greetings,
I look forward to serve as your new chair of Organization for the Provincial Council. Along with many others before me, we said "yes" and were willing to share our gifts and talents. I too, am committed to the role of recruiting and maintaining memberships for this great organization of Catholic women. Good news, National staff has now processed more memberships as of May 31st than in past years. Hopefully, by National Convention time in August, we can announce and celebrate an increase in our national membership.
Our National Chair of Organization, Betty Anne Brown Davidson, is making leadership training a priority this year. Materials have been mailed to all provincial and diocesan presidents. She is asking that diocesan Organization Chairs, along with their president, promote a leadership workshop either at diocesan, regional or council level. Make plans now and apply for funding from the National Development Fund. Application form is found on page A3-22 of the Policy and Procedure Manual.
Why is leadership training important?
To develop the leadership qualities in each of us.
"A true leader has the confidence to stand alone, the courage to make tough decisions and the compassion to listen to the needs of others. He/she does not set out to be a leader, but becomes one by the quality of their actions and the integrity of their intent." Anon.
To provide continued leadership in our councils at local, diocesan and provincial levels.
Leaders are not born leaders, " If you can recognize leadership traits in others, then you must have them yourself".
It has been sighted that at most levels of the League, members are hesitating to take executive positions. Perhaps with leadership workshops, this will alleviate this problem and members would be willing to take up the challenge.
To improve our communication skills.
Good leaders communicate well and inspire, praise and encourage others.
When providing good leadership, you then have followers.
Leaders actively promote the League therefore inviting new members to join.
Saskatchewan Statistics: 2010 membership has declined by 508, with the total membership of 7415. It's everyone's responsibility to promote and recruit new members. Let's make 2011 the year we can increase membership like other provinces have. We can do it!
Wishing everyone a relaxing summer.
Tillie Aessie, President-Elect and Organization Chairperson
Most parish councils are in full swing with their 2011 membership drive. I hope councils are making use of the on-line membership remittance. 250 out of 1263 parishes are using this new system. It is as easy as requesting your parish council's unique entrance code, followed the steps, typing in the data of your paid up members, pushing the Send button, then sending in your matching cheque with the fees and it is finished. Diocesan Presidents please encourage your individual organization chairpersons to try this new system. You'll be pleasantly surprised at how easy it is. National office is making a video showing chairpersons how to access their council's Membership. It should be available soon. There is also a system in place for Diocesan and Provincial Organization chairs to see what their membership totals are.
Some parish councils are concerned with the new $5.00 rate increase in Pre Capita Fees for 2012, bringing the fees up to $13.00 for each member. There has not been an increase since 1993. That is 17 years ago. Inflation alone of 26% could account for all the increase. The Knights of Columbus, Beta Sigma Fie groups and other organizations charge up to $50.00 per year. You know Ladies; $5.00 is only 4 cups of Tim Horton's coffee a year. Think about it, we are getting a good deal. . It is anticipated that with existing programming and membership numbers, this increase should ensure that another increase by the national level will not be required for several years. For more information please read the article on Page 4 in the last league magazine.
To streamline the ordering of supplies and materials from national office, the national administrative Committee has decided that effective immediately, orders for supplies and products will be filled upon receipt of payment. Accepted payment includes cheques or credit cards. Please refer to article on Page 5 of the league magazine.
Why not plan a development day for your winter or spring meetings. For your resource people use your life members and standing committee chairpersons. This opportunity to teach the skills of leadership, share faith, have fun with your members can be funded from the National Development Fund. Check in the National Manual of Policy & Procedure for the criteria. I have received a workshop called "Why Bother" that gives members a chance to voice their opinions of where and how they would like the league is progress or if it is worthwhile continuing. It is a very thought provoking constructive workshop.
Another resource that is available at National Office is the new Handbook for Organization Chairpersons. I highly recommend that Diocesan Presidents order this handbook for their President Elect and Organization Chairperson. You won't be sorry.
A membership survey was sent to every membership chairperson in the province requesting information on the status of their elderly members in care homes and nursing homes. We wanted to have an idea of how many councils paid for their members or if the family still continues to pay their membership fees. The results are very interesting, and when we have our meeting we will let you know the results.