CURRENT PRESIDENT'S REPORTS AND MESSAGES
---
---
---
Chantal Devine, Provincial President
Dear Friends,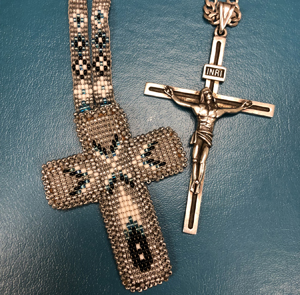 With the onset of summer, and an anticipated end to the pandemic, we look forward to spending more time outdoors with family and friends and a return to normalcy in our lives. It has been a difficult sixteen months as the virus affected every aspect of our daily life. I 'd like to thank all members for continuing the work of the League under these unusual circumstances.
In this excerpt from the editorial entitled CWL: faith in action, in the June 27th,2021 issue of the Catholic Register, the editor quotes the League's First National President, Bellelle Guerin;
"From the very beginning, it (the League) set its sights on securing … 'a position of influence which is accorded to numbers' and using it (the League) for the betterment of 'Catholic education, the betterment of Catholic social action and racial harmony among Catholics.' A century later, those goals remain as relevant as ever."
Today, we, as members of the Catholic Women's League of Canada must continue to strive in supporting those goals. With the discovery of the unmarked graves in Kamloops, British Columbia, and at the Marievale Indian Residential School in Saskatchewan, the goal of "racial harmony among Catholics" which was made 101 years ago is magnified in its urgency! These recent discoveries, along with the other known damages caused by the residential school system, have brought more attention to the final report of 2015 and the Calls to Action of the Truth and Reconciliation Commission. At the Provincial Annual Meeting of Members on June 7, 2021, Past Provincial Spiritual Advisor, Father Francis Hengen submitted a resolution on behalf of his parish CWL council, dealing with the Calls to Action that included "Missing Children and Burial Information." This resolution was forwarded to National President, Anne-Marie Gorman who contacted the proper authorities on behalf of the League. We have an obligation to support and respect these Calls to Action to achieve the League's goal of "racial harmony". Let's all continue to pray for a renewed commitment to reconciliation between our Indigenous and non- Indigenous brothers and sisters.
For the first time in the history of the League, the National Annual Meeting of Members of the Catholic Women's League of Canada will be held virtually on August 9th & 10th, 2021! This is our chance to listen to the reports from our national president and all members of the national executive from the comfort of our home. This year is an election year, so we'll also be able to witness a national election! To register, visit the home page of the national web site, cwl.ca, scroll down to "Quick Links" and click on "Register for the 100th & 101st Annual National Meeting of Members". Now that pandemic restrictions have eased, let's get together with other members, to view this once in a life- time event!
When the activities of the League begin in September, we look forward to meeting again in person and to the new incentives which will be introduced. One of those incentives is the Executive Orientation Program. We hope to have all the information in the hands of parish council presidents in early September so they can share the contents with their members.
Provincial council purchased 5000 postcards of the Pornography Hurts and 5000 cards of the Palliative Care postcards. These postcards will be given to the three diocese, and diocesan presidents will ensure the distribution to their parish councils. The Pornography Hurts postcards will be mailed to government officials in September, while the Palliative Care postcards will be mailed in October. These are two very timely and important issues that we as members of a faith- based organization should communicate to our government. Let's all do our part!
Thank you to all members who stepped out of their comfort zone and accepted an executive position. You are the life- line of our organization! I especially want to welcome our three new diocesan presidents, Priscilla Wakelin, Prince Albert Diocese, Audrey Zimmerman, Saskatoon Diocese and Janette Rieger, Regina Diocese. To all parish council presidents and for all executive members who served or are still serving an extra year because of COVID, I commend and thank you for sharing your gifts for God and Canada!
In closing I would like to quote Bishop Mark Hagemoen, Bishop of the Roman Catholic Diocese of Saskatoon in his message for Indigenous People's Day, June 21st, 2021
"We must walk in love and friendship as sisters and brothers. I again ask us all to renew our ongoing commitment to building relationships of honour and respect, and to continue to take concrete steps on this journey of healing that must involve all of us."
Bishop Mark closed his message with the prayer by the Canadian Conference of Catholic Bishops of Canada for Indigenous Peoples Day 2021 entitled Prayer for Tolerance, Forgiveness, Reconciliation which concludes with the following verses:
May your spirit bless the souls
who died at the Kamloops residential school
and all souls who died at residential schools.
May this same Spirit also bring blessing and healing
to all families and communities affected in any way by the schools.
O Creator, show us the way to healing
forgiveness and reconciliation
and a renewed fellowship.
Amen
To read the entire prayer, please click HERE.
God bless you and your family,
Chantal Devine
---
Chantal Devine, Provincial President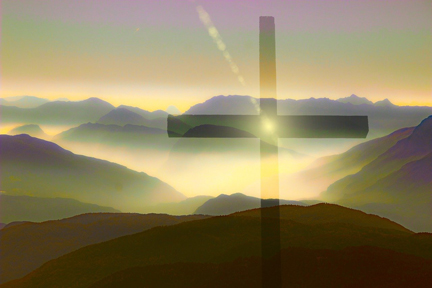 For God so loved the world that He gave His only begotten Son. (John 3.16)
Through prayer, fasting and alms giving, we've been preparing our hearts to enter fully into the suffering and the sacrifice of Our Lord Jesus Christ, who is at the centre of this Lenten Season. As we progress toward the coming passion, we do so with the knowledge that Jesus died for us on the cross in atonement for our sins, and through His resurrection on Easter Sunday, He opened the doors to everlasting life.
We are now entering the second year of the pandemic, and in spite of all the restrictions placed on us, our faith and the work of the League continued to grow. This was accomplished through personal prayer, joining other members to pray the rosary virtually, participating in virtual masses, Stations of the Cross and Lenten Retreats. Members witnessed their love of God in all the activities they outlined in their annual reports. They also expressed their frustration for not being able to meet in person, and to participate in all the CWL functions they were accustomed to prior to COVID-19, but still they persevered with hopeful spirits.
Because of the continuing effects of the pandemic, the 2021 National Annual Meeting of Members (AMM) was changed from Plan B, which would have included all voting and accredited delegates to gather in person, to Plan C which will limit attendance to the national executive and support persons. In the same way, provincial, and all three diocesan councils in Saskatchewan will hold their AMMs based on the guidelines as proposed in Plan C. All members who would like to join the meetings virtually, will have to register in advance. The diocesan Annual Meetings of Members will take place as follows:
Prince Albert Diocesan Council, Saturday, April 17, 2021 at St. Joseph's Parish, North Battleford
Regina Diocesan Council, Sunday, April 25, 2021 at a private residence in Regina
Saskatoon Diocesan Council, Monday, May 3, 2021 at Queen's House of Retreats, Saskatoon
Provincial Council, Monday, June 7, 2021 at Queen's House of Retreats, Saskatoon
Since the national executive/board postponed the vote on the proposed constitution amendments and the increase in the per capita fee until August 2022, councils will not have to deal with that this year. This postponement will give parish councils more time to study the proposed changes as their vote does not have to be completed until March 2022.
The work of the strategic planning committees is in full swing. Please check the progress on the implementation plan which is posted monthly on the national website -- cwl.ca -- and the Facebook page. With the increased advertising of the League on the web, prospective members are inquiring about memberships. A prompt response is very important should we receive such an inquiry.
As of December 31, 2020, the national membership totalled 70,660 members, and showed a decline in all regions of the country. Saskatchewan lost 245 members, and ended the year with a total of 5,622 members. In spite of our losses, I wish to congratulate the councils who welcomed a total of 175 new members into the CWL in 2020!
Furthermore, we began the year with 133 parish councils; one new council was formed, another reactivated, and four disbanded leaving us a total of 131 parish councils on December 31, 2020. Congratulations to the members in Spiritwood who, under the guidance of our Provincial Spiritual Advisor, Father Peter Nnanga, formed Mother of Divine Grace CWL Council in Spiritwood, SK.
The national centenary committee has extended the tree planting project to July 31, 2021. They would also like a report on the number of trees planted in each province. I encourage every council in Saskatchewan to plant a tree in memory of the faith-filled CWL women that came before us. Diocesan presidents, please send in the numbers of trees planted in your diocese before the cut off date.
Congratulations to St. Joseph's CWL council in Moose Jaw for starting a Catholic Girl's League (CGL) in their parish. This is the first CGL in the Regina diocese and the second CGL in the province. By introducing our daughters and granddaughters to the CWL at an early age, will help ensure the continuity of the League.
With the recent introduction of vaccination for the COVID-19 virus, we can begin to see a light at the end of this pandemic. In a similar way, as we enter Holy Week where we will once again relive the Passion of Jesus Christ, we know that on "the third day" we will see the triumphant light of His resurrection on Easter Sunday. May His death and Resurrection inspire us to be faithful and hope filled servants in continuing the work of the League in spite of any adversities we may face along the way.
Let there be light. And God saw that the light was good. (Genesis 1.3,4)
God bless and protect you and your family,
Chantal Devine
Sk. Provincial President
---
Chantal Devine, Provincial President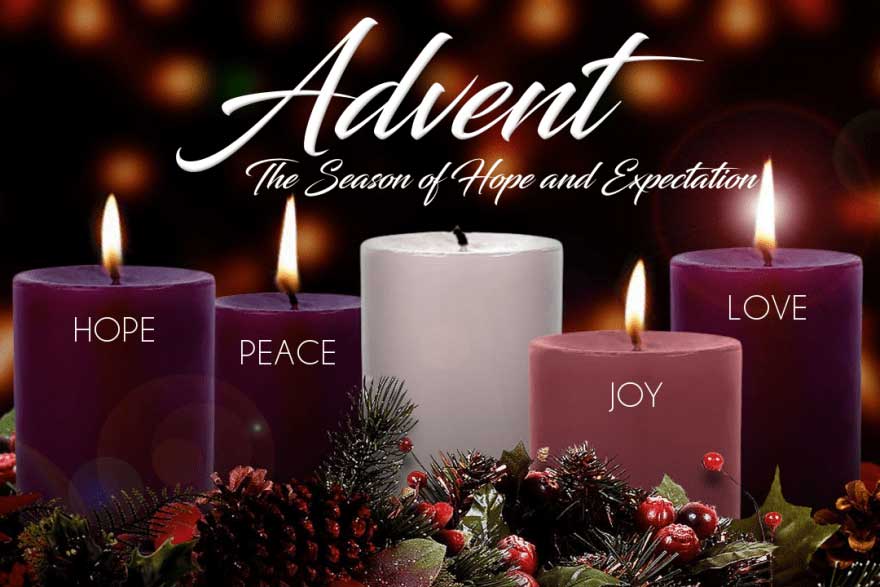 The essential meaning of the word adventus was: God is here, he has not withdrawn from the world, he has not deserted us. Even if we cannot see and touch him as we can tangible realities, he is here and comes to visit us in many ways. ~Pope Benedict XVl
As we enter into the season of Advent, we do so with hearts filled with hope knowing that God is with us during this time of isolation. We pray that he will fill us with his grace that we may be prepared for him on Christmas day. As women of faith, we also trust that He will remove the scourge of this pandemic by providing all people with an ethically produced vaccine. During these past nine months, we've come to realize that we are not in control of our lives when a miniscule, yet powerful, virus can disrupt our way of living. In that same vein, we as Christians, know that our destiny is in the hands of our Lord Jesus Christ, He is our sure foundation, and not even a pandemic will deter us from maintaining our hopefulness in fulfilling our Christian mission. As members of the Catholic Women's League of Canada, our mission, as stated in our Mission Statement, "is to grow in faith, and to witness to the love of God through ministry and service." We must continue the work that began one hundred years ago, so that the League will continue to prosper throughout the next hundred years and beyond. As such, I would like to draw your attention to a few items that are timely and very important.
At our national teleconference meetings in November, many important issues were discussed and proposed. A very important item concerned the 2021 conventions, which we will now refer to as meeting(s) of members. Three models were presented:
Full convention as in former years.
In addition to the council executive, voting and accredited delegates are invited and social distancing is applied, if there is extra space the meetings of members could be opened to other members and guests. The meetings would be live streamed so members could attend virtually.
"The third model is a virtual meeting of members, with only the executive in attendance in person, i.e., the officers and the voting delegates. Accredited delegates, and other members and guests, could participate virtually. Accredited delegates would require voting software to allow full participation in the deliberative process." (National speaking notes, November 2020)
For 2021, the annual national meeting of members will be using the second model as the basis for the gathering.
We were advised that each executive must decide on the format they will choose given the local public health restrictions and the willingness of area members to meet in person. Meetings of members must be held to ensure that the instructed votes for elections, amendments to the Constitution & Bylaws and other business of the League can be voted on.
By mid- December, all parish councils and diocesan presidents will have received a very important package from national office. This package includes all the information you'll need to obtain an instructed vote from you members. One is entitled Notice of Motion to Amend the Constitution and Bylaws (2013), where you will need to take an instructed vote on eight proposed amendments. The second item contains the information regarding a motion to increase the national per capita fees. Included with each package are the reprinted pages from the National Manual of Policy and Procedures(P&P), one is entitled Instructed Voting Process and the other, Increasing Per Capita Fees. Please familiarize yourselves with the information on these pages so you will be knowledgeable when working through the voting process with your members. Clear, concise directions are included with the material, but if you're unsure, don't be afraid to ask for help.
A very timely and urgent issue, one that many of you have heard about and may have acted upon is Bill C -7, an Act to amend the Criminal Code (medical assistance in dying). In her November 17th communique, Betty Colaneri, National Chairperson of Legislation, informs us of the brief on C-7 presented by the Canadian Conference of Catholic Bishops to the Federal Standing Committee on Justice and Human Rights. According to the document," The proposed legislation of Bill C-7 remains deeply flawed, unjust, and morally pernicious. The Bishops of Canada continue to call on Catholics and all people of good will to make their voices heard in opposition to this Bill. Similarly, every Canadian legislator should recall that no law that permits the taking of innocent human life can ever be morally justified. Such a law would always violate the intrinsic dignity of the human person." If you have not already done so, I urge you to write letters to Prime Minister Trudeau, the Federal Minister of Justice, David Lametti, the Federal Minister of Health, Patti Hajdu and to your member of parliament. For your convenience there are sample letters on our provincial website, cwlsk.ca for you to use (see Announcements below).All you need to do is to print them, sign and mail them, no postage required! Not only will you be fulfilling your Christian duty, but you'll also be enacting the fourth object of the League as stated in our Constitution & Bylaws, to protect the sanctity of life.
We are so fortunate to be a part of an organization that has stood the test of time and continues to strive for excellence by undertaking the changes that are proposed in the strategic plan which is now entering Year 3. Nine plans for Year 3 were presented to the national executive and were approved for circulation. The implementation committee for the national strategic plan will be looking for volunteers in the new year. I encourage you to apply to be a part of these working groups when the call is made.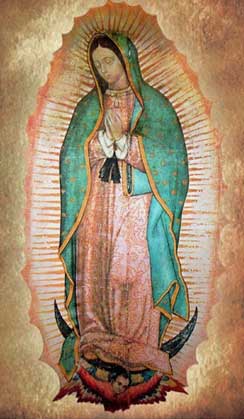 As one of the amendments we'll be voting on deals with changing our patroness from Our Lady of Good Counsel, to Our Lady of Guadalupe, I'd like you to note that on December 12th we will be celebrating the feast day of Our Lady of Guadalupe. Let us ask Mary to guide and protect us during these unprecedented times and to help us in fulfilling our mission. With grateful hearts we continue our advent journey knowing that on Christmas day the saviour of the world was born and continues to dwell among us.
Wishing you the blessings of the Advent season and a holy, meaningful Christmas!
God bless and protect you and your family,
Chantal Devine
Sk. Provincial President
---
Chantal Devine, Provincial President
October, 2020
Dear Sisters in the League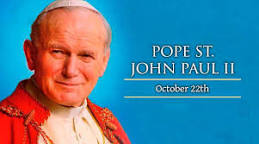 St. Pope John Paul II, whose feast day we will be celebrating on October 22, said the rosary was his favorite prayer. He describes the Rosary as a prayer which "in the sobriety of its elements" concentrates "all the depth of the Gospel message in its entirety," and through which "the faithful receive abundant grace, as though from the hands of the Mother of the Redeemer." Apr 25, 2020.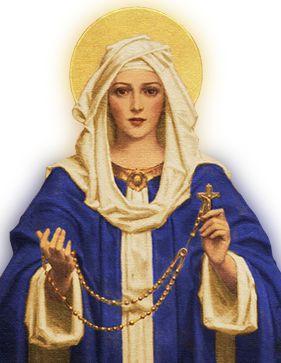 The month of October is dedicated to the Holy Rosary, and on October 7th, we celebrate the Memorial of Our Lady of the Rosary. There is no better way to honour Our Blessed Mother then to pray the rosary daily, and to highlight each week, by praying the rosary with our CWL Sisters at 8:00pm on Monday evening on the Saskatchewan Provincial Council of the CWL Facebook page, and on Wednesday evenings at 7:00pm via the GoToMeeting app. Everyone is welcome to join in. Please check with your diocesan president on how to join the groups.
Not only is the month of October dedicated to the Holy Rosary, but it's also, the month of Prayer for Home Missions. October 1st is our own CWL Day of Prayer for Home Missions. I encourage all CWL councils to plan something special in recognition of our Home Missions this month. Please let Shari Guinta, National Spiritual Development Chair and me, know what you did.
As we enter the eighth month of taking precautionary steps to avoid being infected by the COVID-19 virus, we continue to have a moral obligation to do our part to prevent the spread of this virus, and to also continue the work of the League to the best of our ability. Hopefully, a vaccine that does not create an ethical dilemma for Canadians with conscience concerns, will be developed sooner rather than later. While this vaccine will reduce the threat of infection in our society, I believe we will still need to be cautious in planning our future activities.
Because of the uncertainty of this pandemic, the national administrative committee of the CWL issued COVID Update IV (https://cwl.ca/wp-content/uploads/2020/09/20200923-COVID-Update-IV.pdf). In this statement you will find information regarding the 2021 annual national convention in Toronto. The need for extra space required for social distancing, mandated that a national convention that we've been accustomed to, cannot be held, and that August 8-10 will be designated as the dates for the 2020 and 2021 annual general meeting dates of the Catholic Women's League of Canada. Attendance will be by invitation only, and only voting and accredited delegates will be invited.
In a recent conversation I had with our National President, Anne Gorman, she suggested that wherever possible, CWL councils could begin to gather in person to hold their executive meetings as long as they are able to follow the social distancing guidelines. Councils are asked to make arrangements with their parish priest to use the church hall for their meetings where the larger space would accommodate social distancing. Meeting in person will allow councils to carry on the business of the League as they did prior to the pandemic with the exception of holding elections.
I also received word that the League could reinstate its 1% program for the Canadian Catholic Organization for Development and Peace (CCODP). This means that parish councils can again collect and send in 1% of all money earned to the national voluntary fund for CCODP.
During the next couple of months membership drives should be in full swing. Completing our annual membership commitment is essential for the viability and continued success of our organization. Unfortunately, our membership numbers are down by 399 this past year. Our objective is to reverse this trend by asking each member to offer the gift of the League to someone. Now, during this period of self-isolation, a friendly phone call inviting a friend to join our organization will not only brighten her life at this time but will enrich her life for years to come as she grows in faith because of her involvement in the Catholic Women's League of Canada.
For the first time in Saskatchewan, our fall workshop will include not only our provincial and diocesan executives, but all parish presidents in the province! This is possible, as we will be holding our meeting virtually, using the GoToMeeting app which can accommodate up to 200 people. The workshop will be on Saturday, October 17th beginning at 9:00am to 12:00 noon. We will be showing the latest presentation on the strategic plan Welcome to the League of the Future Year 2, the new Welcome Program will be introduced, and information on annual reports and membership will be offered. Participants will be able to ask questions using the chat portion of the GoToMeeting website. I sincerely hope everyone will be able to participate.
As we joyfully continue our work for God and Canada during this time of COVID-19, let us be reassured that, through the intercession of Our Lady of Good Counsel and Mary, Queen of the Holy Rosary our CWL goals will be achieved.
---
Chantal Devine, Provincial President
June 2020
Dear Sisters in the League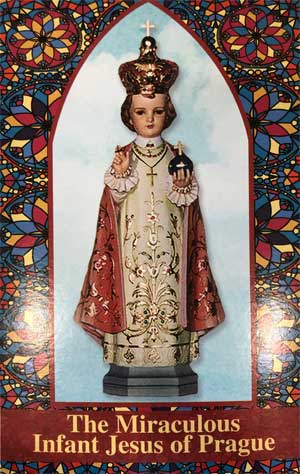 We, as women of faith, live in hope that God who holds our world in the palm of His hand, in His infinite mercy will soon bring an end to the COVID-19 pandemic. The opening verse of the Novena Prayer to the Miraculous Infant of Prague states:
O Jesus , Who said: "Ask and you shall receive, seek and you shall find, knock and
it shall be opened to you," through the intercession of Mary, your Most Holy Mother,
I knock, I seek, I ask that my prayer be granted.
I'm sure that in our prayer requests, an end to the pandemic, and an ethically produced vaccine to prevent the disease, are upper most on our list. On June 19th we marked 100 days of self-isolation, and even though restrictions are beginning to be lifted, we must continue to be vigilant in our activities by practising restraint and sacrifice. Since provincial council purchased the GoToMeeting app in late March, members have been invited to join in praying the rosary for an end to the pandemic every Wednesday evening at 7:00 pm. Please join in this time of prayer and fellowship.
With the decision to cancel all CWL conventions in 2020, I know many of us were disappointed in not being able to gather and celebrate our League's centennial. On June 17, 2020, the League celebrated 100 years of service to God and Canada. What an incredible accomplishment! This was achieved through the dedicated commitment of past and present members and we must continue the legacy, pandemic or not! I know that through the intercession of our patroness, Our Lady of Good Counsel, we will continue to enhance the League through our sharing of the gift of the League and by being of service to others. Please note that an online Summer Speakers Series is available for us to view with a focus on Care for Our Common Home, Women in the Church, and the League in the Future. The presentations are free but registration is required for each separate speaker/topic. Click this link for specific information: https://cwl.ca/summer-speakers-series/
Because of the continued threat of COVID-19, on June 12, 2020, the board of the Catholic Women's League of Canada announced that all annual general meetings (AGMs) at the diocesan, provincial and national levels will be postponed to 2021. This means that "all necessary business will be transacted in conjunction with 2021 annual conventions…" Also, because of the restrictions on the number of people allowed to gather, no elections will be held in 2020. The national board "declares a one-time exception to Part XVI, Section 2(a) of the Constitution & Bylaws(C&B) to extend the term of all existing officers at diocesan, provincial and national levels for one year." (excerpts from the article cited below). This means that anyone who was elected to office for the 2018-2020 or the 2019-2021 terms, will have their term extended by one year, and as such, will serve a total of three years in their elected position. All elections at the diocesan, provincial and national levels after 2021 and 2022 will be for a two-year term in accordance with Part XVI, Section 2(C&B). These were difficult decisions for the board to make, however, in keeping with our national health guidelines, and to ensure the health and safety of all members these steps were necessary. To read the complete article Update III to COVID-19 Pandemic from the Catholic Women's League of Canada please click here:
https://cwl.ca/wp-content/uploads/2020/06/20200616-COVID-Update-III.pdf
My thoughts and prayers are with all of you, my dear sisters in the League, that you and your family members may continue to stay in good physical and mental health during this stressful time. Let us continue to pray the League prayer each day, confident that our blessed Mother will guide our actions in continuing the work of the League for God and Canada.
In conclusion, we pray the last two lines of the Novena Prayer to the Miraculous Infant of Prague:
…Help me to trust that You do hold the whole world in Your hand. I place my every need and care
in your hands.
May God bless and protect you and your family,
---
Chantal Devine, Provincial President
April 2020
Dear Friends,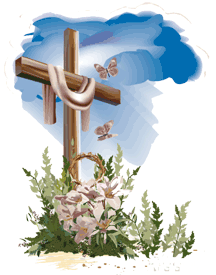 During these unprecedented times in our global community, we as women of faith find comfort in knowing that Our Heavenly Father is with us and will bring an end to this pandemic. While we transition through these days of self- isolation, we should give thanks for the comfort of our homes and the gift of technology which helps us to stay connected with family and friends. Let's all continue to make the right choices in order to protect ourselves, our loved ones and our neighbours.
As we reach the end of the Lenten season, we can look back with satisfaction that we have indeed made a positive difference in our lives and in the lives of others through our acts of prayer, fasting and almsgiving. We now look forward to the highlight of the liturgical year, the glorious celebration of Easter! Easter Sunday is a day of rejoicing and of hope for all that God has promised us through His death and resurrection.
Recognizing that everyone must do their part in preventing the spread of COVID-19, on March 19th, 2020 the national executive/board of the Catholic Women's League of Canada announced the cancellation of the national convention, and all diocesan and provincial conventions across Canada. This announcement put an end to all the convention planning that was going on in our province. I'd like to thank all members who had already worked so diligently in preparing for their diocesan conventions and to those who were preparing for the provincial convention. I suggest you consider keeping the same location for the 2021 convention, this may help in taking advantage of all the work you've already done this year and putting it towards next year's convention.
When this crisis is over, the national board will send out instructions to assist diocesan and provincial councils with holding an annual general meeting (AGM). This is necessary to fulfill the requirements as stated in Sections 2 and 3 of the Constitution and Bylaws. These AGMs are designed to conduct all business transactions which would normally take place at convention. If this is an election year for your council, national has advised that "Current officers will continue in their positions until such time as an election can be held." (Response to COVID-19 Pandemic, March 19, 2020)
While we are confined to our homes, let's make good use of our "down time", not only in catching up on some CWL work, but more importantly, in praying the rosary for an end to the spread of the Coronavirus. In closing I'll leave you with a prayer taken from A message to Canadians from Religious Leaders in Canada.
"…let us pray that, in the face of COVID- 19, we respond with an abundance of hope, gratitude and solidarity, trusting in the loving and merciful God, the source of all hope."
May God bless and protect you and your family,
---
Chantal Devine, Provincial President
January 2020
Dear Sisters in the League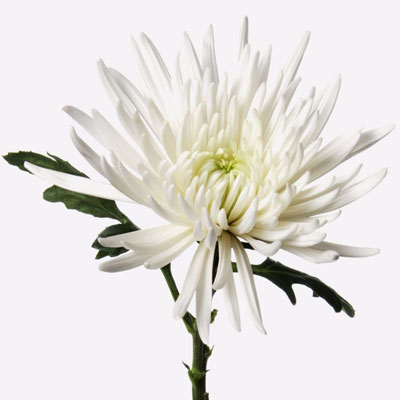 "Every day decrease your self-centeredness and increase your love of your neighbor. Every day, lessen your reliance on yourself and increase your trust in God." ~ Francis Xavier Nguyen Van Thuan The Road of Hope
Blessings to all of you as we begin a brand- new year and a brand- new decade! We are so blessed to have the gift of life and to reside in this wonderful, democratic country! The introductory quotation speaks to us about our theme of Inclusion. When we forget about "self" and focus on the people around us, we witness the love Christ has for us by including others in our lives. And again, when we let go of what we want, and pray, "God what do you want of me?", we include God first and foremost in our lives. My prayer for each one of us in 2020 is that we become the person God wants us to be by keeping our focus on Him and on our neighbor.
This month, the Government of Canada is asking Canadians to fill out a survey on their proposed expansion of the criteria for euthanasia so that more people would have access to the procedure. Cathy Bouchard, National Resolutions Chair sent out an urgent email asking our members to respond to this serious matter. Attached to Cathy's email was an explanatory email from Coalition for HealthCARE and Conscience which states:
"A Quebec Court declared in September that the clause in the federal euthanasia legislation that death must be "reasonably foreseeable "in order for a patient to qualify was unconstitutional. This clause was added to the law when it was passed in 2016 to protect people with disabilities, including those with mental health concerns."
"All along, the 2015 legalization of euthanasia (also known as Medical Assistance in Dying) was sold as a solution for the elderly who were near death anyway and who were in intolerable physical pain. Those who were opposed to legalizing euthanasia argued that it was a slippery slope and that vulnerable people, children, those with disabilities, those with mental health concerns, and those with dementia would be put at risk. Now, less than five years later, what was predicted has now happened. And our government, is leading the charge to open euthanasia to more and more people."
Exercise your democratic right and let your voice be heard! In doing so, you will be promoting the fourth Object of the League, to protect the sanctity of human life. The survey needs to be completed by January 27th, 2020, hence, the reason for the urgency. I sincerely hope you'll all take five to ten minutes to voice your opposition to the proposed expansion of euthanasia by adding your comments as you fill out the survey. You will find the survey HERE.
May God continue to bless you in 2020, as you serve Him by reaching out to others, especially those in need.
God bless you and your family,
---
Chantal Devine, Provincial President
Dec. 2020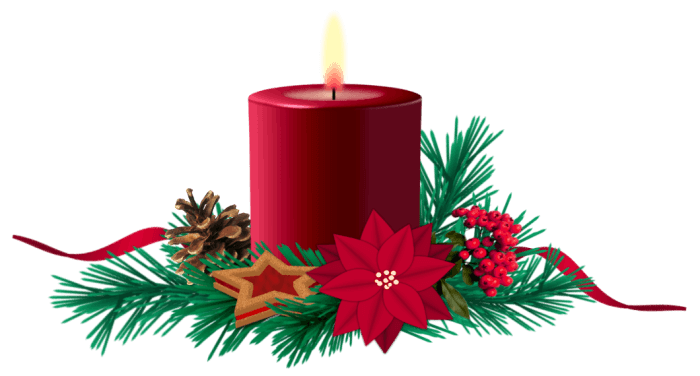 "Behold, I am the handmaid of the Lord. May it be done to me according to your word." (Luke1:38)
As we approach the close of 2019, and enter into the Advent season, let us reflect on the many blessings we've received in the past year. Advent is a time of waiting and of preparation for the coming of our Saviour, Jesus Christ, but also a time to give thanks. Having received the precious gift of membership in the Catholic Women's League of Canada, we have so much to be thankful for! Let's start each day in quiet prayer beginning with the League Prayer and reflecting on the life of Mary. When she accepted to be the "handmaid of the Lord", her life was forever changed. Just as she stepped out in faith so must we.
At this time of year, many of you are completing your annual reports either on- line or on paper. At the parish level, please ensure you send in your reports by the specified deadlines. If you're submitting them on paper the deadline is December 15th and on- line January 15th. It is so important that all members of standing committees complete an annual report as this is the primary way of communicating the activities taking place at the parish level with the upper levels of the League.

As the League, through various committees continues to work on the five- year strategic plan, we should keep abreast with the progress made. This plan is designed to revitalize the League so it may flourish into the next millennium. Each diocese should make a concerted effort to present the strategic plan to its members with a special focus on the three important pillars of faith, service and social justice.
Now that we've nearly completed year one of the national theme Care for Our Common Home, with a focus on saving water, national has announced our second year's focus. In partnership with the Catholic Near East Welfare Association (CNEWA), the CWL will support the building of a drinking water well for a home for women with intellectual disabilities in Ketala, India. The home is called Pieta Bhavan (House of Mercy) and is located in a region that experiences great flooding and water contamination during the monsoon season. In Canada, we will care for our common home by allotting the 2020 voluntary fund collection for the Catholic Missions in Canada towards rebuilding three churches located in Ahousat and Telegraph Creek, B.C. and Attawapiskat, ON.
In keeping with our provincial focus on Inclusion, the Indigenous Awareness Evening held at St. Mary's Parish in Saskatoon on November 26th was very well received. League members, and members of the general public were captivated by the sincere and knowledgeable presentation made by guest presenter, Misty Brabant. I encourage each diocese to host a similar gathering in your community. December 12th is the National Day of Prayer in Solidarity with Indigenous Peoples, let's remember to pray for our Indigenous brothers and sisters not only on Dec 12th, but all year through.
December 29th is the feast of the Holy Family. The primary purpose of this feast is to present the Holy Family as a model for Christian families.
Through the intercession of "Our Lady of Good Counsel", may you and your family be blessed during this advent season, at Christmas and throughout the coming year!
God bless you and your family,
---
Chantal Devine, Provincial President
October 2019
Dear Parish Catholic Women's League Presidents and Sisters in the League
Our Provincial CWL Theme
Inclusion
Welcome back to the beginning of another faith and fun filled year in the Catholic Women's League of Canada! After attending my first national meeting as provincial president, and witnessing the professionalism and the dedication of our national executive, I am even more impressed by this national organization. An organization rooted in gospel values that has stood the test of time! Our membership in the League is a very special gift that we often take for granted. With 77,000 members, we are a part of the largest women's organization in Canada. Unfortunately, our membership has been dwindling over the years. I believe we can change that trend by practising the art of inclusion. Along with our national theme, Care for Our Common Home, I'd like to add our provincial theme of Inclusion. At the 2019 National Convention in Calgary, a member suggested we set a goal of growing the League to 100,000 to coincide with the 100th anniversary of the League by next year's convention in Montreal. How will we accomplish this?
We need to follow Christ's example when He was on earth. He didn't travel to the towns and villages alone, He chose His twelve apostles and included them in His earthly mission. They in turn continued to spread the word by reaching out to the people in their homes and communities. They befriended the people, shared the teachings of Jesus and welcomed them. We can do the same by being of service to others and including them in our lives as CWL members.
It is especially important that we reach out to our Indigenous and International sisters by sharing in their cultural activities. As servants of Christ, there are many ways of practising the art of inclusion. On October 1st, I invited Connie Crichton, Provincial Organization Chairperson, to join me in visiting Our Lady of Guadelupe, Saskatoon's First Nations and Metis Roman Catholic Parish, to meet with Debbie Ledoux, Parish Life Director. Debbie emulated the love and dedication she has in helping others, and, shared some of the pain she experienced from thoughtless words and actions from individuals along the way. I'm sure we all want to create a positive relationship with our Indigenous sisters. As a start, we should strive to become more knowledgeable about their traditions and spirituality. We can begin to do this by attending an Indigenous Awareness Evening which, in Saskatoon will be held on November 26th at 6:30 pm at St. Mary's Church in the upper hall. I encourage all diocese in Saskatchewan to organize a similar evening, by inviting a member of the Indigenous community to speak on their cultural traditions. If you haven't already done so, take part in the "Blanket Exercise," it is an effective activity that helps you to understand some of the trials experienced by our Indigenous people. I'm excited to begin this journey of greater understanding, and hopeful, all of you will join me in this mission of reconciliation.
We are so fortunate to have our international families worshiping with us and actively participating in our parishes. It is up to us to welcome them, and to make them feel comfortable in our midst. Include them in your parish and CWL activities by personally inviting them to join you. Find out about their culture by setting up a Cultural Awareness Evening followed by a pot- luck of some of theirs and our traditional foods.
Many of the younger women in our parishes are concerned about social justice issues and are not aware that our organization has access to all levels of government. Let's include them in our conversations by encouraging them to become CWL members so that they may have a means of getting their concerns to government via a resolution.
Inclusion is not a new word, and I know many of you are already practising the art of inclusion. I'd like to hear from you. Please share your activities of inclusion on our website by sending them along with photos, if possible, to our communications chair, Marge Appell. She will forward your submissions to our web mistress who will post your acts of kindness on our web site for all to see!
May the Holy Spirit "give light to our minds and strength to our wills that we may know and fulfill His great law of charity" as we reach out to others and share the great gift of the League through inclusion.
God bless you and your family.
---
Chantal Devine, Provincial President
June 2019
As I embark on my two year journey as president of the Saskatchewan Provincial Catholic Women's League, I do so with excitement, but also, with some degree of trepidation. I find comfort in the most often repeated phrase written in the Bible, "Do not be afraid." Christ spoke these words to remind us that we are never alone, He is always with us. I also find strength knowing I have a strong executive who will be working with me to realize our CWL goals. Thank you, to all who were willing to continue serving on the executive, and to those who just joined our provincial ranks for the first time. Thank you, also, to past president, Margaret Schwab, who for the past two years, through her exemplary leadership, enriched the lives of all CWL members in our province. Her wisdom and guidance will be welcomed in my time as president. As this was an election year for both the Prince Albert, and the Regina Diocesan CWL Councils, and for many parishes throughout our great province, I want to commend all those who stepped up to the plate and accepted a leadership position on their executive. Together we will continue the work started by our CWL sisters nearly 100 years ago!
Let's make the next two years a time for growth in both our spiritual lives, and in the membership of our parish councils. We need to attract younger women into our parish councils, and I believe, one way of accomplishing this is by introducing our young girls to the League through the formation of a Catholic Girls League (CGL). This October, the very first CGL in Saskatchewan will be started at Holy Spirit Parish in Saskatoon. I need your help in establishing a Catholic Girls League in each of our diocese. We will realize our goals through prayer. Include the League Prayer in your daily prayers, and through the intercession of our Lady of Good Counsel, the Holy Spirit will inspire us to fulfill our mission. The NEW Mission Statement for our organization states:
The Catholic Women's League of Canada calls its members to grow in faith, and to witness to the love of God through ministry and service.
The annual reports you've submitted over the years reveal your commitment to the League's Mission Statement. In continuation of your service, the Centenary Committee Project 2019, entitled H.U.G. (Helping, Understanding, Giving) is asking all councils to collect and package women's toiletries, sleep attire and under garments. These packages are to be donated to a local women's shelter in your community. Their goal is to collect 2,019 packages to commemorate the project year. As mentioned on the CWL website, the total will be announced at the National Convention during the prayer service "to commemorate the packages and to offer prayers for those using the shelters." The deadline for submitting your package numbers to National is July 31, 2019.
The 99th National CWL Convention will be held in Calgary, Alberta on August 18- 21, 2019. The registration deadline is July 18th, so you still have time to register. It's within driving distance for all of us in Saskatchewan, so plan now to attend, and experience the vibrancy of our wonderful organization!
In the next two years, I look forward to meeting many of you as you celebrate the milestones you've reached in your parish councils. Together, guided by the Holy Spirit, we will continue our journey and bear "witness to the love of God through ministry and service."
---
---
Margaret Schwab, Provincial President
Dear Parish Catholic Women's League Presidents and Sisters in the League
It is my privilege to officially invite you to the 71st Saskatchewan Provincial Annual Convention, to be held at St. Augustine Parish, Humboldt on Sunday & Monday, June 2nd & June 3rd, 2019. I encourage all Councils to send delegates to this Convention since it is important that for us to gather annually to exchange information and renew friendships.
Please find enclosed: Tentative Convention agenda
List of accommodations
Registration Form (return before May 21, 2019)
Social Justice Award Criteria information and application form
Minutes from the 70th Annual Provincial CWL Convention
Financial report in compliance with our Constitution and Bylaws (Part XIV, Section 10).
I would ask that you invite your Spiritual Advisor to attend as well. All priests are invited to concelebrate at the opening and closing masses. Registrations and payments must be returned before May 21, 2019. Please note that there will be no lunch served on Sunday during registration. However, there will be light refreshments.
Our convention theme is "Care for Our Common Home". We are very pleased to have Archbishop Emeritus James Weisgerber speak to us on Sunday on the theme of the relevance of CWL today,
On Monday, we will be having a workshop on the CWL national theme, above, given by our National CWL President, Anne-Marie Gorman.
Hotel space is limited, so please make your arrangements early.
I sincerely hope you will join us and look forward to meeting all of you.
---
Margaret Schwab, Provincial President
Dear Sisters in the League,
Over the past few months, the Catholic Women's League in cooperation with the Knights of Columbus and other concerned Christians have been working on a campaign to bring about provincial legislation to protect the conscience rights of all healthcare workers when dealing with euthanasian/medically assisted death. Medical professionals may feel the need to object to participating in physician assisted suicide for any number of reasons: faith, ethics, morals or the Hippocratic Oath. As it stands right now, doctors, nurses and pharmacists do not have adequate protection for their conscience rights under the federal legislation on assisted suicide.
This means that the provincial governments have the opportunity to create legislation that will protect the Charter of rights of conscientious objectors.
Last year, in Manitoba, a similar campaign resulted in their provincial government bringing this protection for healthcare workers into law. This was the result of the Knights, the CWL and other concerned faiths collecting 14,000 signatures.
We are hoping to collect at least 14,000 signatures for this campaign.
On the weekends of February 17th, there will be a pulpit announcement explaining the campaign and asking support for all those in the pews.
On the weekend of February 24th, there will be available at all parishes, pre-printed letters for each individuals to sign.
The Knights of Columbus have taken the lead on this undertaking, but they will need our help.
I am asking each CWL council to reach out to the K of C in their area and see where help is needed. There may be help needed in reading the script for the pulpit announcement and will definitely be a need for help on the 24th to assist in getting letters signed and collected. If there is no Knights presence in a parish, perhaps the CWL will be needed do the pulpit presentation and oversee the signing and collection of the letters.
For those councils made up of members who attend different parishes, please ask each member to assist in her home parish in any way needed.
This is an extremely important campaign and the timing is very limited. Snowbirds and others who are not available on the 24th will be able to sign a letter online. Please talk to your family and friends about this campaign and encourage them to be involved. Also, please pray for success so that our healthcare workers will never be coerced into performing Medical Assistance in Dying (MAID).
I thank you in advance for your assistance.
---
Margaret Schwab, Provincial President
My dear Sisters in the League;
It is hard to believe that we are entering our last full week of Advent. Shopping, baking, entertaining and yes, more shopping have taken our weeks of preparation and turned them into mere minutes!
It is important that we take some of those minutes out of each day to reflect the greatest gift that we will celebrate on December 25th – the birth of our Lord and Savior, Jesus Christ. We have all rejoiced at the birth of a baby, whether it is our own or one born to family and friends. There is no one as innocent, as trusting and as loving as a new born baby, untouched by our human failings. A baby gives love unconditionally and expects to receive love in the same way. There are no ulterior motives in a child's heart.
Perhaps that is why God chose to send his Son in the form of a child – he could have come in so many other ways. But through this baby, he reminds us that all he wants from us is true love for all.
Let us, as members of the League, take that sign of perfect love with us into the New Year.
I wish for you all, a very Blessed Christmas and a Happy, Healthy and Loving New Year!
---
Margaret Schwab, Provincial President
Dear Sisters in the League,
Well, today is a stormy, November day – looks like winter is here to stay. However, I know that councils are busy preparing and carrying out their plans for the upcoming year. For many, it is election time, so it is the time to approach new people to find leadership within your council. This is not always easy as many of us do not realize the gifts we have received from our gracious God and are not always willing to step forward to try them out. I encourage everyone to consider taking part in the leadership of your council. It is the best way to learn about this wonderful, national organization that we are all part of. The old saying, 'many hands make light work' is so true when the chair positions are shared by two or more people. I hope that this year will be the year for you to say "Yes, I will".
As we plan for new executives, we must also remember that there are new members in our councils who are struggling to make sense of all that goes on with the Policy and Procedure, the Constitution and Bylaws and some just plain 'traditions' within the League. I have been a member for over 40 years and have been reminded that sometimes I speak of things that others have no idea about. We must remember that education of all members comes not only from our manuals, but from those of us who have experience. We have many long time members who would be wonderful mentors for newer ladies. Please look within your membership and see who you might ask to mentor within your group. As well as knowledge shared, many lifelong friendships have developed through mentorship.
At the 2018 National Convention in Winnipeg, the National executive unveiled the results of the planning strategically committee which has spent the last two years listening to the membership for guidance on how to move forward for the next 100 years. Members of the provincial executive would be happy to attend a Regional meeting or even smaller gathering to present the plan for implementing the strategic planning. Please feel free to invite us at any time.
I hope that many from Saskatchewan are planning on attending the National Convention in Calgary in August of 2019. Room bookings should be made as soon as possible, as the hotel fills up quickly. I would say that at this year's convention, Calgary did an excellent job of inviting us to their city for the next one. I think a good time is in store.
I would like to congratulate Susan Melchiorre who has accepted a position on the National resolutions committee. Susan will take on that task for the next two years, helping with resolutions submitted and with the actual debate and voting that takes place at national conventions. Wouldn't it be great if we could keep her busy with resolutions from Saskatchewan? Something to think about – the deadline is drawing near. Now is also a good time to start planning how we will celebrate our new theme – 'Care for Our Common Home'. I am sure there will be good information in both the national memos and the Canadian League after the new year.
We will soon be in the season of Advent – a time for renewed spiritual growth as we await the arrival of our Lord. May God fill you with Peace and Joy for the Season and with a renewed fire for the League in the coming year.
---
Margaret Schwab, Provincial President
Dear Parish Catholic Women's League Presidents and Sisters in the League,
It is my privilege to officially invite you to the 70th Saskatchewan Provincial Annual Convention, to be held at Holy Trinity parish in Regina, SK on Sunday & Monday, June 3rd & June 4th, 2018. I encourage all Councils to send delegates to this Convention since it is important that all Councils gather socially to celebrate what we have accomplished in our 70 years together.
On the website you will find:
Tentative Convention agenda
List of accommodations
Registration Form (return before May 6, 2018)
Social Justice Award Criteria information and application form
I would ask that you invite your Spiritual Advisor to attend as well. There will be a meeting of all Spiritual Advisors in attendance on Sunday afternoon. All registrations and payments must be returned before May 21, 2018. Please note that due to Mass at Holy Trinity at noon, there will be no lunch served on Sunday during registration. However, there will be light refreshments.
We are very pleased to have National first Vice-president, Fran Lucas joining us on Sunday to give a workshop on the planning strategically initiative that the National CWL is currently undertaking. In addition, we will have a brief presentation by Alex Schadenberg from the Euthanasia Coalition.
On Monday, we will be hearing from Father David Reilander, president of the Catholic Missions in Canada. This is Father Reilander's first opportunity to speak to the CWL of Saskatchewan and we are looking forward to hearing from him.
We have received a limited grant from national to assist with members with part of the cost of travelling to this convention. Your diocesan president will have special mileage forms to fill out. We urge you to car pool as much as possible. I sincerely hope you will join us and look forward to meeting all of you.
---
Margaret Schwab, Provincial President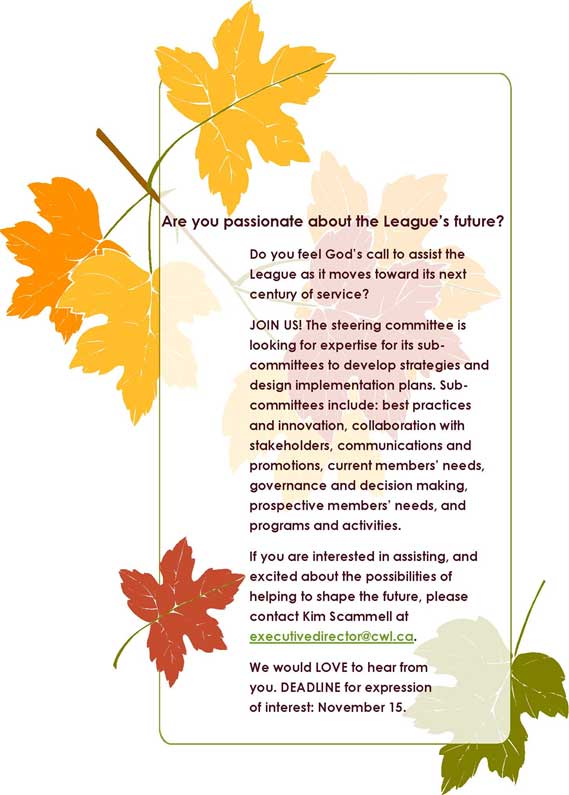 ---
Margaret Schwab, Provincial President
June 2019
Here we are – summer time and we are already looking forward to what needs to be done this fall. As presidents, we are challenged to keep ahead of the times – always on the alert to try to keep our membership up to date with this every changing world.
We need also, to keep reminding our members what has gone on in the past – not with the 'we have always done it this way' attitude, but by being open to new ideas that serve the mission and the objects of the League. New members need to learn about the League, why things are done the way they are and what we, as a large group of women, have accomplished. To that end, I would like to see every council use some type of a mentoring program. Some have the luxury of having life and/or honorary life members in their midst, but most do not. However, there are many long-time members who have the knowledge and experience needed to help our new members gain knowledge about the League. Perhaps, those willing to mentor could have their contact information made available, or perhaps buddy system could be established between a mentor and a new member.
Most of our younger members are very used to computers, so guiding them to the cwl.ca website and showing them all the valuable manuals and information there, is also a good start to mentoring. Good mentors may not have all the answers, but they know where to find them.
Please work with your parishes to try to organize groups to participate in the town hall meeting from the National Convention via computer on August 8th, 2017. Below is a list of what needs to be done to prepare for participating:
Organize a group of four to six people. If possible, include a nonmember and/or a spiritual advisor in your group.
Choose a venue where you will have access to the Internet and a monitor large enough to allow your group to watch.
Ensure the computer has at least Google Chrome 4, Internet Explorer 9, Mozilla 3.5 or Safari 4 to watch the session live.
Designate a reporting secretary for the group.
Have your secretary register your group by e-mail to executivedirector@cwl.ca by July 31st.
Your secretary will receive an e-mail with a link to an audience response system that she connects to via computer or cell phone. The system will allow you to ask and answer questions while the town hall is in the session.
Questions will be asked before convention to ensure participants can use the system. Your secretary should contact executivedirector@cwl.ca by July 31st if she cannot connect.
On Tuesday, August 8, gather the group together to join us. At 11:00 a.m. ADT follow the link on cwl.ca to watch and participate in the town hall.
Please note the importance of getting things set up and tested no later than July 31st.
At the provincial convention earlier this month, I had stated it would be 9 am here in Saskatchewan, but that was incorrect. The time that it would start would be 8 am, so an early morning for those attending.
I hope that you all are able to stop and enjoy Canada Day – the 150th celebration of our wonderful nation.
I look forward to the next two years – there will be challenges, but also great opportunities to work more closely with all of the diocesan presidents.
May the Holy Spirit continue to guide us as we move forward in our service to God and Canada.
Margaret Schwab