By Rev Peter Nnanga, MSP
December 2018.
People have asked me about the uniform I wear. This is the design of the CWO (Catholic Women's Organization) in Nigeria. I wear it just like wearing a normal Roman collar. Here are some pictures of me wearing it here in Canada.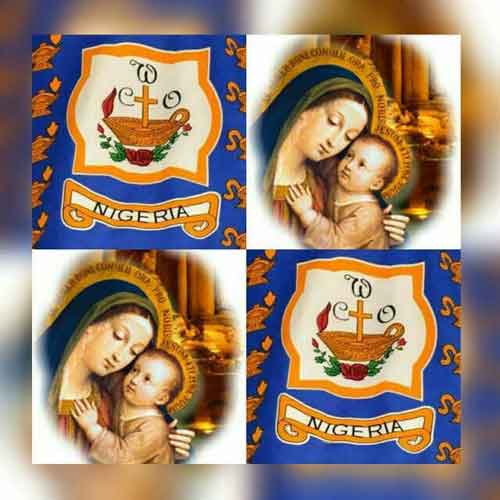 This is the design on the CWO uniform in Nigeria. CWO = Catholic women organization.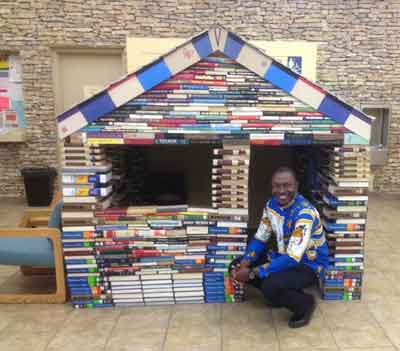 This was taken during my visit to the library in North Battleford in 2014.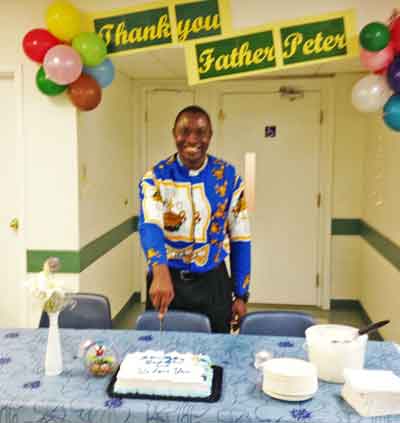 This was taken at Notre Dame Parish, North Battleford, Sk, at their
Thank You lunch in my honour after serving them in July 2014.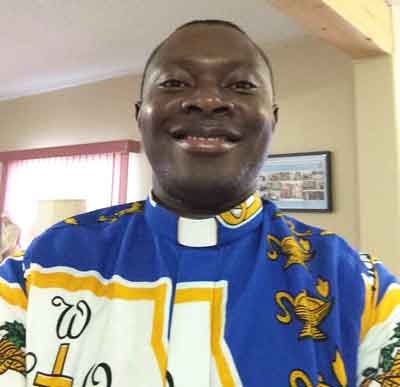 This one was taken at the rectory in Paradise Hill in 2015.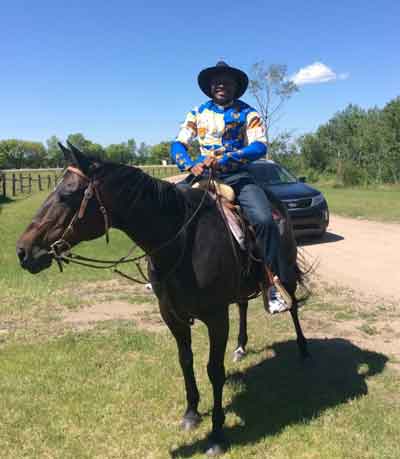 This was taken in Spiritwood in 2016.
---
The Need for the CWL members to bring in our Indigenous Catholic women into the League
By Rev Peter Nnanga, MSP
12 Oct, 2018.
As the new CWL Provincial Spiritual Adviser (PSA), I attended the Provincial CWL Convention in Regina in June 2018, and the National Convention in Winnipeg in August. Both conventions were very interesting, edifying, and a wonderful experience for me. I commend the women for their degree of commitment to the course of the League, and also for their active participation in the activities of the League at the conventions.
The CWL has a powerful voice in the Catholic Church in Canada. I congratulate the League for its achievements and successes in its 98 years of existence. Though I am still very new in the League, I did notice the absence of our Indigenous Catholic women at both the Provincial and National Conventions. I observed that we do really well in getting people to give us talks on Indigenous people and their culture. This is a necessity because we need this knowledge. However, in my observation there seems to be a definite lack in area of the next step which is taking practical steps to doing something to reach out to these ladies so that they are active participants as well.
As the Provincial Spiritual Advisor, I would like to suggest that our CWL members, especially members of the executive, at both the parish and diocesan levels, should move from the art of listening to talks on Indigenous people and culture, to the art of actually doing something tangible and practical in getting our Indigenous Catholic women involved in the League.
Practical Step: Two or three CWL members should visit the Indigenous parishes in their cluster or pastoral zone. They should attend Mass in that parish, and after the Mass, they should visit with the women, and get to know them personally. By wearing their CWL pin and other materials the CWL members show their pride in their league. It is necessary that the CWL members build relationships with the Indigenous Catholic women within their own Indigenous parishes, before inviting them into the League. This is what I call 'Christian friendship'. It is much easier to invite someone that is familiar to you or that you see as a friend to a program than someone that looks like a 'stranger'.
Our CWL members, especially those who are so experienced in the League, should make conscious and sincere efforts to involve our Indigenous Catholic women in the programs and activities of the League, through direct contact and invitations with our Indigenous Catholic women.
The CWL has a good and active voice in the Church, especially through its National Body; therefore, it is pertinent that we stress how important it is for our Indigenous Catholic women to be part of this voice in the Church and that we need them to help us to ensure their voices are heard.
This suggestion might look somehow daunting, because it demands the sacrifice of one's time and presence in an area that is not familiar. One may see it as the 'road less traveled' or in the words of Jesus, like going through the 'narrow gate', Matthew 7:13. However, Jesus tells that it is this narrow way that leads to life, Matthew 7:14. If we keep waiting for our Indigenous Catholic women to come and join the league, we may end up waiting for far too long.
May the Holy Spirit move us into action, like He moved the Apostles, and may Jesus accompany us on our journey. May Our Lady of Good Counsel intercede for us. Amen
Glory to Jesus - Honour to Mary!
---
Rev. Fr. Pius Schroh
Provincial Convention - Regina, Saskatchewan 2015
This was the first time I attended the CWL Provincial Convention as the new Provincial Spiritual Advisor. My new role gave me the opportunity to see the inner workings of the League at the provincial level and to observe the variety of talent, commitment and faith which make up the executive to this great organization. To attend the Provincial Convention is to see the faith, dedication, and giftedness, of the Catholic women of Saskatchewan at work.
It was a great blessing, to the Convention this year, to have Fr. Hengen share in some of my responsibilities as Spiritual Advisor. Of note, was the inspiring talk, or we could say, the rallying to the troops, with Fr. Hengen presented. He spoke well of the Catholic Women's League as a national organization and of the importance of each Council viewing its own identity within the national framework. Special thanks to Fr. Hengen.
Dear members of the Catholic Women's League of the Province of Saskatchewan, it is my great joy to address you through this annual report. Your theme – one heart, one voice, one mission brings to mind the words of Jesus from Saint John's gospel: "I have given them the glory you gave me, so that they may be one, as we are one . . . (17:22)". Jesus prays these words just before he is to suffer and die and rise again for us. We are to be one in him and in his Father, and one in mercy, in truth, and in Christian witness. It is because of our Catholic faith and our oneness in Christ that the League carries out her mission. As we contemplate and ponder, One Heart, Voice and Mission, I pray that the Lord Jesus, pour out his Spirit upon you, as you work to give witness and glory to the Father.
May God continue to pour out His abundant blessings upon the work of the League, upon each one of you, and upon your families and friends and all those who are dear to you.
---
From Your Spiritual Advisor
Fr. Pius Schroh
Provincial Spiritual Advisor 2015
I have the honor and privilege to address you this Advent Season as the Provincial Spiritual Advisor for the Saskatchewan Catholic Women's League.
Advent is the liturgical season during which we prepare for Christmas, the Messiah's first coming into the world: it is the time that we recognize that Jesus is here, and that Jesus will come again!
Through Jesus' incarnation, his first coming, Jesus came as the Prince of Peace, at which time Jesus came to reveal the Father's great and awesome love for us and to reconcile us to the Father through the forgiveness of our sins. Jesus accomplishes this through his suffering, death and glorious resurrection.
Just as there was a first coming of Christ, there will be also be a Second Coming, at His Second Coming, Jesus will come not as the Prince of Peace, but as the Just Judge. He comes full of power and with the authority which are his. At Jesus' second coming all God's enemies will be destroyed and thus his kingdom will be manifest in its fullness.
Jesus' Second Coming will most likely be, for most of us, not at the end of human history but at the hour of our death. We cannot know the day or the hour of Jesus glorious return, so also we do not know the day or the hour of our own death. For some it may be many years from now, for others it could be next week, or even sooner. Therefore we must always be ready to receive Jesus at whatever hour or manner he decides to meet us.
The gospel gives many foreboding signs that will take place before Jesus returns in all his glory. But these are not meant to scare us or cause us worry, but are meant to give us hope and great joy. Jesus tells us beforehand that these things will take place so that when they do occur it will not catch us off guard and cause us fear. He foretells these signs in order that we may "stand up and raise our heads, because our redemption is drawing near."
After all is this not we are waiting for, is this not what we are praying for at every Mass and every time we pray the Our Father: "Thy kingdom come!"
We have been waiting for Christ's return in glory for over 2000 years and we continue to wait. Saint Peter in his Second Letter states: "Consider that our Lord's patience is directed toward salvation" (2 Pt. 3:1-18). Jesus has not yet returned in glory because he waits patiently that all might be saved, for it is God's desire that all be saved and none be lost.
Advent is a particular time set aside by the Church for more intense preparation: a time to prepare ourselves, our families, and our world for both the First and the Second Coming of Christ. If we have accepted Jesus at his first coming we need not be fearful at his second but should pray for it with a holy longing.
There are also many ways in which Jesus comes into our everyday lives in order to bring us to us to holiness and happiness already in this life and in order that we might reign with him for all eternity in the next:
He comes through his word in sacred Scriptures: as we read and study the Bible we come to know Jesus more and more personally.
Jesus comes to us through the sacraments especially through those particular sacraments which we are called to repeat often:
The sacrament of Reconciliation: through which Jesus forgives our sins. Reconciliation is not just for mortal sins but is the most powerful means of growing in holiness. It is through confession that God's grace is poured out upon us to strength us for our journey toward holiness and the sure means of overcoming the sins which we often repeat.
Above all Jesus comes to us through the our participation in the holy Mass during which we receive Jesus in the Eucharist, through which he feeds us with his very Body and Blood which he shed for the life of the world.
Jesus also comes to us through one another and especially through the great Saints of the Church: mediating on their lives can enflame our hearts to live heroic Christian virtue and holiness.
Engaging in works of mercy: visiting the shut-ins, those in hospital and nursing homes, can help us grow in compassion and concern for the suffering members of the Body of Christ.
Praying for loved ones, the sick, and those who have died. And praying for those who get under our skin and drive us a little nuts can melt the coldness of our hearts. (Story about waitress: from the instant I meet her she bugged me)
Times of fasting and in giving to those who are less fortunate than we are.
Jesus comes to us through the inspirations of the Holy Spirit leading us to holiness through our vocation call and through the voice of conscience.
And Jesus comes to us in many other ways in order to build his kingdom, both in us and through us, in order that he might reign through his Church and in the world. Merry Christmas!
---
Fr. Francis Hengen
Provincial Spiritual Advisor 2014
Dear Sisters in the League,
I hope you are all ready to get a little dirt on your heads, well actually, ashes. Ash Wednesday is on February 22. I encourage all of you to give yourselves the time to take part in this special day as we begin the season of Lent.
There are two things that can be said during the distribution of ashes:
"Remember that you are dust, and to dust you shall return",
"Repent and believe in the Gospel".
We might not like to think about ourselves as dust, but this image certainly reminds us that our life here is but a temporary thing. We are passing through this experience; coming from God to return to God.
So we should not get too caught up in this world itself as if this is our permanent calling. As St. Paul says, "Heaven is our true homeland.. here we dwell in tents." This saying simply reminds us of who we are while here; pilgrims on a journey through the desert experience of this world to come at last to the Promised Land – the kingdom of heaven.
"Repent and believe the Gospel" calls us to action while we are here. Repentance is a call to a different life, a life focused on God's way, not my way, a turning from what I want to an acceptence of what God has to offer me. The greatest gift that He has to offer me is the Gospel – The Good News.
In living as fully as possible the season of Lent we will come to understand more deeply the real meaning of the Gospel, and in understanding it, come to believe it more deeply. It will become our way of life.
May the Lord bless you and your families this Lent as you prepare your hearts for the joyful celebration of Easter. Receive your ashes with joy and wear the cross proudly on your forehead.