Welcome One and All
The Saskatchewan Catholic Women's League website is here for you to see what all is happening in our wonderful province. If you wish to submit materials or pictures contact the Provincial President at: jean.r@sasktel.net. All items must be approved by the president and they will be forwarded to the web master.
One Heart, One Voice, One Mission has been our theme for the last two years and it speaks to all of us! But really hasn't that always been our theme in the CWL? Women working together for a common cause and making new friends as we go?
Have you taken in a "Catch the Fire" or a "S'Mores" workshop? Check our website for more details it is well worth your time.
To date Saskatchewan has 6,974 members in our CWL. The Provincial Council consists of 3 Diocesan Councils: Prince Albert 921 members; Regina 3,277 members; and Saskatoon 2,776 members.
The Mission Statement of the Catholic Women's League of Canada is: We are a national organization rooted in gospel values calling its members to holiness through service to the people of God.
- Jean Reader, Saskatchewan Provincial President
---
In the NEWS
How 83 thousand women continue Mary's "fiat" << click for story.
In a wonderful opening to the National CWL Convention, the mayor, an MP and even the Premier of Nova Scotia were there to bring greetings.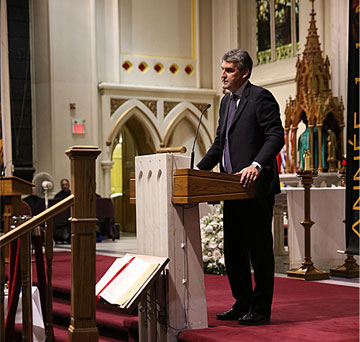 After the Mass the premier of Nova Scotia, Stephen McNeil
greeted the women attending the convention.
NOTICE!
The CWL National convention will be live streaming the keynote speakers from national convention!
Please follow along! Tune in at 9:00 - 11:30 a.m. Monday, August 15th (Atlantic Time) to hear Sr. John Mary speak on the topic of Women of Mercy United in One Heart, One Voice, One Mission. Join us on Tuesday to hear Fr. James Mallon's I Am A Mission on this Earth from 10:45-11:45 a.m. And finally, don't miss Dr. Nuala Kenny speaking on Palliative Care Wednesday, August 17th at 9:00 a.m.
The link to the livestream is http://livestream.com/mediaco/cwl2016. Please pass the message as far and wide as possible.
---
WHAT'S NEW
New Communiqués can be read HERE.
Report and pictures of the recent Provincial Convention are available HERE.
The Annual Reports from the recent Provincial Convention are available HERE.
The Criteria and the Application form for the Social Justice Award can be found HERE.
The 96th Annual National Convention is in Halifax, NS on August 14-17, 2016
---
Catch the Fire! Download the PowerPoint Presentation, the soundtrack or a PDF!