WELCOME TO THE SASKATCHEWAN CATHOLIC WOMEN'S LEAGUE OF CANADA WEBSITE
Click to go to:
---
GREETINGS FROM THE PRESIDENT
Dear Parish Catholic Women's League Presidents and Sisters in the League,
On the feast of Our Lady of the Rosary, October 7, 2018, Canadians across the country are invited to pray the Rosary wherever they can gather or while viewing the live-stream of the National Rosary Rally.
For more information please visit: http://www.rosarycoasttocoast.ca/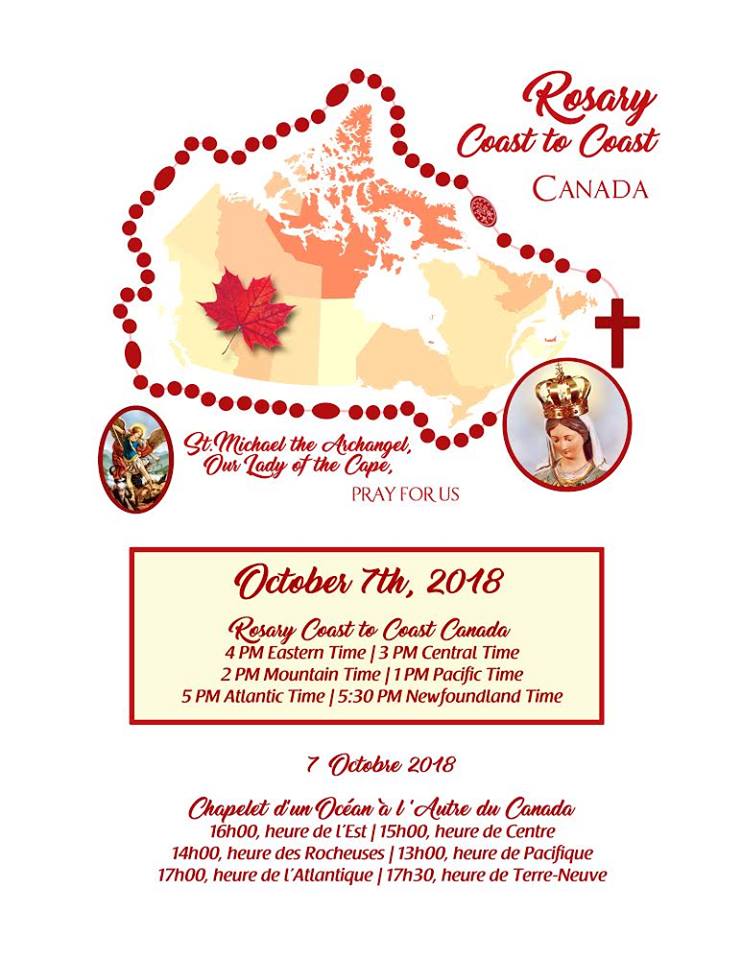 Sincerely,
Margaret Schwab
Saskatchewan Provincial CWL President
---
Consider the

Implementation Committee
Do you have a passion for action and organization?
Consider appointment to the Implementation Committee, entrusted to bring to life The Catholic Women's League of Canada 2018-2022 Strategic Plan! The future is bright; the goals are set; the objectives are waiting to be achieved! Through implementation of the strategies adopted by the national executive at the 98th annual national convention assembled, the League will move toward its envisioned future as an inclusive and engaged community of Catholic women inspired by faith.


What is the role?

If chosen, you will become one of four appointed members on the seven person committee. Working collectively in committee, you will provide coordination and oversight to a series of working groups, each established on a staggered basis, to design and implement an action plan for one strategy. As a committee, you will also report progress towards the objectives and recommend action plans to the national executive for consideration. You will be specifically assigned to manage working groups set up under one of four goals.
---
Saskatoon Diocesan Executive Meeting - Monday, September 10, 2018. More information

HERE

The report from the 70th provincial Convention is up. You can read it

HERE

.
You can read the 2017 Annual Reports and the Oral Reports from the 2018 Prov. Convention

HERE

.
---
From NL CWL: "Your CWL sisters in Newfoundland and Labrador are thinking about you during this tragic time in your province. CWL members were busy making comfort quilt tops to be sent to the home of the Broncos in Saskatchewan. Our thoughts and prayers are with all of you. We hope you may find some comfort when you wrap up in your quilt. May God bless you all and remember that the souls called home are Saints forever." More

HERE
St. Patrick's CWL Council members in Carbonear, NL display the quilts:
left to right, Angela Slaney, Shirley Shea and Ellen Marrigan.
You can now find reports from around the Dioceses under the "Events" page HERE including:

Saskatoon Holy Spirit CWL celebrates with Our Lady of Grace CWL
Report from the 83rd Saskatoon Diocesan CWL Convention
Report from the 95th Annual Regina Diocesan CWL Convention
Louise Kowalski, of St. Augustine, Saskatoon CWL council received the Maple Leaf service pin.
Protecting the Sanctity of Life in Saskatchewan
Diocesan Communiqués and Annual Reports
2017-18 Provincial Communiqués and Annual Reports can be read HERE.
The Saskatoon CWL Clothing Depot now has its own page HERE. At this time, the Clothing Depot is seeking donations of "summer" items, especially children's clothing sizes 7-14. Donations of towels, face cloths, sheets and other linen articles, as well as housewares are always needed and appreciated.
---
Our theme logo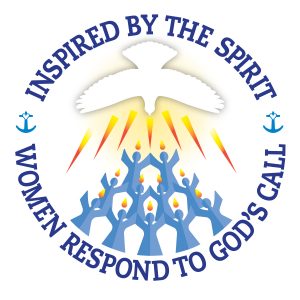 SYMBOLS AND MEANINGS:
DOVE: Holy Spirit - advocate, counsellor, intercessor
CLOUD & LIGHT: living, saving God of glory
FIRE: transforming energy of Pentecost
DISCIPLES: CWL members, responding joyfully to God's call in word and action
CROSS, ANCHOR & HEART
Faith--lived, professed, witnessed and spread
Hope--strength to sustain and preserve us
Love--the first and greatest of all virtues
PRAYER:
Spirit of the Living God open our minds to experience the unconditional love of God. Empower us with the gifts of your Spirit so that we may respond to God's call in joyful service. Inspire and bless the members of the Catholic Women's League so that the fruits of your Spirit may be evidenced in all that we say and do. Amen
---
Catch the Fire! Download the PowerPoint Presentation, the soundtrack or a PDF!
---