REGINA DIOCESE EVENTS
---
50-year celebration of Holy Trinity Parish and Holy Trinity CWL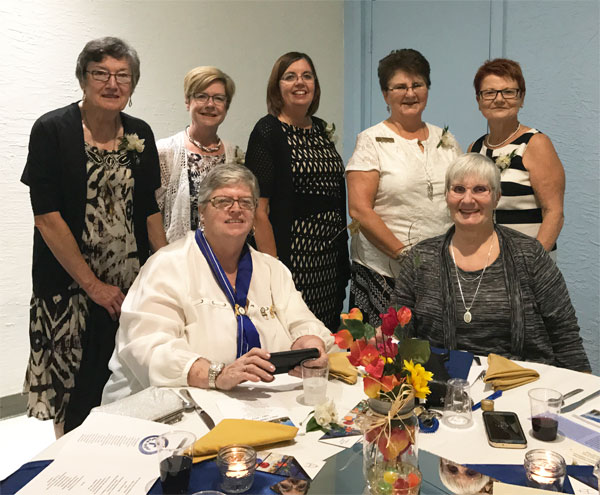 Back row, left to right: Velma Harasen, Past National President; Marilyn Schuck, Diocesan President,
Margaret Schwab, Provincial President; Debbie Bulych, Holy Trinity CWL President, and Sharon Mayor, Regina Regional President
Front row, left to right: Jean Reader, Past Provincial President and Resurrection CWL member Corinne Edworthy
Holy Trinity Parish and Holy Trinity CWL celebrated their 50th year anniversary on Sept. 9, 2017.
Archbishop Donald Bolen celebrated the anniversary Mass assisted by Pastor Reverend Ron Andree and Deacon Joe Lang. Archbishop James Weisgerber and Reverend Don McNeil, both former Holy Trinity pastors, attended the celebration Mass and took part in the celebrations.
CWL members of Holy Trinity parish were in evidence wearing their traditional shoulder sashes. Several former CWL and parish members came back to the church to attend the celebration. Velma Harasen, North American Vice-President of the World Union of Catholic Women's Leagues attended the anniversary Mass and brought congratulations, representing the National Council of CWL.
The anniversary celebration continued with a reception in the church basement hall following the mass. A large cake to commemorate the occasion was cut and distributed.
---
Preeceville—Sturgis CWL Activities
We are fortunate to have two councils, and members from both Preeceville and Sturgis councils were photographed in front of the altar after CWL Sunday mass in April. With them is Father Marcin Mironiuk, who has now moved to another parish.
Preeceville and Sturgis CWL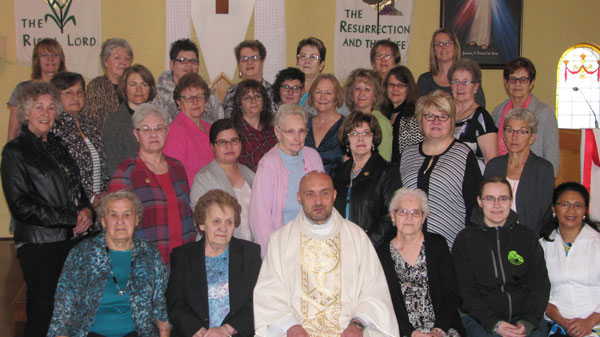 Front row, left to right: Anne Sopel, Gladys Walowski, Father Marcin Mironiuk OMI, Marion Milette, Nathasia Lingl, Nellie Knihniski.
Second row, left to right: Viola Skogen, Amelita Vargas, Bernice Schmidt, Shirley Woytas, Marcia Yagelnesky, Arlene Beatty.
Third row, left to right: Anita Desroches, Delores Orban, Arlene Lingl, Lillian Smith, Geraldine Galiz, Brittany Halkyard, Kathleen Pitt, Laurie Decker, Barbara Biccum, Beatrice Sekel, Carole Haubert .
Top row: Donna Balawyder, Marie Ann Suknasky, Amy Galiz, Leona Kowalchuk, Jeanette Budnick, Barbara Wagar, Lisa Serdachny.
• • • •
We are so fortunate to have two young girls in our council, and one has graduated this year. During Sunday mass in April, a graduation presentation was given by CWL President Donna Balawyder to Sydney Giddings.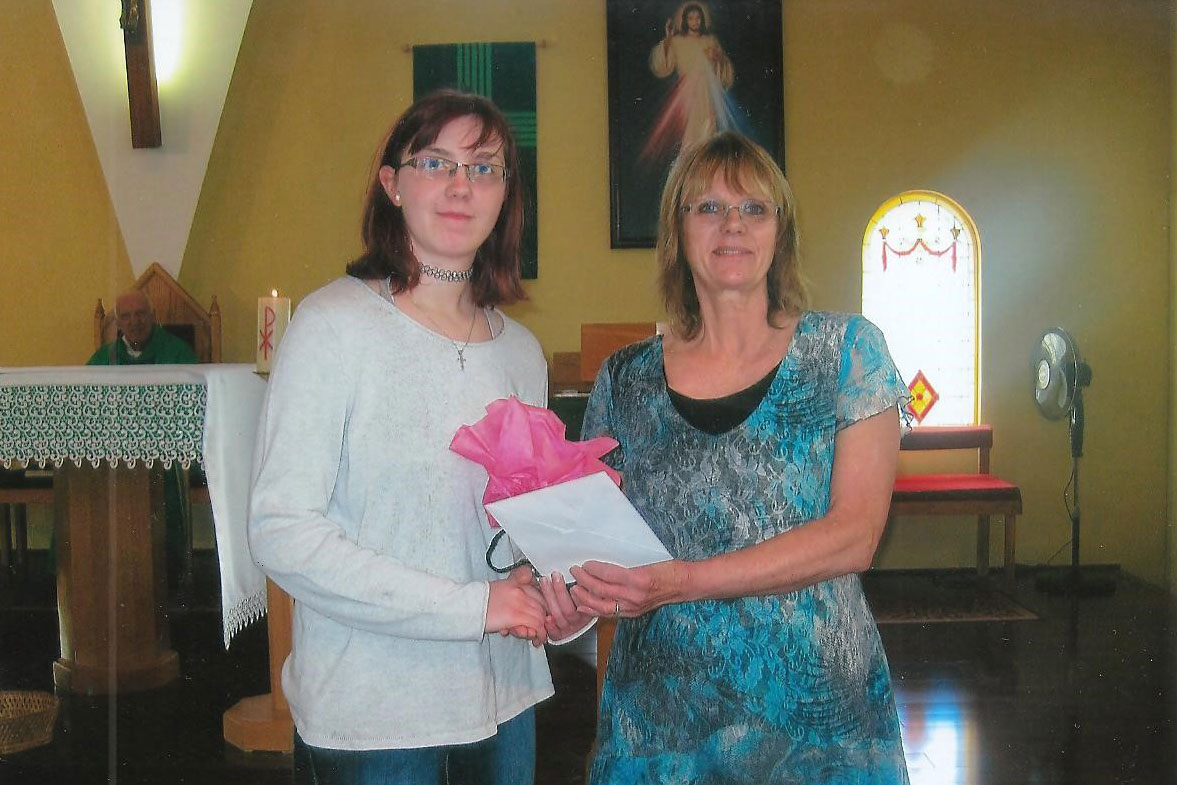 Sydney Giddings and CWL President Donna Balawyder
In the first week in August, St. Patrick's Preeceville branch R-092 participated in a parade in the town of Preeceville for the 150 Canada Day celebration. Photos by Brittany Halkyard.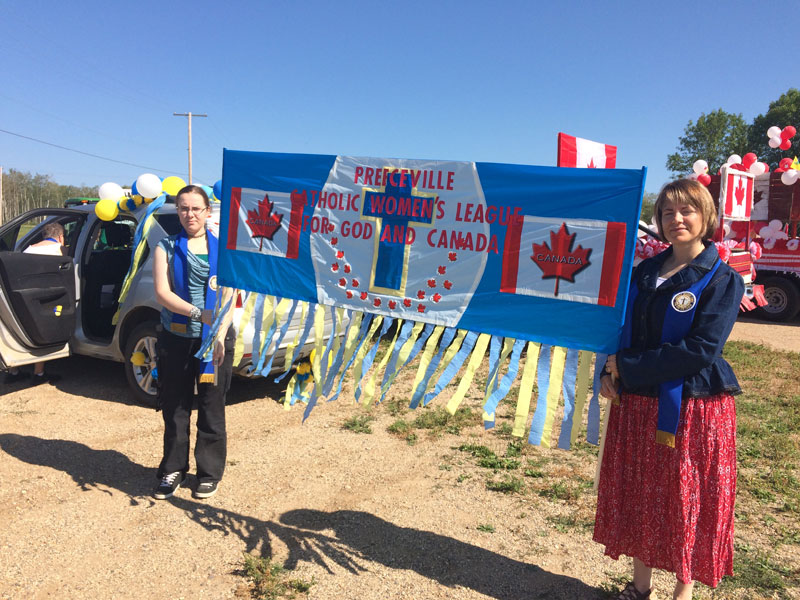 Nathasia Lingl and Arlene Lingl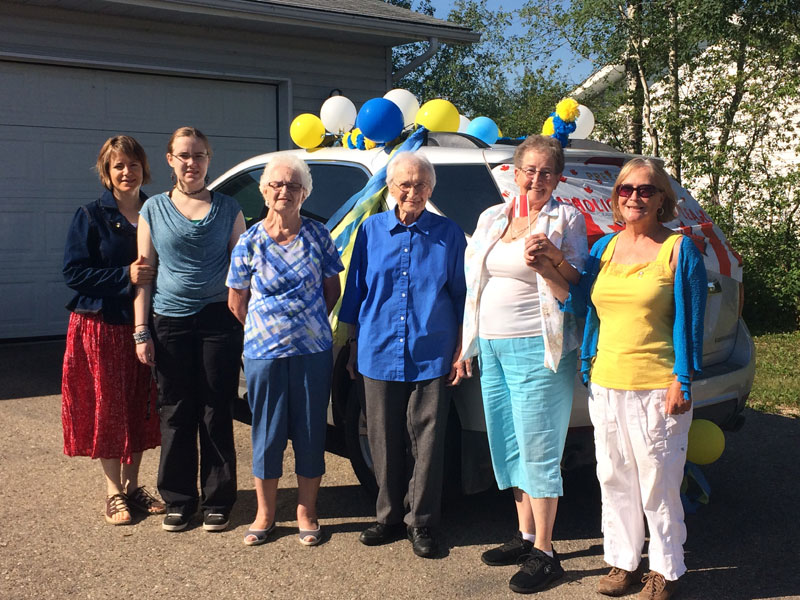 Left to right: Arlene Lingl, Nathasia Lingl, Marion Milette, Nellie Long, Bea Sekel, Kathleen Pitt.
---
Regina Diocesan CWL Convention 2017
The 2017 Regina Diocesan CWL Convention took place at Christ the King Parish in Shaunavon on April 23 & 24 with 169 members, dignitaries and guests attending. Activities began on Sunday at 1:30 pm with registration, the rosary and Opening Mass at 4 pm. Mass was celebrated by Diocesan Spiritual Advisor, Rev. Ed Hengen, with all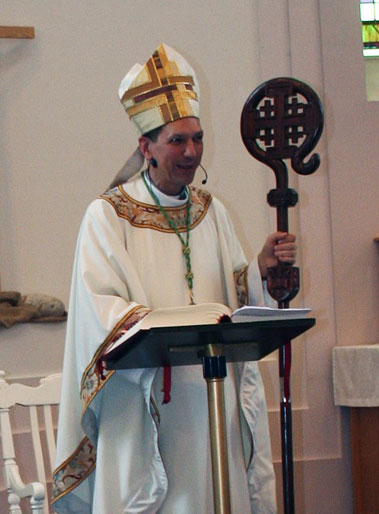 attending priests concelebrating. Following the mass, fellowship and the banquet was enjoyed in the parish hall. Guest speaker, Carla Carlson, author, lawyer and CWL member from Swift Current spoke on her book "Everyday Grace: Finding Your Extraordinary in Ordinary Everyday Life". Her book formed the basis for her presentation as she challenged us to discover our everyday gr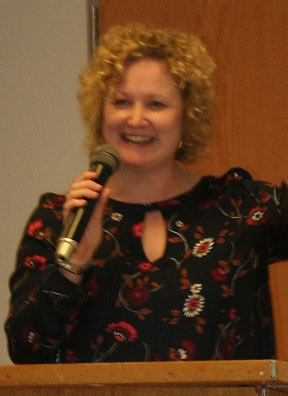 ace and live a life incorporating daily acts of mercy. Carla's stories inspire us to start our works of service from a foundation of love. Staying Alive, a local entertainment group capped off the evening with old familiar tunes and some musical theater.
The Catholic Women's League will celebrate its 100th Anniversary in 2020 and in response to the centenary challenge, many colourful lap quilts had been made by individuals or councils throughout the diocese, and these were on display in the church. These quilts will be donated to various palliative/hospice care homes, nursing homes or individuals in the province.
Quilts Quilts Quilts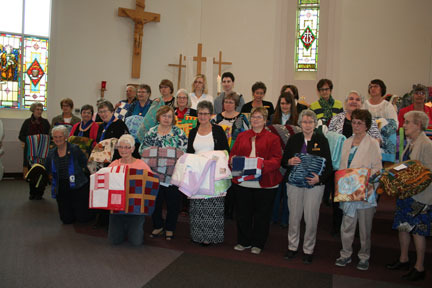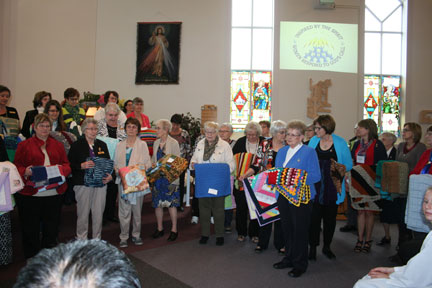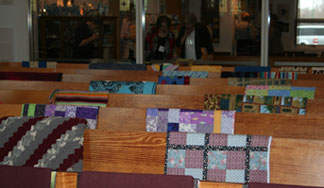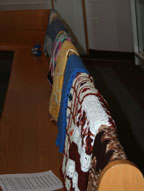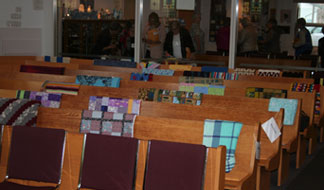 Monday began with Morning Devotion, followed by Presentation of Colors. Notice of Calling of Convention commenced the business session of the convention. Provincial President, Jean Reader, was present and updated the members on Provincial business. Prince Albert Diocesan President Shirley Lamoureux and Saskatoon Diocesan President Marlene VanDresar brought greetings. Greetings were read from National CWL President, Margaret Ann Jacobs, MP David Anderson, and MLA Doug Steele.
The Diocesan Executive delivered their reports mentioning the 12 Hours of Prayer for Palliative Care, Euthanasia and Doctor Assisted Death, the Theodore School Board decision, and many other areas of concern. Lynn Rogers, outgoing President, was presented with the Maple Leaf Service Pin.
This year was an election year. The following is the Diocesan Executive for 2017-2019:
President - Marilyn Schuck
Past President and Archivist – Lynn Rogers
President-Elect and Organization Chair - Yvonne Bachelu
1st Vice-President and Resolutions Chair - Janette Rieger
Recording Secretary – Marilyn Mudry Lautsch
Corresponding Secretary - Wendy Pitre
Treasurer - Donna Seebach
Spiritual Development - Denise Soroka
Christian Family Life – Bernice Gobeil
Communications - Lynn Jones
Community Life - Marjorie Butel
Education & Health - Sharon Mayor
Legislation - Vicki Mayer
Father Ed Hengen remains as Spiritual Advisor.
Following tradition, the Travelling Madonna was passed on from the Regina Regional Council to Our Lady of the Prairies and Our Lady of the Fields Regional Councils, co-hosts of the 2017 convention.
Regina Archbishop, Donald Bolen, theme speaker for the afternoon, spoke on "Beyond the Year of Mercy". He shared four central points with regard to Mercy: Mercy is here to stay - it is the heart of the gospel; Mercy is a kind of love - God loves us and cares for us with joy despite our sinfulness; Mercy gives rise to internal virtues of faith, hope and love; and Mercy gives rise to external virtues such as justice, compassion and reaching out to others, especially the poor. He encouraged us to carry forward the Year of Mercy by being people of profound hope.
The Convention ended with the retiring of colours, and the Closing Mass at 3 p.m. The main celebrant was Archbishop Donald Bolen with priests in attendance concelebrating. The new Executive was installed at the mass. A blessing of the lap quilts and commissioning prayer was celebrated following the installation.
The 2018 Diocesan Convention will be held in the Yorkton/Melville Region on April 29 & 30.