PARISH COUNCIL EVENTS
A spotlight on our parish councils and all the wonderful work they do. See what other councils are doing and maybe get some inspiration for your own council.
---
Holy Spirit Council - Saskatoon
May 2023
Members at Holy Spirit Parish in Saskatoon have had a busy month, welcoming new members, presenting of 25 years of service pins to members and leading a prayer service for 12 hours of Prayer for Palliative Care.
| | | |
| --- | --- | --- |
| | | |
| Members led the Stations of the Cross for Caregivers following Daily Mass as part of 12 Hours of Prayer for Palliative Care. | Fr. Joseph Salihu (Spiritual Advisor) says a blessing over new member pins and years of service pins. | President-elect Melina Palendat (right) presents Kay Lang with a 70 year CWL service pin. |
| | | |
| President Margaret Schwab (right) presents Julie Gibb with a 75 year CWL service pin. | Holy Spirit CWL was pleased to welcome five New Members at our May Meeting. Welcome to the CWL! | Members attended the potluck supper for Our Lady of Good Counsel feast day at St. Anne's Parish. |
---
St. Joseph's Council - Kindersley
May 2023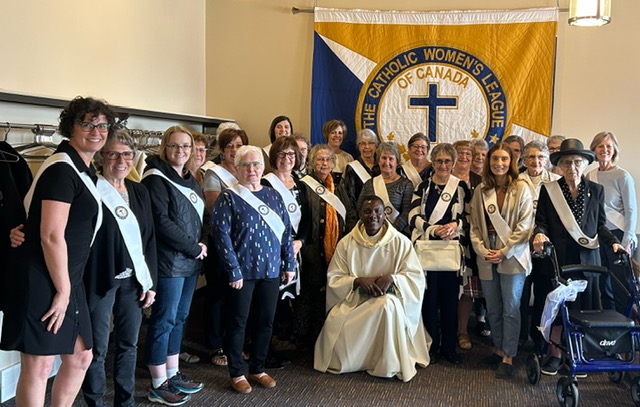 St. Joseph's Council, Kindersley, celebrated CWL Sunday on April 23, 2023. They gathered for a group photo in front of a beautiful quilt made by member Bernie Schwartz.
---
St. Joseph's Council - Kindersley
March 2023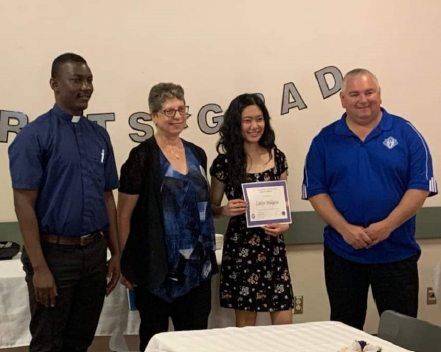 Geralyn Allen from St. Joseph's CWL Council in Kindersley has shared their latest newsletter with us. Please take a read to find out what they are doing. Many wonderful pictures of members receiving Years of Service pins, and a few of perogy making too!
Kindersley CWL Newsletter (PDF)
Picture on left: The CWL/Knights of Colombus Incentive Award presented to a graduating student.
---
Holy Family Cathedral - Saskatoon
March 2023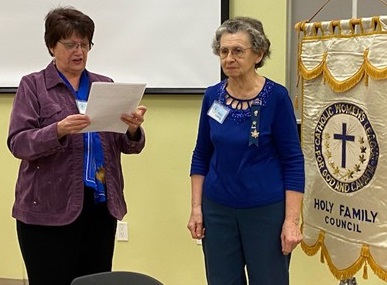 Avis Hardy welcoming Mary Kehrig to her 5th Year as President.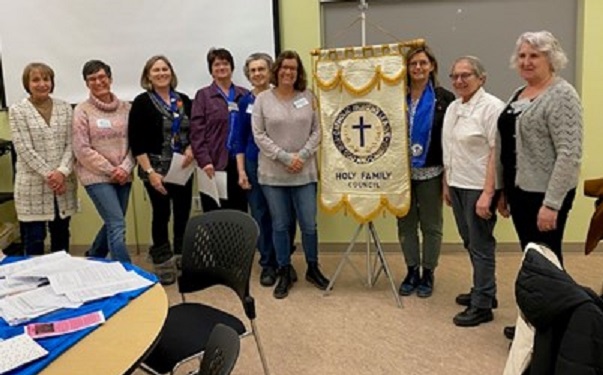 L to R Donna Braun – Service, Carol Grant – Secretary, Wendy Dale – Faith, Avis Hardy – Social Justice, Mary Kehrig – President, Donna Dube – Co-Treasurer, Cathy LaFleche – Vice President & Organization, Collette Brockman – Co-Treasurer, Willie Glasman – Service