SASKATOON CWL CLOTHING DEPOT
619 20th Street W.
Saskatoon, Sask.

Christmas comes to the Clothing Depot!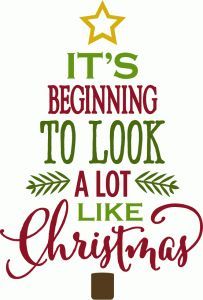 Christmas sales at the CWL Clothing Depot are well under way. Donations of gifts, new and nearly new, are beautifully displayed and ready for all the shoppers who anticipate this exciting event every year.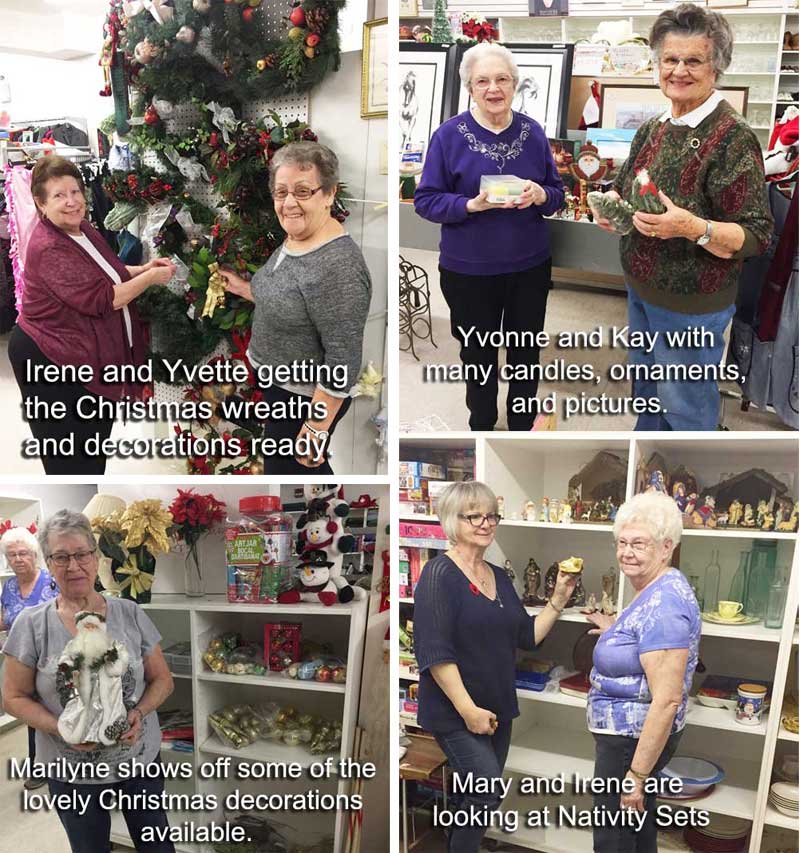 Stuffed toys, Nativity sets, pictures, candles, wreaths, ornaments, toys, clothing and Christmas linens are available for purchase by children and adults.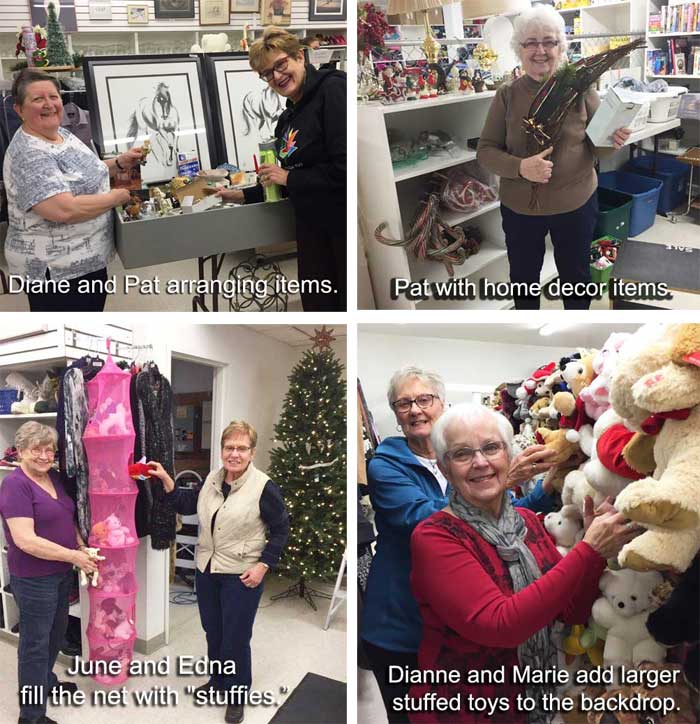 Every year during the Christmas season, the CWL Clothing Depot features a "quilt raffle." Bea is displaying a beautifully designed and crafted quilt for this anticipated event. Tickets are available at the Depot
for $1.00 each.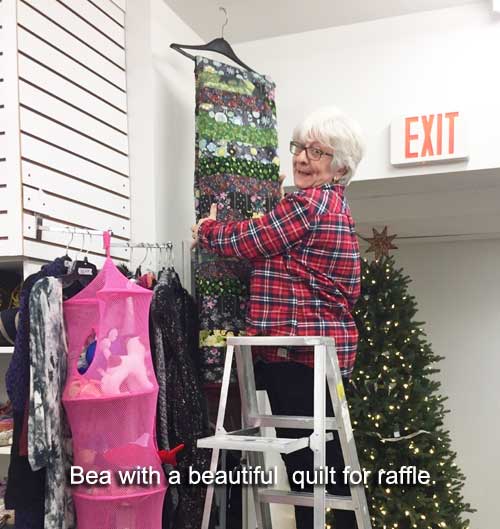 Thank you very much for your continuing support.
May you and your family celebrate a joyous Christmas and receive rich blessings in 2019.

---
Fall/Winter 2018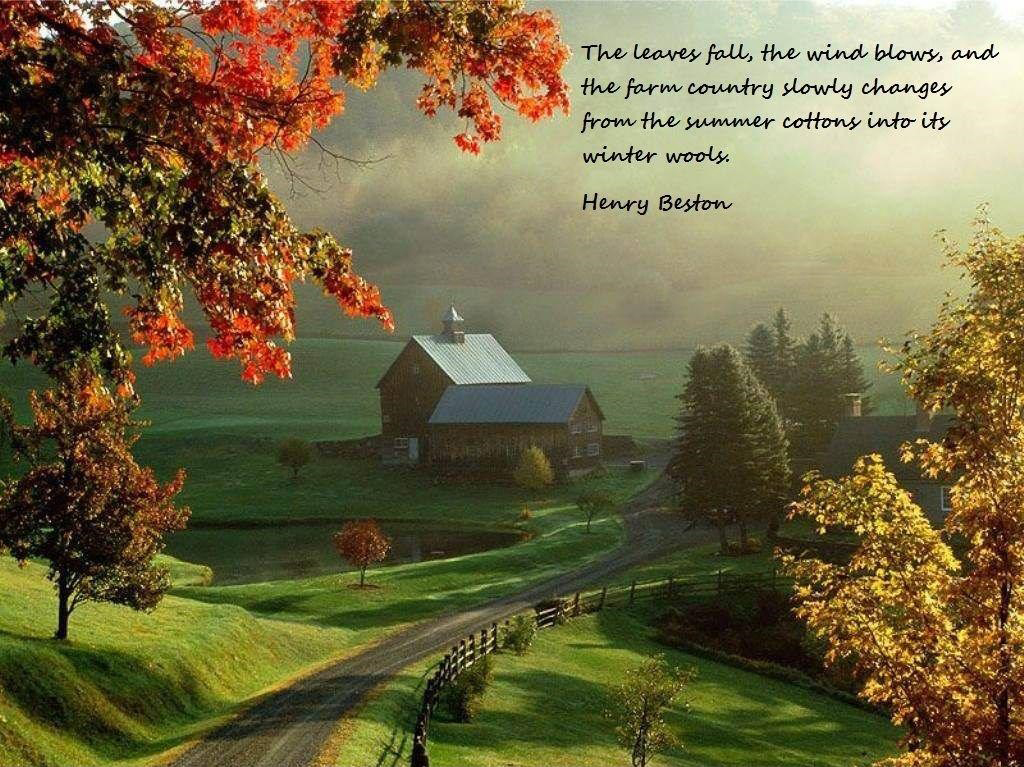 The non-profit CWL Clothing Depot is presently seeking fall and winter donations including pots and pans, linens, towels, sheets, blankets, etc., ladies, men's and children's jackets, coats and boots, mitts and gloves and ladies long sleeved sweaters.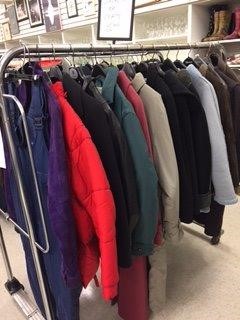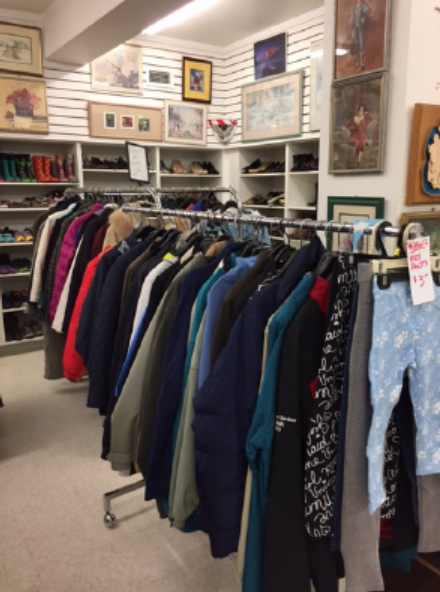 In preparation for the Clothing Depot's annual Christmas Sale, the Depot is seeking donations of "new" toys. As well, "new" gift sets which might include soaps, lotions, and perfumes are very much appreciated and make wonderful and affordable Christmas gifts for the shoppers who frequent the Depot.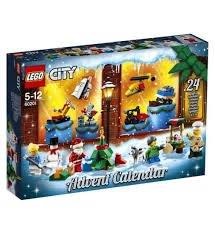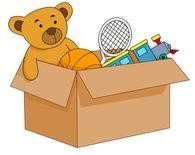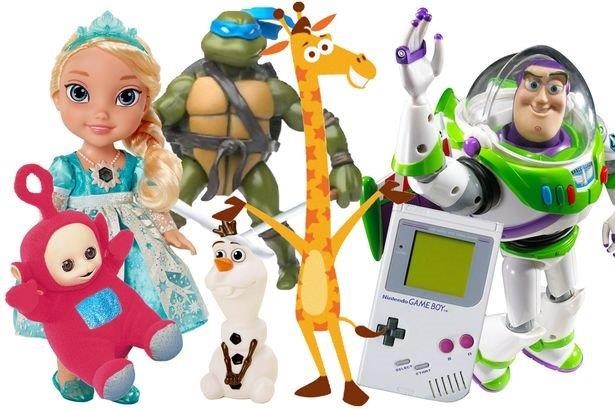 The Depot is also requesting "gently used items," some of which may include Christmas ornaments and
home decor giftware, Nativity sets, candles, tree lights, etc.
Many delicious and decorative "Christmas candy cups" are created by the volunteers and are purchased by children and adults at a minimal cost. With that said, the Clothing Depot is requesting individually wrapped candy, preferably nut free.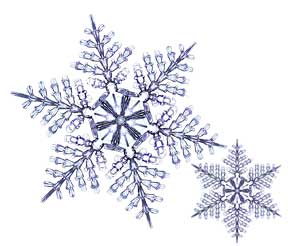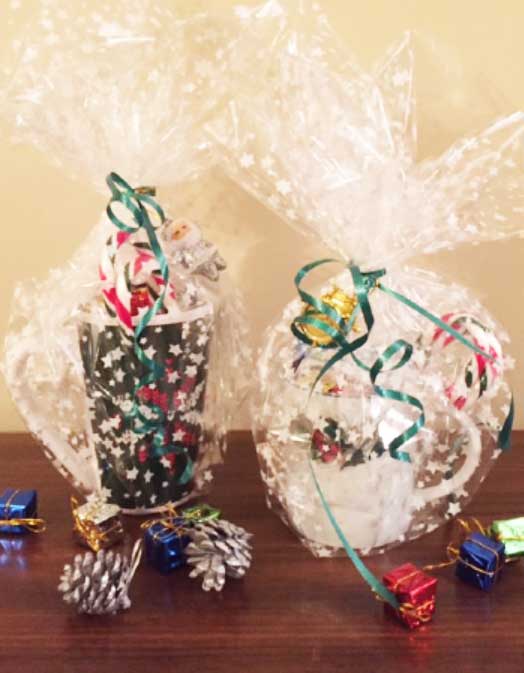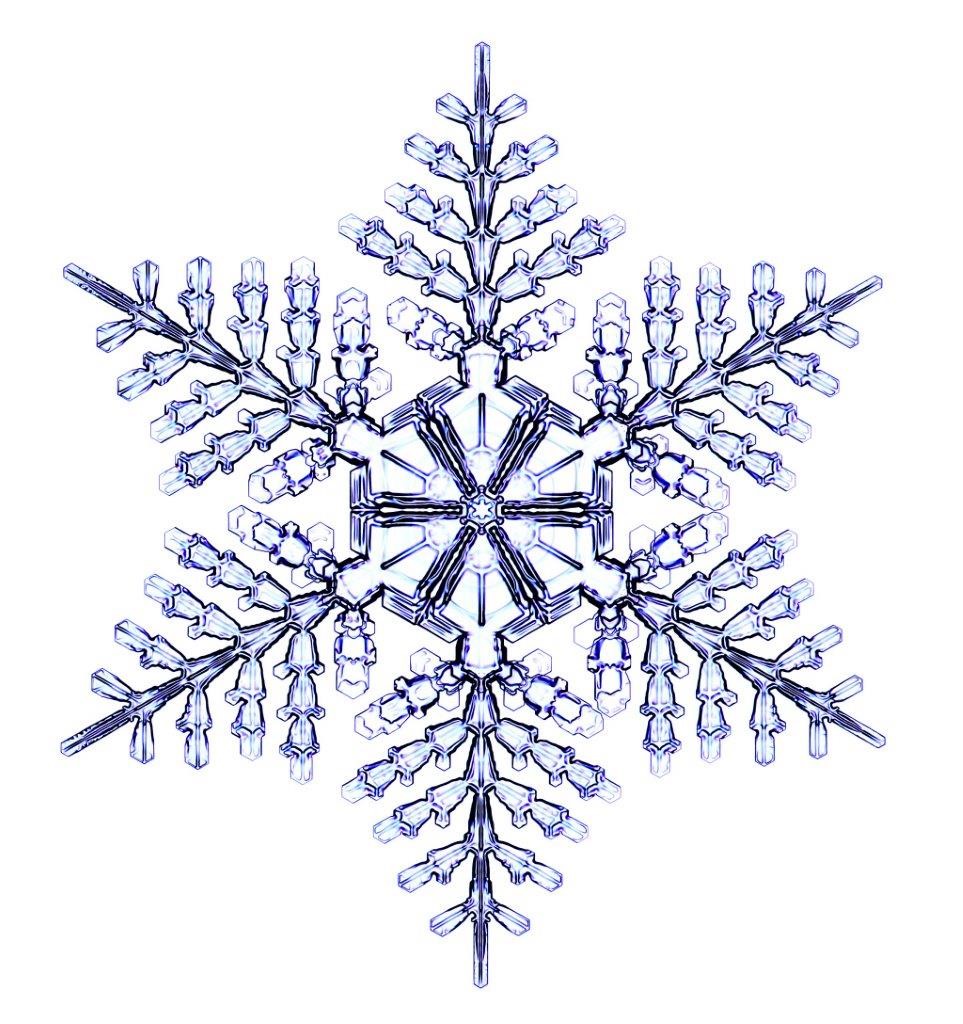 The Clothing Depot extends special thanks to all its supporters especially the dedicated volunteers who continue to "serve" God's people with kindness and charity. Volunteers are always welcomed and needed! Please call Bea at the Depot, 306-242-5042, if you wish to join the volunteer "team."
The Depot also thanks the numerous individuals and organizations who support us with donations. Because the Depot is a non-profit organization, profits from sales are directed to local and provincial charities.
CWL CLOTHING DEPOT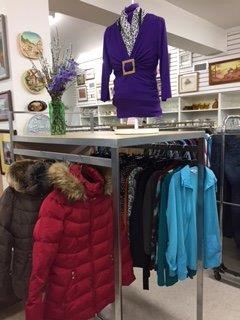 HOURS OF OPERATION
Open to the Public
Tuesday-Friday 12:30-3:00pm
Saturday 9:30-12:30
Closed Monday
Donation Drop Off (back door please)
Monday-Friday 9:00-3:00pm
Saturday 9:00-12:00pm
For donation pick up, please call 306-242-5042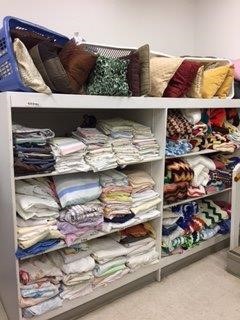 "He gives generously to the poor; His kindness lasts forever."
(2 CORINTHIANS 9:9)
Thank you for your generosity!
---
Summer 2018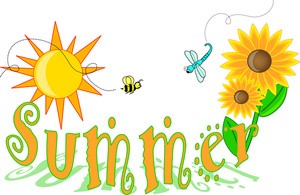 An appreciation luncheon was held at Smiley's in Saskatoon for those who served as volunteers at the CWL Clothing Depot. The dedicated volunteers enjoyed the opportunity to socialize and enjoy a delicious meal. 135 people attended. Thank you to all who participated. Because volunteers are always needed and greatly appreciated, please call Bea at the Clothing Depot, 306 242 5042, to inquire about volunteering.
The AGM (Annual General Meeting) of the CWL Clothing Depot was held at the depot in March. Reports were read by the Board members. In Bea's absence, the Depot Manager's Report was read by Pat Fortosky, Board Chairman. Bea noted that a total of 5197.5 volunteer hours were documented for the 2017 year. She also expressed special thanks to the Christian Ethics students who help out, to the ladies who do mending, and to the lady who makes old Barbie Dolls look like new.
At this time, the Clothing Depot is seeking donations of "summer" items, especially children's clothing sizes 7-14. Donations of towels, face cloths, sheets and other linen articles, as well as housewares are always needed and appreciated.
The Clothing Depot is in need of summer clothing, sizes 7 to 14. Summer dresses, summer purses are always best sellers.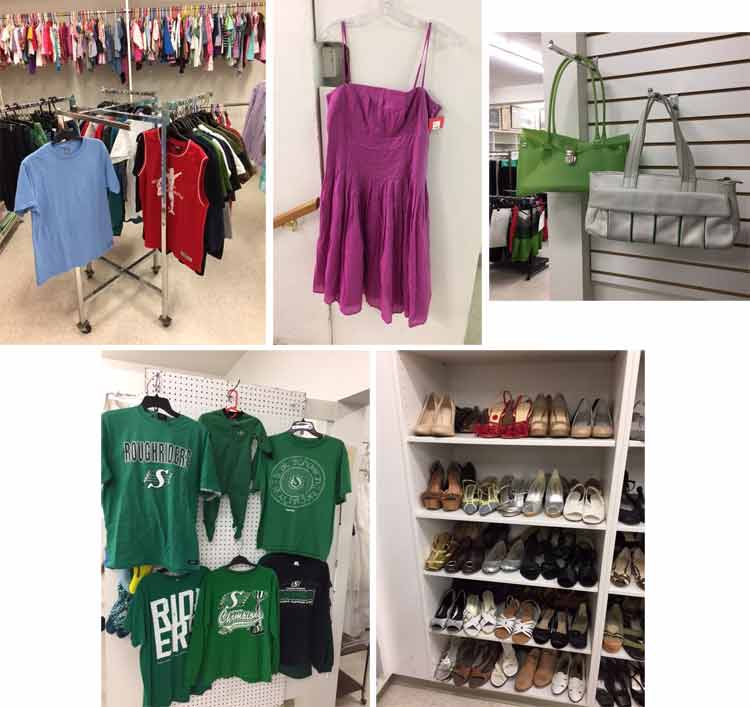 Also a popular items: Saskatchewan Football Rider clothing and summer shoes and children's sandals and other kid's footwear is always in demand.

Karen Swan, Sylvia Nimalovitch and Elizabeth Kokotailo show summer clothes, always wanted on these hot summer days. Maria Barba holds up popular swimwear.
Because the Clothing Depot is supported by donations, we wish to express thanks to the many businesses, church groups and private donors who continue to make regular and generous donations.
The CWL Clothing Depot will be closed during Exhibition Week, August 7-12, 2018.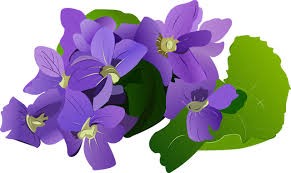 CWL Clothing Depot
Hours of Operation
Open to the Public
Tuesday-Friday 12:30-3:00pm
Saturday 9:30-12:30pm
Donation Drop Off (please use back door):
Monday-Friday 9:00-3:00pm
Saturday 9:00am-12:00pm
For Donation Pick-Up, please call 306 242 5042
---
Spring 2018
The CWL Clothing Depot is pleased to report that 2017 was a very successful year. We were able to provide new as well as "gently used items," some of which included clothing, household items, bedding, and Christmas "gift" items to the needy at prices that were affordable to them. This is made possible by support from our dedicated volunteers who spend endless hours at the CWL Clothing Depot and from many others who understand the needs in our community and continue with their donations throughout the year. The Clothing Depot in turn is able to continuously offer financial support to non-profit charitable organizations so that they too are able to carry on their good work to benefit others as well.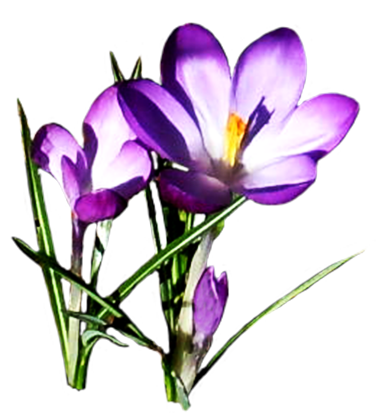 Spring is just around the corner and the beginning of the annual "spring cleaning." Please keep the CWL Clothing Depot in mind as you "reduce clutter." At this time the Clothing Depot is accepting towels, bedding such as sheets, blankets and comforters, men's, ladies and children's clothing of all sizes and spring footwear.
Volunteers are always needed and greatly appreciated. If you are interested in joining our team please contact us at the CWL Clothing Depot for more information.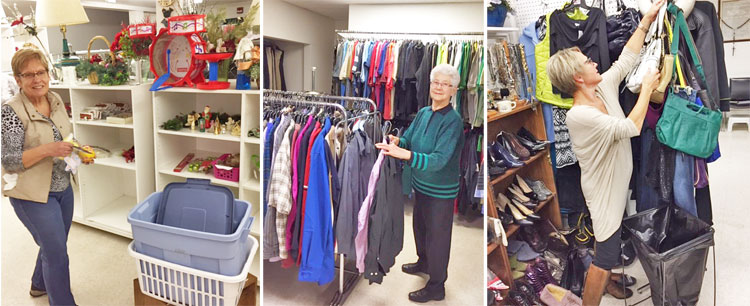 Dedicated volunteers Edna Kyrzyk, Emily Greter, and Janette Schwandt
When we, who have been so richly blessed, are willing to share our time and treasure with our brothers and sisters then we are doing what the Gospel demands of us.
~ The Most Reverend Murray Chatlain, Archbishop of Keewatin-Le Pas
We encourage parishes and other groups to consider organizing donation drives for particular items such as socks and underwear, that are always in demand.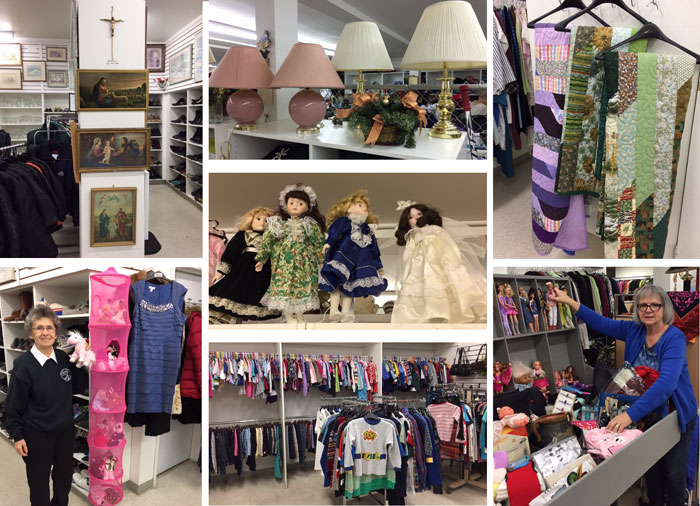 The Clothing Depot has a wide variety of items from which people can chose.
Mary Kehrig (left) and Mary Jacobi (right) help keep things organized.
There is a detailed history of the Clothing Depot on the Saskatoon diocese website (click HERE). Our prayer is that the Depot will continue to serve for another 50 years.
Every Thursday the Clothing Depot arranges for the pick-up of donations. Call (306) 242-5042 by Wednesday. If you wish to deliver your items, go to 619 - 20th Street West at the back door between 9:00 a.m. and 3:00 p.m. Monday to Friday and Saturday between 9:00 a.m. and 12:00 noon.
Shopping is Tuesday to Friday from 12:30 p.m. to 3:00 p.m. and on Saturday from 9:30 a.m. to 12:30 p.m..
---