SASKATOON DIOCESE EVENTS
---
The Saskatoon Regional Catholic Women's League Quilters
In January of 2015, a group of CWL members and friends got together to make quilts for the CWL Clothing Depot. The fabric we use has generously been donated from many people; in fact, we have had to purchase only batting and some fabric for quilt backs. Thanks to many generous people, we have also had financial support to assist with those purchases. After almost two years in existence, we have provided over 250 quilts. Since we were able to make so many quilts, we have expanded our recipients to include the Salvation Army, the Red Cross, Egadz, the Crisis Nursery, the WYCA women`s shelter, and Pregnancy Options.
In the past weeks, we have tackled our Christmas fabric and made beautiful Christmas stockings, table runners and potholders to donate to the Clothing Depot.

The group consists of about 20 women but we are always looking for more quilters. We meet at Holy Spirit Church two Mondays per month on a drop in basis. People come for an hour or a day, whatever suits their life at the time. We do not meet in December or in the summer months from May to August. If you are interested in helping out or donating fabric, please call Margaret (306) 374-4214
---
Saskatoon Diocesan Executive Workshop - Biggar October 29, 2017
St. Gabriel CWL at Biggar hosted a workshop on the gifts and fruits of the Holy Spirit applied to Leadership in the CWL. The workshop was facilitated by Saskatoon Diocesan Council members: Ingrid Eggerman, Audrey Zimmerman, Edna Hodgson and Marlene VanDresar.
The day began with Mass celebrated by Father Ed Gibney, followed by coffee and a 3 hour workshop. The afternoon session was a skit by Honorary and Life Members of Saskatoon Diocese. Through the skit, all were entertained, as well as learning about and a celebration of who we are as the Catholic Women's League of Canada.
The "CWL Goes to Court" skit was organized by Honorary Life member Heather Kolla, Honorary Life Member Claire Heron, Life Member Tillie Aessie and Life member Mary Nordick. Diocesan Executive and Biggar's pastor Fr. Ed Gibney participated with the skit.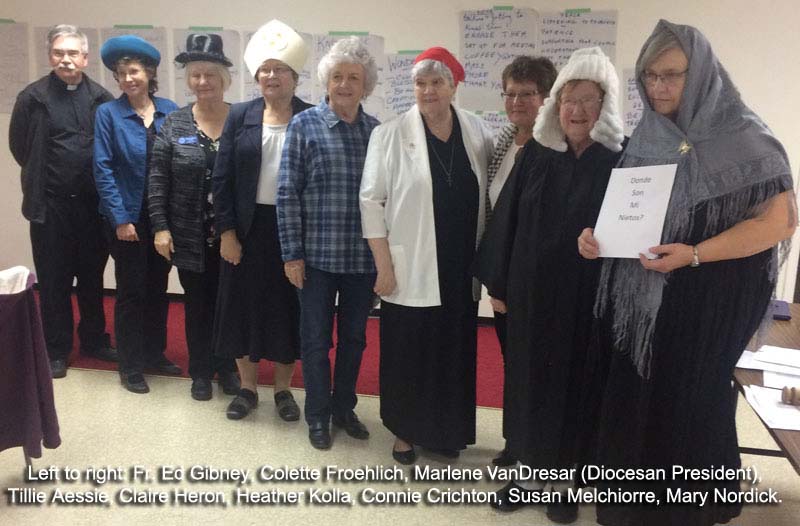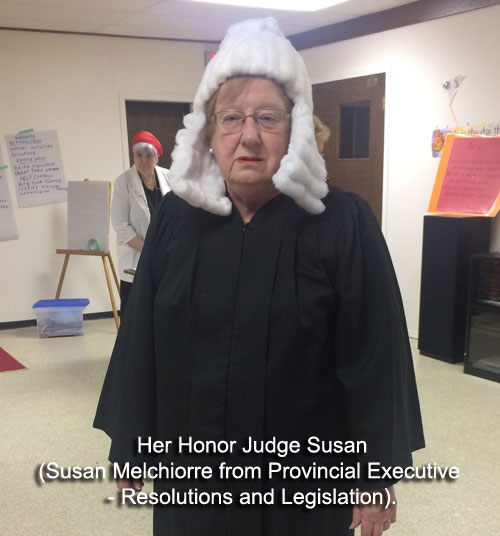 The Dove- shaped cookies surrounding the CWL Logo was to represent all members filled with the Holy Spirit and responding in Unity and Joy to God's call. The ladies ate The Cookie Wreath and say it is mmmmmgood! A great day was celebrated by all 36 in attendance.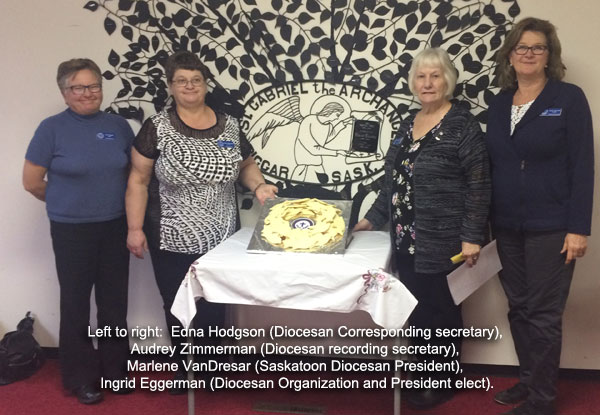 ---
Saskatoon's Holy Spirit CWL Book Club is in its ninth year!
Started by Adele Giblin in 2009, our book club continues to meet on a monthly basis, from September to June, for about 1.5 to 2 hours.
On a fairly regular basis we have about eight to ten women who attend to share their thoughts, feelings and opinions on the selection of the month. We always begin with a beautiful prayer inviting our Lord to be present in our hearts and minds, that we might welcome, be open to, and respect one another's thoughts, feelings and opinions.
Some have expressed that being in the book club forces them out of their comfort zone, because they are invited to read a book they'd never choose on their own. For others, it is a time of fellowship with other women of faith, and for all of us, it is because we enjoy reading and talking about what we've read.
We try to read about current issues of concern and interest to the CWL, such as Reconciliation and Palliative Care, as well as choosing books that will strengthen our faith and provide us with a learning opportunity. We read from a variety of genres including memoirs, historical fiction, non-fiction and short stories.
Once or twice a year, we invite a speaker to our meetings. Sometimes it is the author themselves, and other times it is someone who can speak to the theme of the book. We've talked about, but have yet to try, a talk through Facetime or Skype. Maybe in our next write-up we'll be able to share how that went.
No one is judged for being unable to finish a book; they are always welcome to come and listen and to participate in the sharing as they wish. If it was that they found it difficult to get into the reading, this too will often lend well to the discussion at hand. We come together in the spirit of friendship, not to judge one another.
In June, the group is invited to suggest book selections for the coming year, and the Saskatoon Public Library prepares Book Club Bags, including book copies, information about the author, and discussion questions. At our last meeting, usually in June, we gather to share not just about the book, but to have a little social time before the summer break.
Saskatoon Holy Spirit CWL and Friends Book Club 2017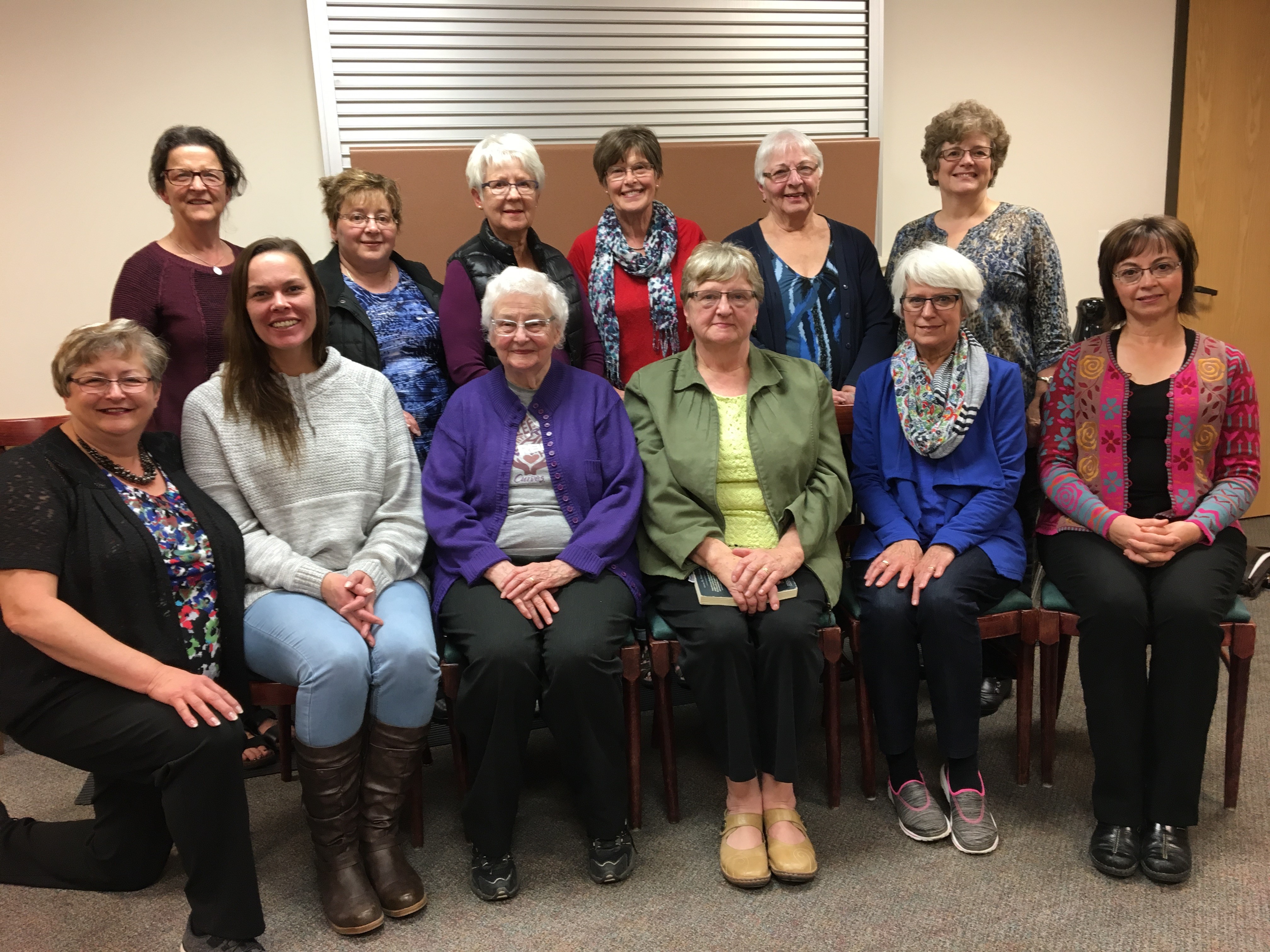 Back Left to right: Isabel McCrea, Shirley Carriere, Elaine Verbonac, Cathy Kary, Pat Anderson, Maureen Smith-Windsor
Front left to right: Adele Giblin, Guest speaker Mika Lafond, Theresa Hall, Rose Rogers, Jane Moker, Camille Rochon
---
Invitation to St. Joseph's CWL Kindersley Diocesan Convention April 23, 2018

Welcome to Diocesan Convention 2018
St. Joseph's CWL KINDERSLEY
We are a group of Catholic women
Our town knows us well
We are friends and sisters in the league
We are St. Joseph's CWL.

Some visit the sick in the hospital
Some go to seniors at home
It helps to make the day better
When they are living alone.

We make lunch for funerals
So friends can come to grieve
And far-away friends can have
A snack before they leave.

We host birthday teas at Heritage Manor
Birthday cakes are always a welcome treat
We eat and chat and say a prayer
With new friends that we meet.

Some help in the church
When they are called to sing or read
CWL is ready
To answer every need.

We work and pray together
A few stories we will tell
We try to do our best
We are St. Joseph's CWL.

We don't think we are saints
On halos we don't dwell
We all love our parish
We are St. Joseph's CWL.

We try to help the poor
And those we know in need
Through winter, spring, summer and fall
Inspired by the Spirit

We respond to God's call.
We're happy to be welcomed here,
To extend an invitation,
To join us back in Kindersley,

For next years diocesan convention.
The date is April 23,
You will find us at the hall
Where we will continue this fellowship
As women responding to God's call
We will be inspired by the spirit
With hearts full of faith, hope and love
As we continue on this journey
With guidance from above
So please come join us in twenty eighteen
where we will come together as one,
As proud members of the CWL,
For a convention of fellowship and fun.
With St Joseph's CWL
Written by: Paula Haubrich and Jeanette Martin
Kindersley St. Joseph's CWL
---
St. Peter's CWL 70th Anniversary Celebration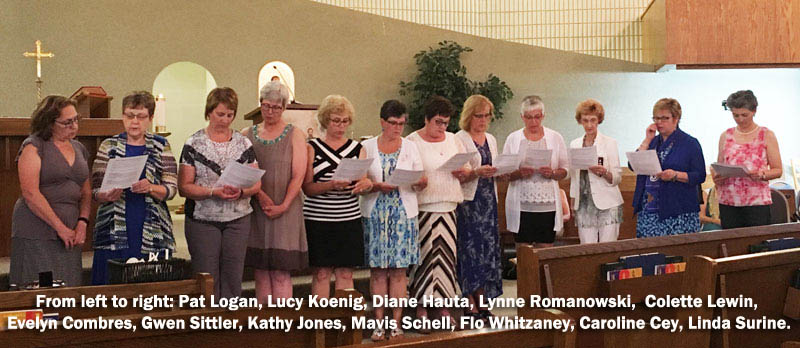 On June 7th St. Peter's CWL of Unity, SK celebrated the 70th Anniversary of their council. Mass was celebrated by the council's spiritual director Father Gregory Roth, followed by installation of the officers.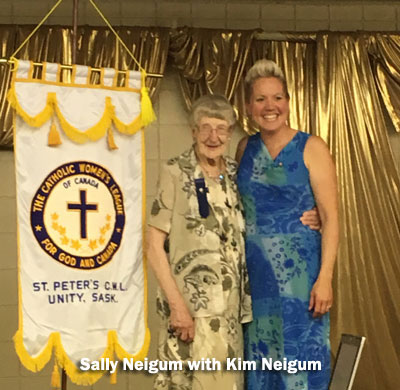 An excellent catered meal was had, followed by a short meeting and presentation of pins. The evening ended with a speaker from the health district on mental health.
One of the most special moments was the presenting a 70th pin to one of our founding members, Sally Neigum!
---
Saskatoon Holy Spirit CWL hosts live streaming of the 2017 National Convention
Holy Spirit Parish, Saskatoon welcomed 19 members from different CWL Councils. We started our early morning with a potluck breakfast and were seated by 7:45 AM to watch the live streaming from the National Convention in Prince Edward Island. There were some good questions submitted and discussion took place between and after the streaming.
You can download the report from the event HERE.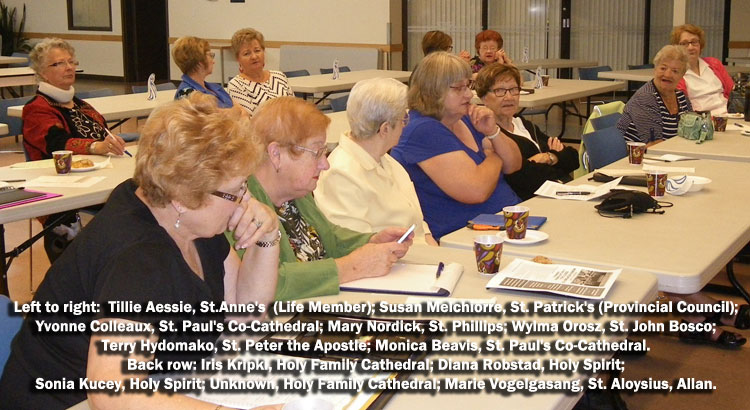 Women gathered for streaming from the 2017 CWL National Convention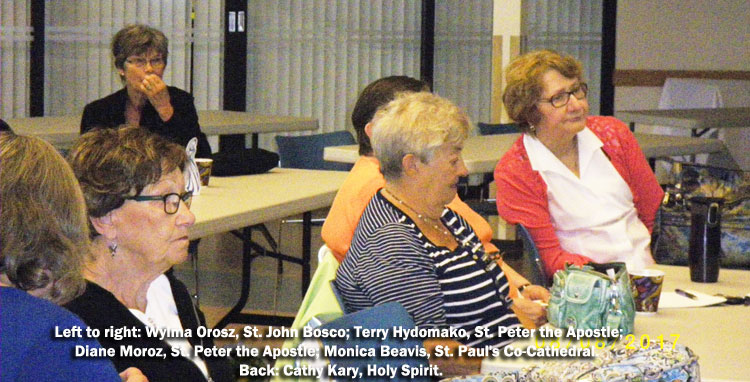 Others in attendance but not in Photos: Elaine Easton, Holy Spirit;
Letty Zereselaise, Holy Spirit; Yvonne Rogers, Holy Spirit.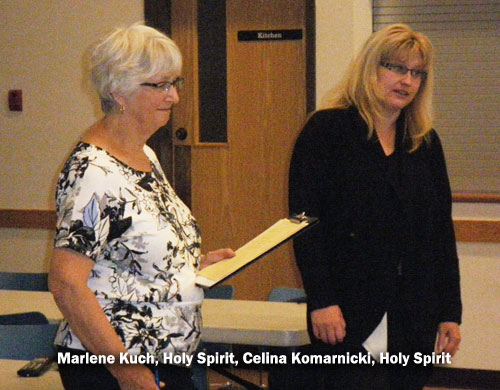 Marlene Kuch thanked Celina Komarnicki for getting the live streaming working for our Town Hall session.
---
Saskatoon Holy Spirit CWL Golf and Lunch 2017
For years, Saskatoon Holy Spirit CWL and Friends Golf and / or Lunch twice a year. Golfers meet at 9:00 am. We have a good round and do not "count our scores". At noon, we are joined by other friends who do not wish to golf. We have lunch, visit, and many laughs. Lots of good memories are made.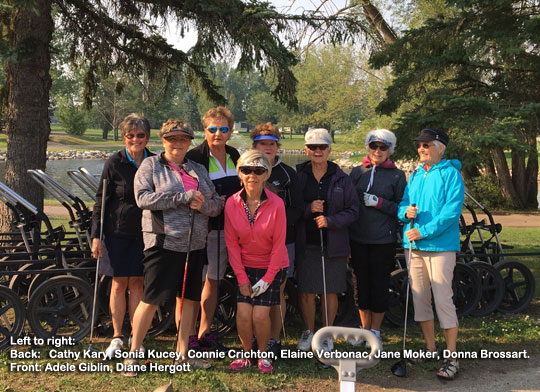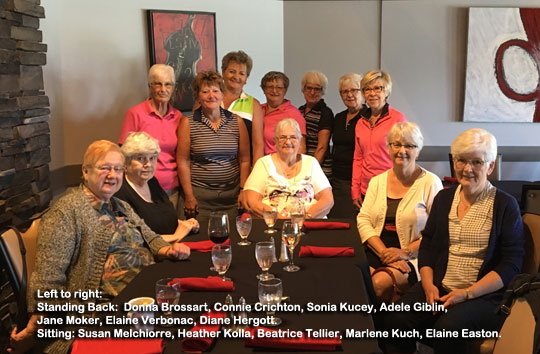 ---
CWL at St. Michael's in Cudworth 90th Anniversary - August 13, 2017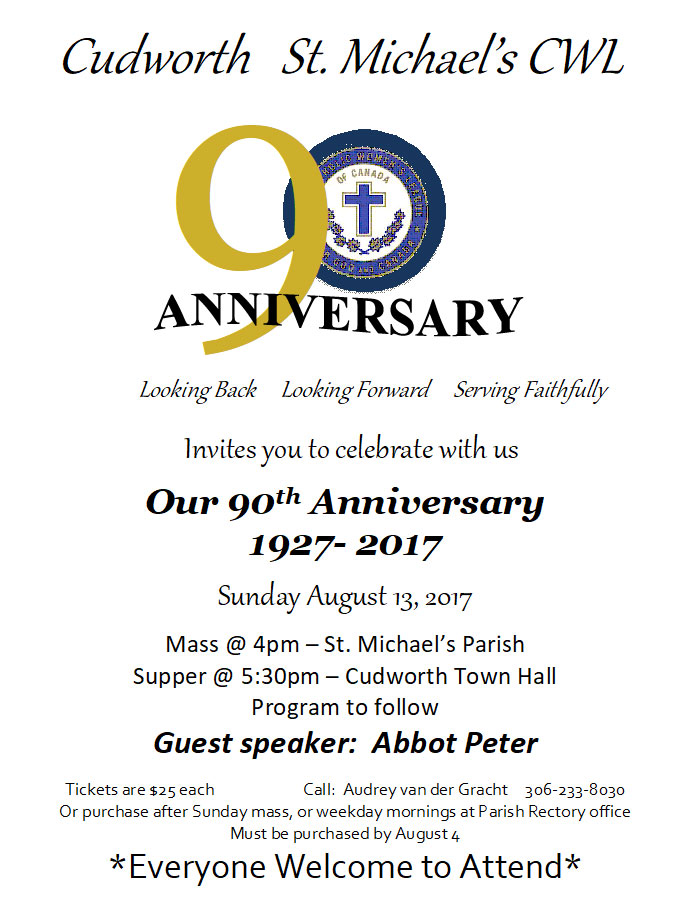 ---
St. Bruno CWL celebrates their council's 90 Anniversary

On June 15th, we celebrated mass followed by a banquet in the parish hall.

Abbot Peter Novecosky, Fr. Kevin McKee, Fr. Cosmas Epifano (our parish priest), local dignitaries and our CWL Diocesan and Provincial presidents joined us in the event. CWL members also received their anniversary pins.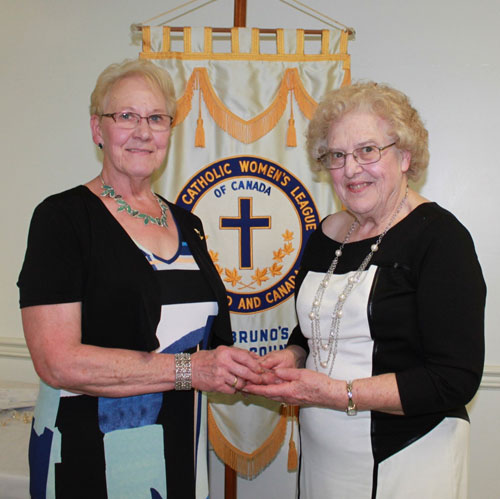 President, Betty Welter with Louise Schmeiser receiving her 65 year pin
Past presidents of St. Bruno CWL council with our anniversary cake.
---
Saskatoon Diocesan Executive CWL Oral Reports May 1 2017
The 82nd Saskatoon Diocesan Annual Convention was held on May 1, 2017 in Watrous, Saskatchewan.
The reports from the convention can be viewed or downloaded HERE.
---