PRINCE ALBERT DIOCESE EVENTS
Prince Albert Diocese Communiqués and Reports can be found HERE
---
Prince Albert Diocese Annual Convention
The Prince Albert Diocese Annual Convention was held on April 27th at Rosthern​​​​​​​, SK
---
Prince Albert - North Battleford Workshop
St. Joseph's Calasanctius North Battleford Sept. 2018
St. Joseph Calasanctius Catholic Women's League (CWL) hosted the Region 2 Fall Diocesan Workshop on September 29, 2018 at St. Joseph Church in North Battleford. In attendance were Reverend Father Peter Nnanga, Reverend Father Doan, and Reverend Father Phinh Do - Provincial, Diocesan and St. Joseph Spiritual Advisors as well as Shirley Lamoreaux, CWL Diocesan President, and Diocesan President-elect Helen Kayfish. Representatives from our regional councils were from Cut Knife, Mayfair, St. Vital, Notre Dame and St. Joseph.
Our workshop theme was "Mental Health as a Priority for our Well-Being".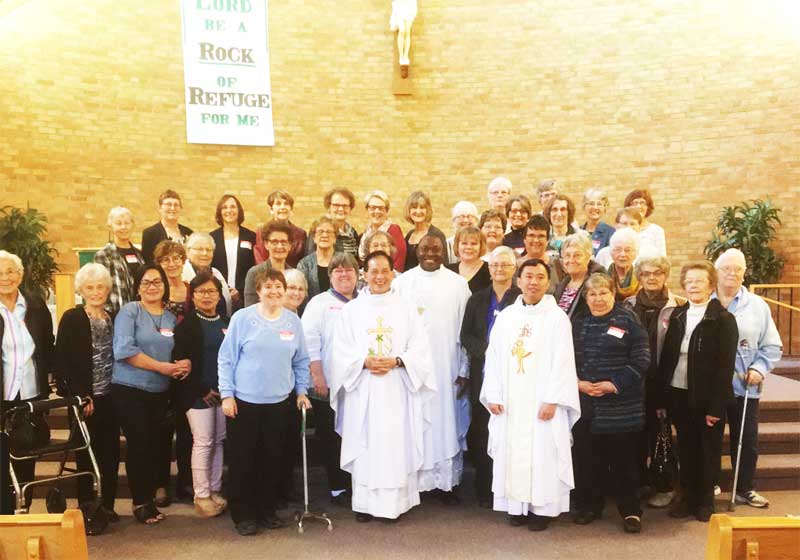 The speakers, Cherie Lascelle Hamilton and Michelle Lascelle, presented their stories which were informative, inspiring and courageous. These stories made us more aware of the needs of those around us – be it a child, teen, adult or senior - at home, workplace, anywhere in our communities.
The overall feeling of the group was that the theme was very relevant and worthwhile.
Concelebrating the mass were Reverend Father Peter Nnanga, Reverend Father Doan, and Reverend Father Phinh Do. It was considered an honor to have these priests celebrating the mass with us. Father Peter gave a wonderful homily speaking on the feast day of the Archangels Gabriel, Michael and Raphael, linking the CWL to these angels. We can and should pray to these three archangels for support and guidance.
Shirley Lamoureux, the Diocesan CWL President, reported on topics from the National Convention in Winnipeg and the Provincial Convention in Regina. She explained that there are some major changes to take place in how planning strategies will be practiced in the future.
Diocesan President-elect, Helen Kayfish, led a session of sharing of concerns and suggestions from the overall group.
Upcoming dates of conventions and workshops were given.
After wishing everyone a safe trip home, we closed our day with prayer.
---
Prince Albert Diocesan CWL Council 2018 Annual Convention in Rosthern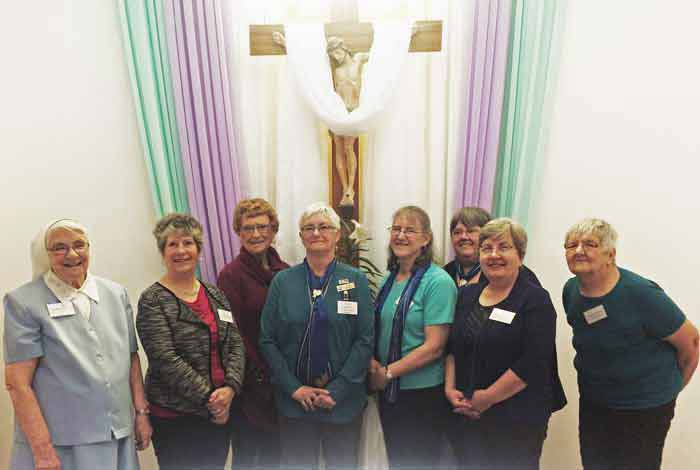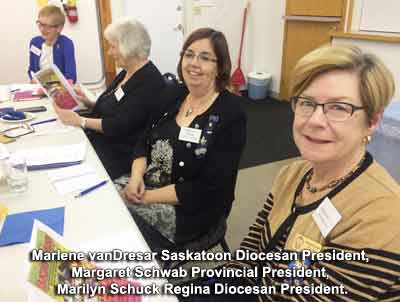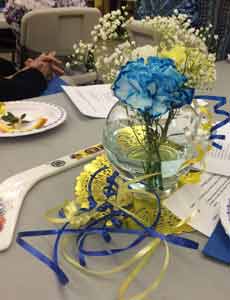 On April 14, the Prince Albert Diocesan Council held their 2018 annual convention. St Odilon Council, Rosthern, Sask were hostesses to the annual event.
It was a fun and informative day with lots of exchanges of activities, questions and spirituality.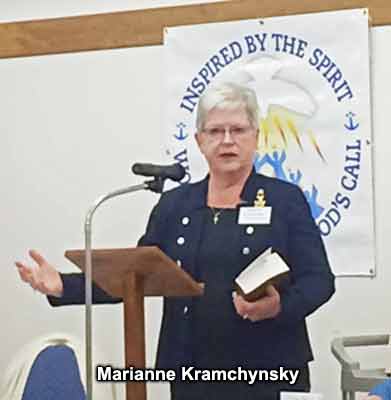 The guest speaker for the day was St Odilon Council's member, Marianne Kramchynsky, who is a local lawyer. She spoke on "Taking Care of Business: Wills, Powers of Attorney and Estate Planning". It was a very informative presentation with a lively session of questions which Marianne handled with ease.
Fran Lucas, National First Vice-President attended and took us through an exercise of Planning Sustainability. We are all hopeful these sessions will lead to re-vitalization of the League.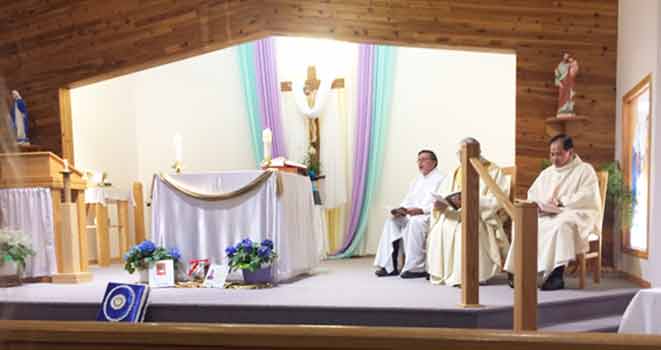 A beautiful Eucharistic Celebration and the re-affirmation of the executive was lead by Diocesan Spiritual Advisor Fr Maurice Fileau.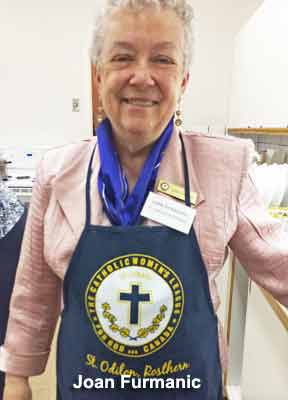 Of course the food and decor were outstanding and the St Odilon ladies were the most gracious hostesses.
2019 Prince Albert Diocesan Annual Convention will be held on Saturday, April 27, 2019 and again the St Odilon council, Rosthern has volunteered to host it. They said they had a ball planning this one.
---
Our Lady of Consolation Roman Catholic Church, Melfort
Celebrates CWL 60 Year Anniversary
On June 15, 2017 the Catholic Women's League celebrated 60 years since its formation on June 5, 1957. Executive members of the Provincial and Diocesan C.W.L. together with Fathers Nick Ferreras and Travis Myrheim, and twenty-six of our members gathered for Mass, a short meeting, supper and fellowship.
We were praised by our Provincial and Diocesan speakers and encouraged to keep up the good work. Saskatchewan Provincial President, Margaret Schwab, presented C.W.L. President, Celine Morberg, with an Anniversary Certificate.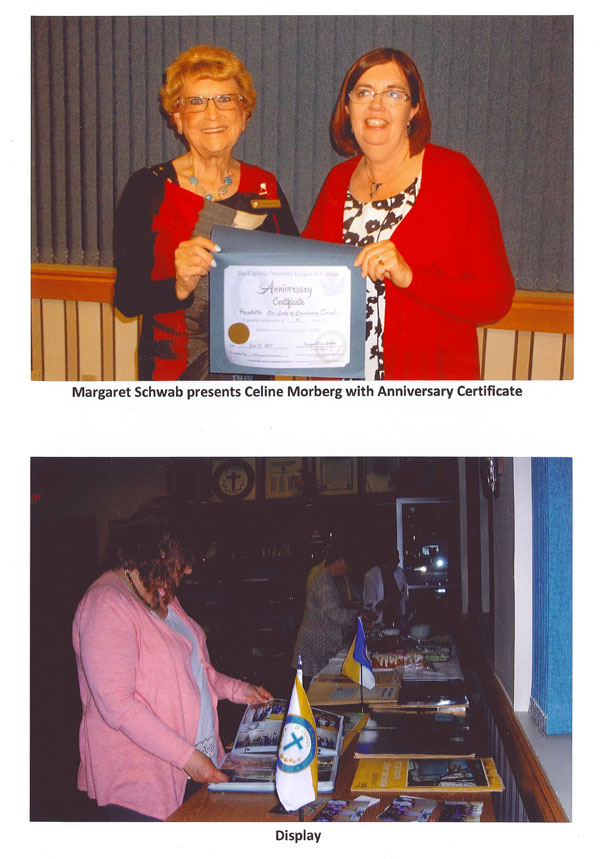 Photographs of past celebrations and events were displayed and League pins were presented to members attaining milestone years of service.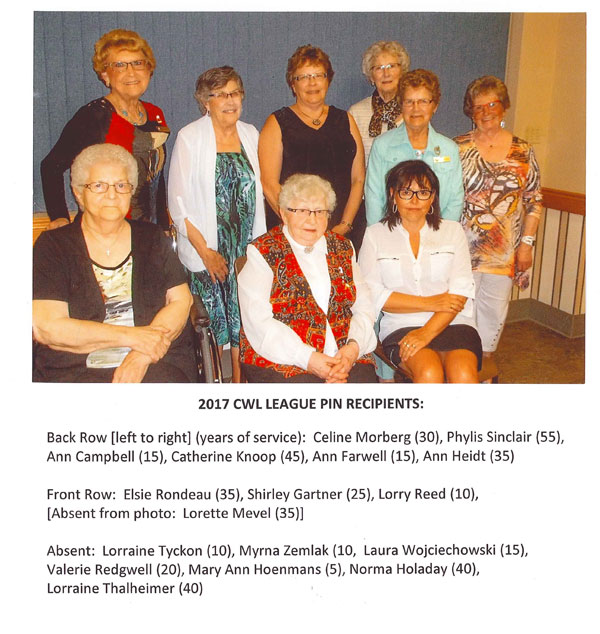 The Catholic Women's League members form the backbone of our organization and enable us to serve God more effectively in our church, community and country. Each member is a unique, valued and important contributor. We look forward to many more years of work, fellowship and fun.
Special thanks to Margaret Schwab, Provincial C.W.L. and Shirley Lamoureux, Diocesan C.W.L. for being a part of our celebration.