PAST SASKATOON DIOCESE EVENTS
Saskatoon Diocese Communiqués and Annual Reports can be found HERE
Later events can be found HERE
PAST EVENTS
See Saskatoon CWLClothing Depot HERE.
---
Saskatoon Diocesan Executive Meeting
Ingrid Eggerman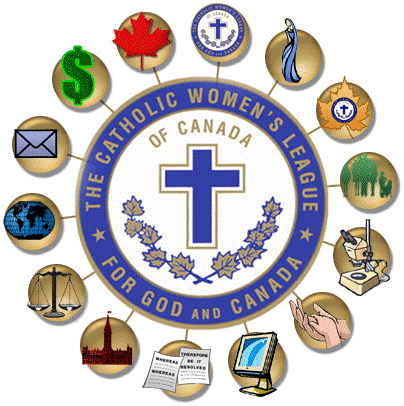 Monday, September 10, 2018
St. Patrick's Parish
3339 Centennial Drive
Saskatoon SK
Beginning with mass at 9:30 am followed by our meeting. Lunch is a free will offering.
All are welcome
All Council Presidents or their designate and Core Executive Members are members of the executive.
We encourage all councils to be represented and bring as many of your members who are able to attend. We would love to see as many members as possible in attendance.
Guest speakers - Our speakers:
Shawna Arnold from Warman and Nancy Garez from Nipawin will share their testimonies and their abortion experience. They will share with us about the Fountain of Hope Program and teaching chastity to high school students.
Jaqueline Saretsky, coordinator of Hospital Chaplaincy, will be speaking to us on End of Life issues.
Your Diocesan executive needs your input. Any inquiries?
Contact Ingrid Eggerman, Saskatoon Diocesan President
Email: provcwlcommunications@gmail.com and put "attn: Ingrid Eggerman" in the subject line.
---
Saskatoon Holy Spirit CWL celebrates with Our Lady of Grace CWL
Adele Giblin
Thursday April 26,2018, Saskatoon Holy Spirit CWL opened their church and hall doors to Our Lady of Grace Region CWL members for the yearly of Our Lady of Good Counsel celebration where we celebrate our patroness saint, Mary. Mass was celebrated at 6:00 by Bishop Mark Hagemoen and Fr. Peter Olisha. Potluck supper followed with over 50 ladies and the Bishop attending the delicious and plentiful supper.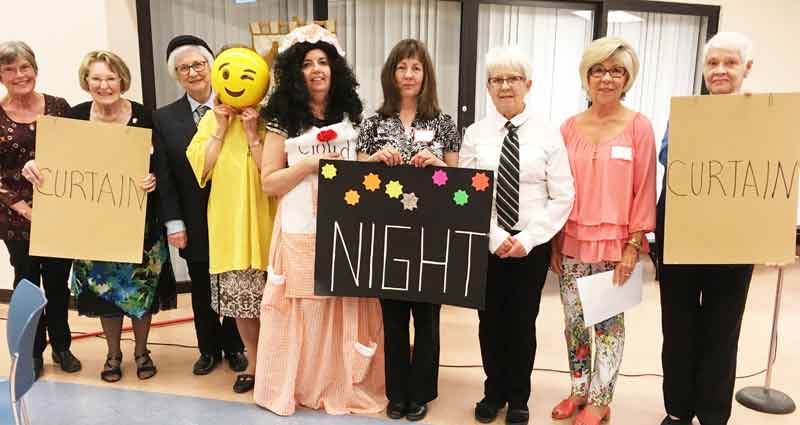 Left to right: Cathy Kary, Bertha Blom, Yvonne Rogers, Stella Solie, Margaret Schwab,
Andrea Gelletta, Elaine Verboanc, Diane Hergott and Kay Turner.
The guests were entertained by Holy Spirit CWL with two skits. The Our Father was played by Marlene Kuch and Heather Kolla. The skit called "A play on Words" had a large cast.
Everyone left with a smile on their face and a full tummy.
---
83rd Saskatoon Diocesan CWL Convention at St. Joseph Parish April 23, 2018 - Kindersley
Adele Giblin, Provincial Communications
196 attended the one day convention.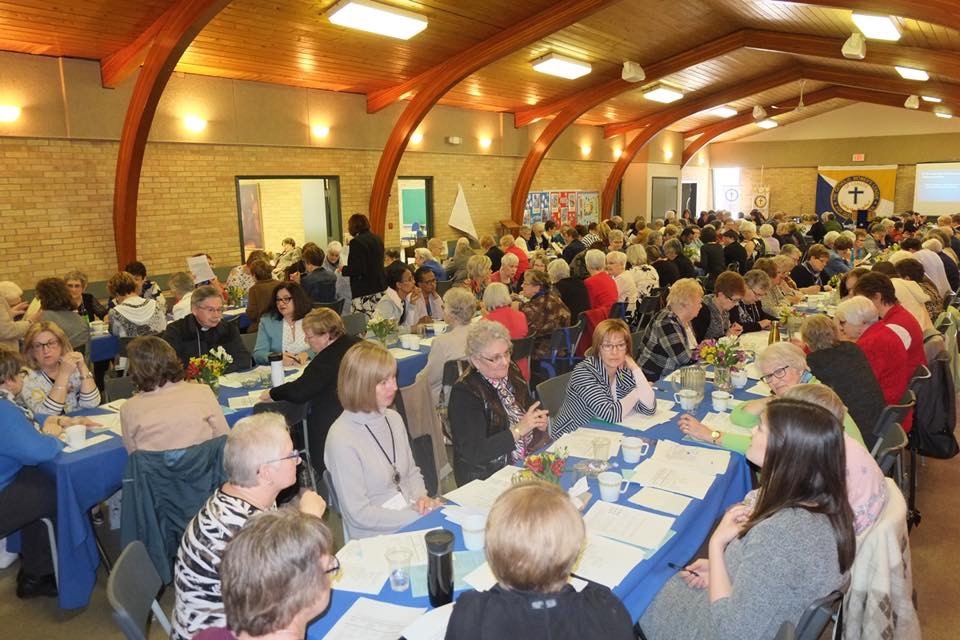 Guest speaker Fr. Emmanuel Mbah gave a brief explanation about his new book "Living in Dominion". This was the Nigerian theme based on the passage from Genesis in which God gives Adam and Eve dominion over the earth, calling them to nurture creation and live in balance. Now that he is in Canada he realizes that what he was trying to address cuts across cultures.
Guest speaker Carla Carlson of Swift current is a social worker and a lawyer. She shared experiences from her life and career that demonstrates how "Everyday Grace" breaks through in ordinary encounters in life. She urged us to be open and be positive. This conscious effort provides a way to be attentive to the workings of grace and to keep God in the forefront. "We must put things in Perspective, both the good and the bad. We must maintain our heavenly focus.
Committee reports brought out one motion calling for every CWL council to write letters to government expressing concerns about legislation of marijuana and the minimum age of consumption.
Diocesan President Marlene VanDresar concluded her two year term as Diocesan President urging members to step out of their comfort zone. It is truly amazing how each of us can affect our councils and our community for the better, if we just have the courage, like Mary, to say "yes".
Provincial President Margaret Schwab reminded members of the Provincial convention June 3 & 4, 2018 and the national convention in Winnipeg in August.
Former National CWL President Barb Dowding led a strategic planning workshop, gathering feedback about a national effort to chart goals and concrete steps for the CWL at every level.
We were invited to Saskatoon Diocesan Convention in Watson on Saturday May 11, 2019.
INVITATION TO SASKATOON DIOCESAN CONVENTION 2019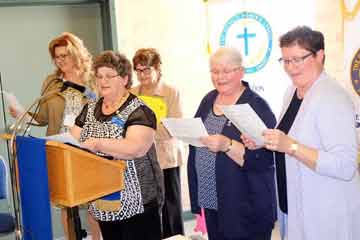 Left to right: Ingrid Eggerman, Audrey Zimmerman (at podium), Alice Radoux, Marie venderBush, and Irene Gabriel.
LEADER: THE CWL IS A GROUP OF FINE WOMEN...
ALL: THAT'S A FACT.
LEADER: THEY LIKE TO MEET AT CONVENTIONS THERE IS NO…
ALL: DOUBT ABOUT THAT!
LEADER: SO OFF IN THE SPRING THEY…
ALL: GO LIKE A SHOT.
LEADER: TO A PLACE THEY CAN GATHER TO…
ALL: FIND THE BEST SPOT.
LEADER: IN SPRING 2019 WE HOPE…
ALL: WE WILL SEE...
LEADER: YOU AND MANY MORE AT…
ALL: OUR END OF THE DIOCESE.
LEADER: OLD FRIENDS TO MEET!
ALL: NEW FRIENDS TO GREET!
LEADER: NEW IDEAS, NEW VISION, AND REPORTS…
ALL: ON THAT DATE!
LEADER: BELIEVE ME, YOU WILL NOT WANT…
ALL: TO BE THERE LATE!
LEADER: GO EAST, DEAR LADIES!
ALL: GO EAST, WE SAY!
LEADER: ON TO WATSON TO HAVE…
ALL: A SPECTACULAR DAY!
LEADER: YOU MUST PASS DEAR ENGLEFELD WITH ITS…
ALL: HOGFEST PIG!
***SHOW PIGS HERE***
LEADER: AND TRAVEL TO WATSON TO FIND A…
ALL: SANTA SO BIG!
***SHOW SANTA HERE***
LEADER: SO GET OUT YOUR CALENDARS AND…
ALL: WRITE THIS DOWN.
LEADER: CONSIDER THIS AN INVITATION…
ALL: TO COME TO WATSON TOWN…
LEADER: ON SATURDAY, MAY 11 IN 2019!
ALL: ATTEND THE BEST CONVENTION YOU'VE EVER SEEN!
Mass was celebrated with Bishop Mark Hagemoen and priests from across the province.
New Diocesan executive were installed and will be led by President Ingrid Eggerman.
Saskatoon Diocesan Executive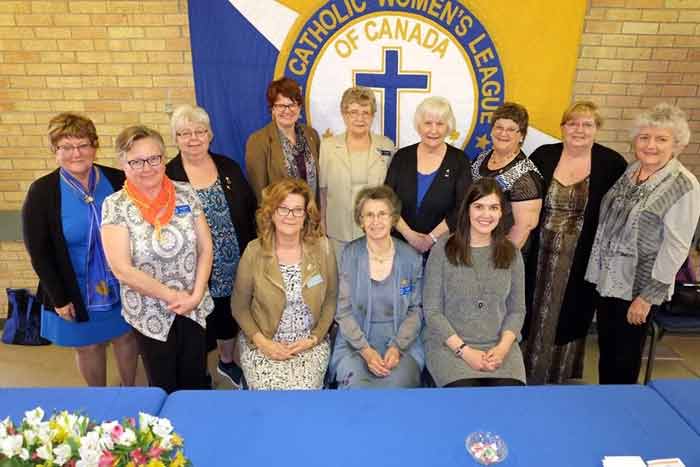 Back row, left to right: Connie Crichton,Treasurer; Edna Hodgson, President Elect/organization; Arlene Rey, Our Lady of Grace Region; Margot de la Gorgendiere, Resolutions and Legislation; June Gorgchuck, Community Life; Marlene VanDresar, Past President/ Archives; Audrey Zimmerman, Spiritual; Wendy de Sa, Christian Family Life; Claire Heron, Spiritual Advisor.
Front Row: Ingrid Eggerman, President; Mary Kehrig, Education and Health; Paula Haubrich, Communications.
Great banquet was enjoyed. Our entertainment was prepared by Honorary Life, Life members and friends was entertaining and educational.

Susan Melchiorre, Margaret Schwab, Clare Heron, Mary Nordick (last 2)
We all left with a smile.
This concludes my report
---
St Augustine, Saskatoon, Presents Pin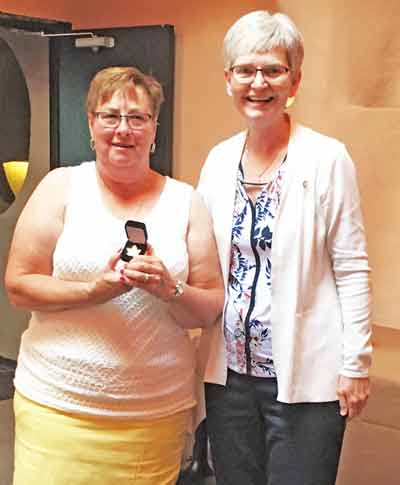 Louise Kowalski (left) Marion Laroque, St. Augustine council president (right)
Louise Kowalski, a member of St. Augustine, Saskatoon CWL council received the Maple Leaf service pin for her many years of service on the executive of her council. She continues to support her council in many ways.
---
---
---
St. Michael's CWL Celebrates 90 Years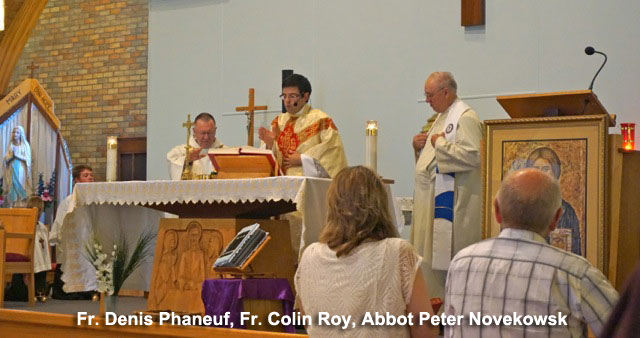 On August 13, 2017, St. Michael's CWL celebrated 90 years of service to God and Canada. The theme for the celebration was: Looking Back Looking Forward Serving Faithfully. The afternoon started with a mass co-celebrated by Fr. Colin Roy, St. Michael's parish priest, Abbot Peter Novecosky O.S.B., and Fr. Denis Phaneuf, a former parish priest, now living in Saskatoon.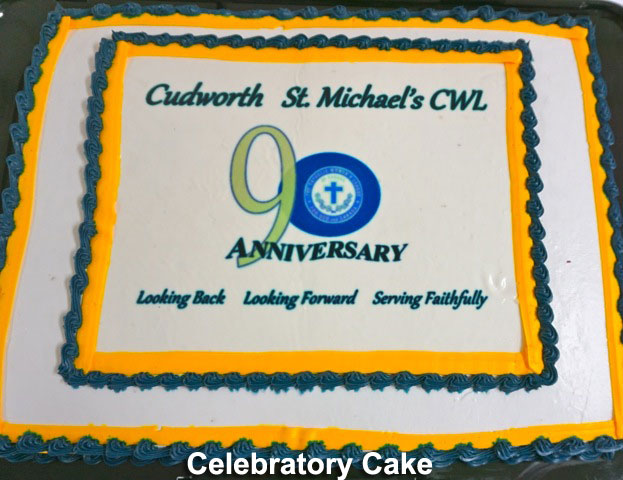 A banquet followed with the Mistress of Ceremonies, Kim Hauber, introducing our guests:, President Margaret Schwab from the CWL Provincial Council; Diocesan Council, President Marlene vanDresser; Joe Habetler, Grand Knight of the Knights of Columbus; representing the Town of Cudworth, Deputy Mayor Bernadette Lange; and Abbot Peter Novacosky, Fr. Denis Phaneufand, and Fr. Colin Roy.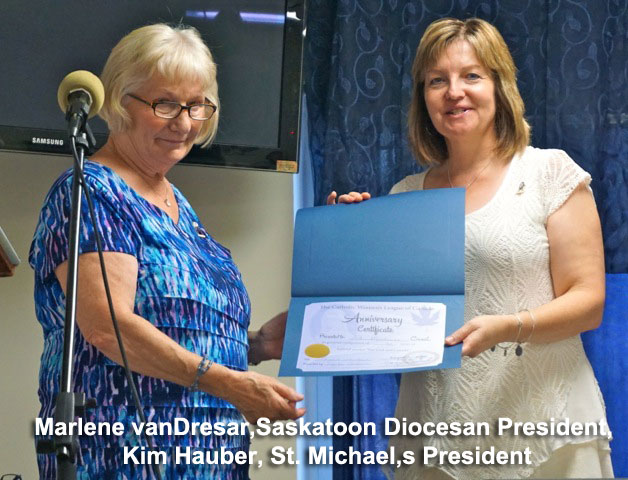 Ida-Rose Wilde lead the singing of O Canada and Fr. Colin Roy gave the Blessing and Grace.
Following a lovely meal prepared by Diane Medernach, were the toasts and greetings. Ann Leoffelholz-Yuzak gave a toast to The Catholic Women's League of Canada. Sharon Koening toasted the Past Spiritual Directors, Past Presidents and Executives.
Marlene VanDresar brought greetings from the Diocese of Saskatoon CWL and presented a certificate in recognition of the 90th anniversary of St. Michael's CWL Council.
Greetings were brought from CWL Provincial Council by Margaret Schwab; she also brought greetings from the Dioc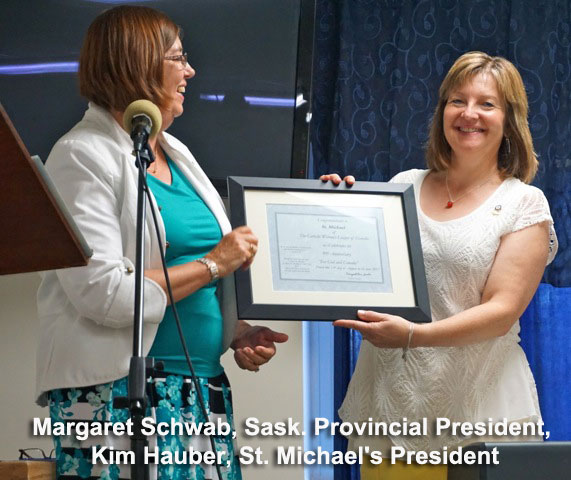 ese of Saskatoon Spiritual Director. Margaret read greetings from the CWL National President, Margaret Ann Jacobs, and presented Kim Hauber, St.Michael's CWL president, with a certificate in honour of our 90 years as a council.
Joe Habetler, Grand Knight, brought greetings from the Knights of Columbus, and Deputy Mayor Bernadette Lange bought greetings from the Town of Cudworth.
Kathleen Kolla introduced and replied to our guest speaker, Abbot Peter Novecosky, O.S.B. Abbot Peter gave an enriching talk on the early history of the CWL at the national and local level referencing articles from the St. Peter's Press and The Prairie Messenger. He gave the following example of communication in today's social media.
"This is an email I received recently that speaks about how things might change in the future. It's an email a daughter sent to her dad. "
Dearest Dad, I am coming home to get married soon, so get your check book out. I'm in love with a boy who is far away from me.
As you know, I am in Australia… he lives in Scotland. We met on a dating website, became friends on Facebook, had long chats on Whats App. He proposed to me on Skype, and now we've had two months of a relationship through Viber.
My beloved and favourite Dad, I need your blessing, good wishes and a really big wedding.
Lots of love and thanks.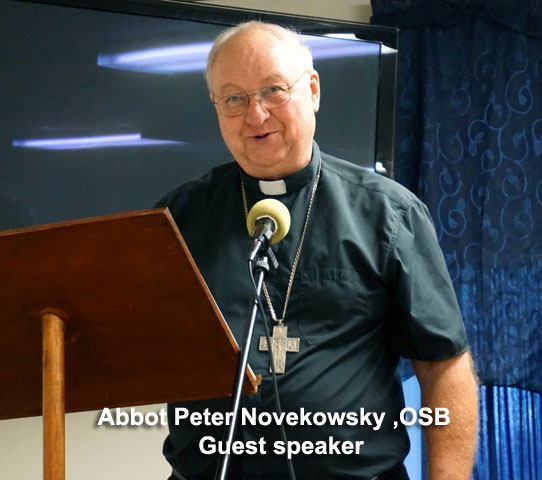 Your favourite daughter,
Lilly
Her dad responded a day later.
My Dear Lilly, Like Wow! Really? Cool!
Whatever… I suggest you two get married on Twitter, have fun on Tango, buy your kids on Amazon, and pay for it all through PayPal. And when you get fed up with this new husband, sell him on eBay.
Love,
Your Dad
Abbot Peter noted: Well this is a future that we can't imagine or hope for. Certainly it wasn't a future your pioneer council members couldn't have dreamt of. He goes onto say " the CWL president in 1927 gave good advise that I think has been a strong point of the CWL over the years. She said: Take the broad view, putting the greatest national good before personal or local considerations."
He concluded with the Four Blessed Looks:
Look Back and Thank God; Look Forward and Trust God; Look Around and Serve God; and Look Within and Find God.
Ida-Rose Wilde accompanied by Jackie Williams provided a wonderful selection of songs. The last being the powerful Halleluiah based on Leonard Cohen's Halleluiah.
The banquet concluded with Kim Hauber's closing remarks. " The Cudworth Council would like to thank all who shared in our 90th celebration. We will strive to continue to serve our Parish Community faithfully.
Socializing and viewing of the 90th anniversary display followed.
---
Every two months approximately nine Holy Spirit CWL members volunteer their time to help Saskatoon Friendship Inn serve their noon meal. We dish out the food, help in the dining area and interact with the patrons as it permits. At our last visit in November, we served 650 meals!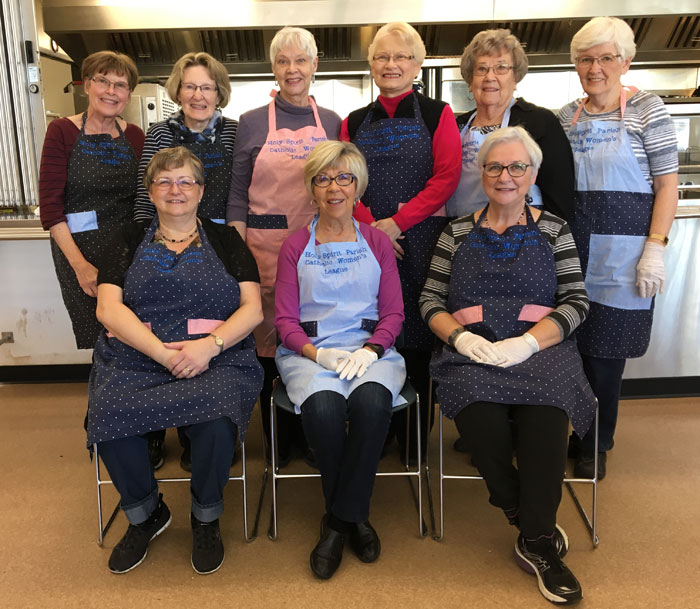 Back left to right Cathy Kary, Barb Blom, Kay Turner, Darleen Topp, Anne Matkowski, Elaine Easton
Front row, Adele Giblin, Diane Hergott, Yvonne Rogers
This is "hands on" experience that deepens our understanding and provides an excellent opportunity to fulfill our Mission "Rooted in Gospel values".
Friendship Inn is a Community Center that offers breakfast and lunch free of charge, 7 days a week, 365 days a year. They provide a welcoming, compassionate, safe place for those in need. Friendship Inn does not receive any government funding. They depend entirely on donors and volunteers.

---
St Augustine, Saskatoon Annual Sock Drive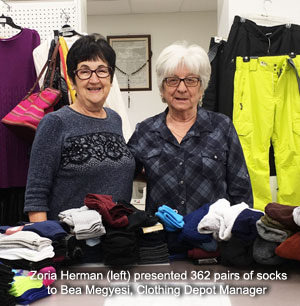 During the month of November, the CWL council of St Augustine, Saskatoon, collected both new and used socks to be donated to the CWL Clothing Depot. A grand total of 362 pairs were delivered to the depot by Zoria Herman, council president. A gift of toasty toes for our inner city brothers and sisters.
---
The Clothing Depot seeks donations for the annual "Christmas Sale"
The Clothing Depot is seeking donations for our annual "Christmas Sale". We spread these items over a six week period so everyone has a chance to find a gift that they can afford.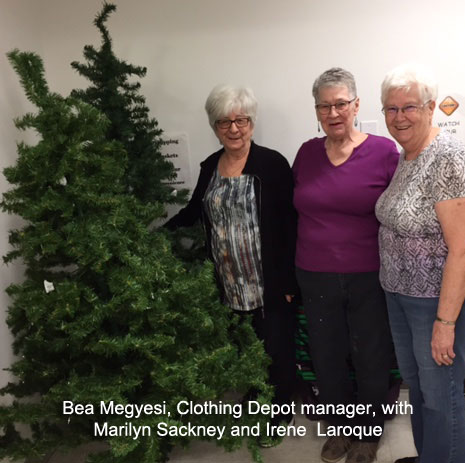 New toys, socks, jewelry, mitts and toques are items that can be "Sold to those in need at prices they can afford". We need donations that will permit children to get Mom and Dad a gift. We need items so parents who otherwise could not buy a toy for their child, can find something appropriate. We also are asking for individually wrapped candy.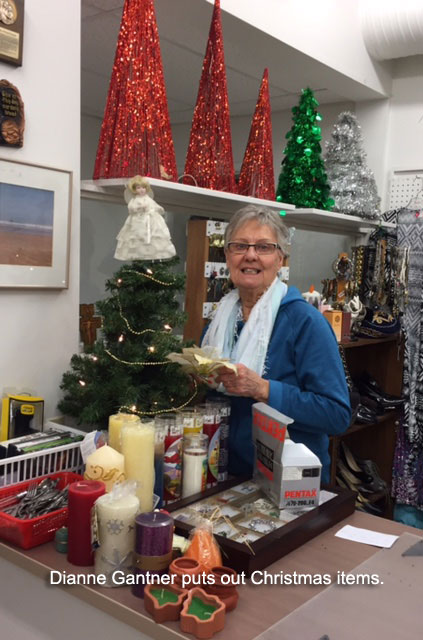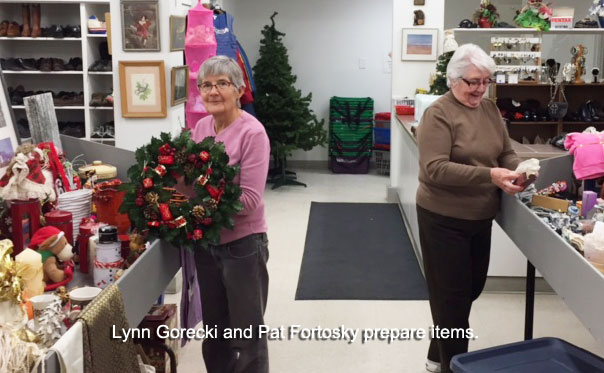 The dignity and the joy of being able to choose a gift and pay an affordable amount is immeasurable for those who come to the Depot.
We encourage parishes and other groups to consider organizing donation drives for particular items such as socks and underwear, that are always in demand.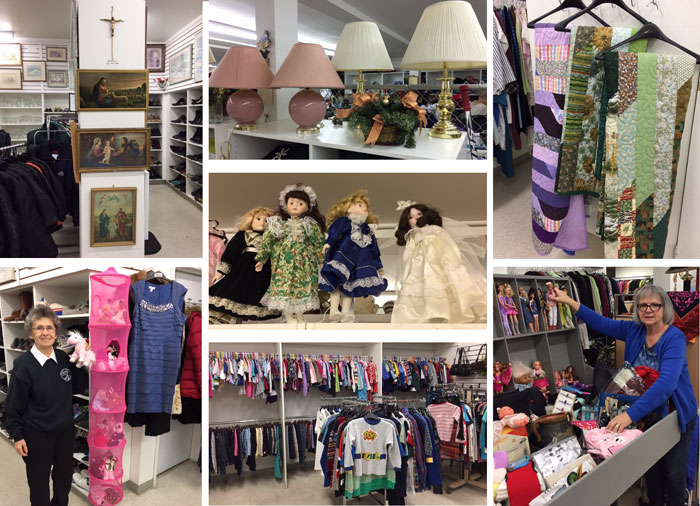 The Clothing Depot has a wide variety of items from which people can chose.
Mary Kehrig (left) and Mary Jacobi (right) help keep things organized.
There is a detailed history of the Clothing Depot on the Saskatoon diocese website (click HERE). Our prayer is that the Depot will continue to serve for another 50 years.
Every Thursday the Clothing Depot arranges for the pick-up of donations. Call (306) 242-5042 by Wednesday. If you wish to deliver your items, go to 619 - 20th Street West at the back door between 9:00 a.m. and 3:00 p.m. Monday to Friday and Saturday between 9:00 a.m. and 12:00 noon.
Shopping is Tuesday to Friday from 12:30 p.m. to 3:00 p.m. and on Saturday from 9:30 a.m. to 12:30 p.m..
---
St. Augustine, Saskatoon CWL Honours 50 Year Member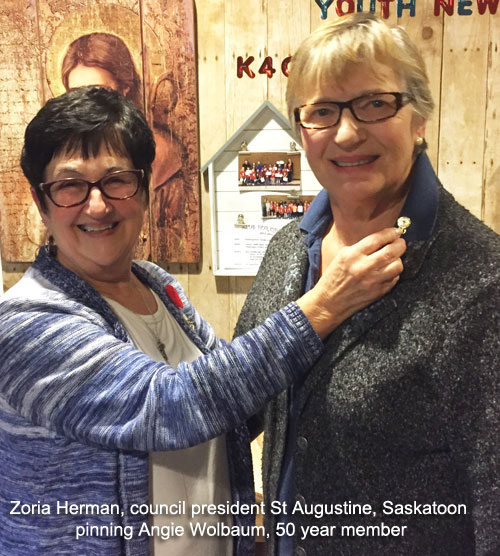 At the November Membership Social, Zoria Herman council president, presented Angie Wolbaum with her 50 year membership pin. Angie joined the CWL at St. Andrews parish in Kenaston. She has been very active in the league ever since, serving at many levels. She was council president of St. Augustine for two terms, served as social conveyor, spiritual development chairperson, and regional co-chairperson. She has helped with several conventions, including as chairperson for the transportation committee for a national convention. Angie is now a valued mentor for the council. Congratulations Angie.
---
The Saskatoon Regional Catholic Women's League Quilters
In January of 2015, a group of CWL members and friends got together to make quilts for the CWL Clothing Depot. The fabric we use has generously been donated from many people; in fact, we have had to purchase only batting and some fabric for quilt backs. Thanks to many generous people, we have also had financial support to assist with those purchases. After almost two years in existence, we have provided over 250 quilts. Since we were able to make so many quilts, we have expanded our recipients to include the Salvation Army, the Red Cross, Egadz, the Crisis Nursery, the WYCA women`s shelter, and Pregnancy Options.
In the past weeks, we have tackled our Christmas fabric and made beautiful Christmas stockings, table runners and potholders to donate to the Clothing Depot.

The group consists of about 20 women but we are always looking for more quilters. We meet at Holy Spirit Church two Mondays per month on a drop in basis. People come for an hour or a day, whatever suits their life at the time. We do not meet in December or in the summer months from May to August. If you are interested in helping out or donating fabric, please call Margaret (306) 374-4214
---
Saskatoon Diocesan Executive Workshop - Biggar October 29, 2017
St. Gabriel CWL at Biggar hosted a workshop on the gifts and fruits of the Holy Spirit applied to Leadership in the CWL. The workshop was facilitated by Saskatoon Diocesan Council members: Ingrid Eggerman, Audrey Zimmerman, Edna Hodgson and Marlene VanDresar.
The day began with Mass celebrated by Father Ed Gibney, followed by coffee and a 3 hour workshop. The afternoon session was a skit by Honorary and Life Members of Saskatoon Diocese. Through the skit, all were entertained, as well as learning about and a celebration of who we are as the Catholic Women's League of Canada.
The "CWL Goes to Court" skit was organized by Honorary Life member Heather Kolla, Honorary Life Member Claire Heron, Life Member Tillie Aessie and Life member Mary Nordick. Diocesan Executive and Biggar's pastor Fr. Ed Gibney participated with the skit.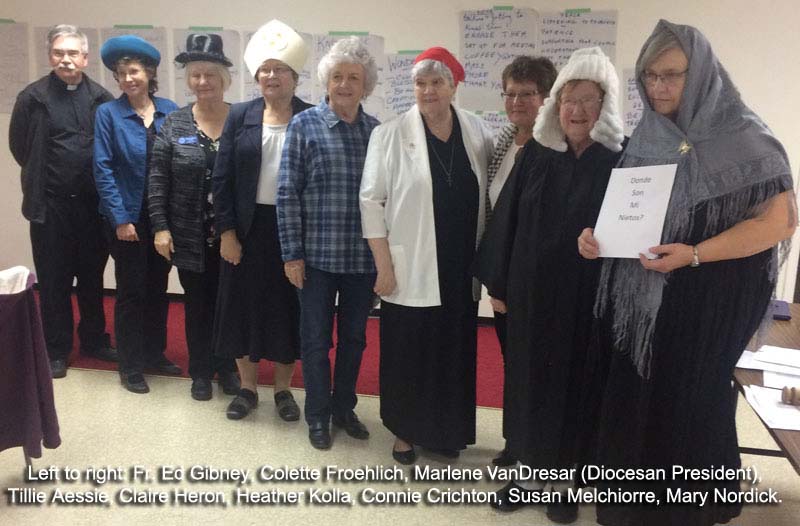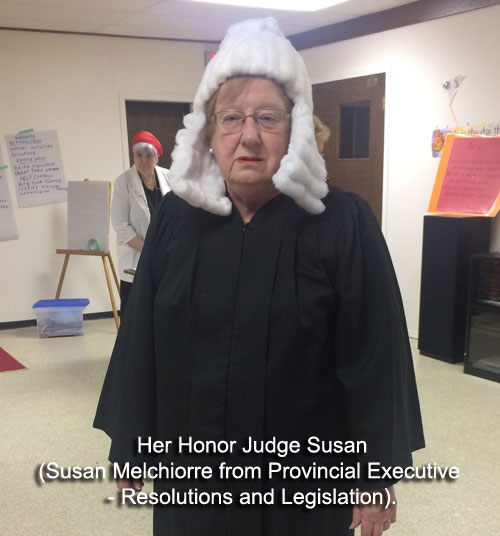 The Dove- shaped cookies surrounding the CWL Logo was to represent all members filled with the Holy Spirit and responding in Unity and Joy to God's call. The ladies ate The Cookie Wreath and say it is mmmmmgood! A great day was celebrated by all 36 in attendance.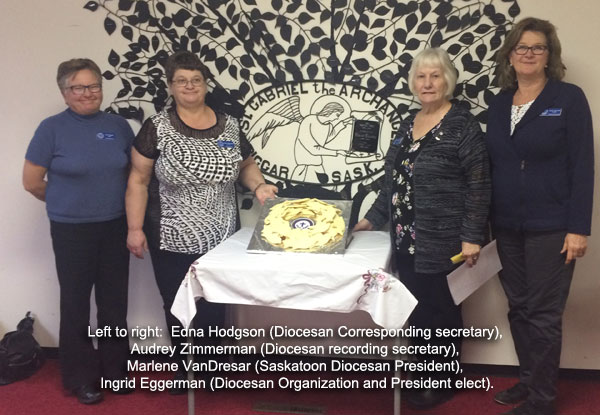 ---
Saskatoon's Holy Spirit CWL Book Club is in its ninth year!
Started by Adele Giblin in 2009, our book club continues to meet on a monthly basis, from September to June, for about 1.5 to 2 hours.
On a fairly regular basis we have about eight to ten women who attend to share their thoughts, feelings and opinions on the selection of the month. We always begin with a beautiful prayer inviting our Lord to be present in our hearts and minds, that we might welcome, be open to, and respect one another's thoughts, feelings and opinions.
Some have expressed that being in the book club forces them out of their comfort zone, because they are invited to read a book they'd never choose on their own. For others, it is a time of fellowship with other women of faith, and for all of us, it is because we enjoy reading and talking about what we've read.
We try to read about current issues of concern and interest to the CWL, such as Reconciliation and Palliative Care, as well as choosing books that will strengthen our faith and provide us with a learning opportunity. We read from a variety of genres including memoirs, historical fiction, non-fiction and short stories.
Once or twice a year, we invite a speaker to our meetings. Sometimes it is the author themselves, and other times it is someone who can speak to the theme of the book. We've talked about, but have yet to try, a talk through Facetime or Skype. Maybe in our next write-up we'll be able to share how that went.
No one is judged for being unable to finish a book; they are always welcome to come and listen and to participate in the sharing as they wish. If it was that they found it difficult to get into the reading, this too will often lend well to the discussion at hand. We come together in the spirit of friendship, not to judge one another.
In June, the group is invited to suggest book selections for the coming year, and the Saskatoon Public Library prepares Book Club Bags, including book copies, information about the author, and discussion questions. At our last meeting, usually in June, we gather to share not just about the book, but to have a little social time before the summer break.
Saskatoon Holy Spirit CWL and Friends Book Club 2017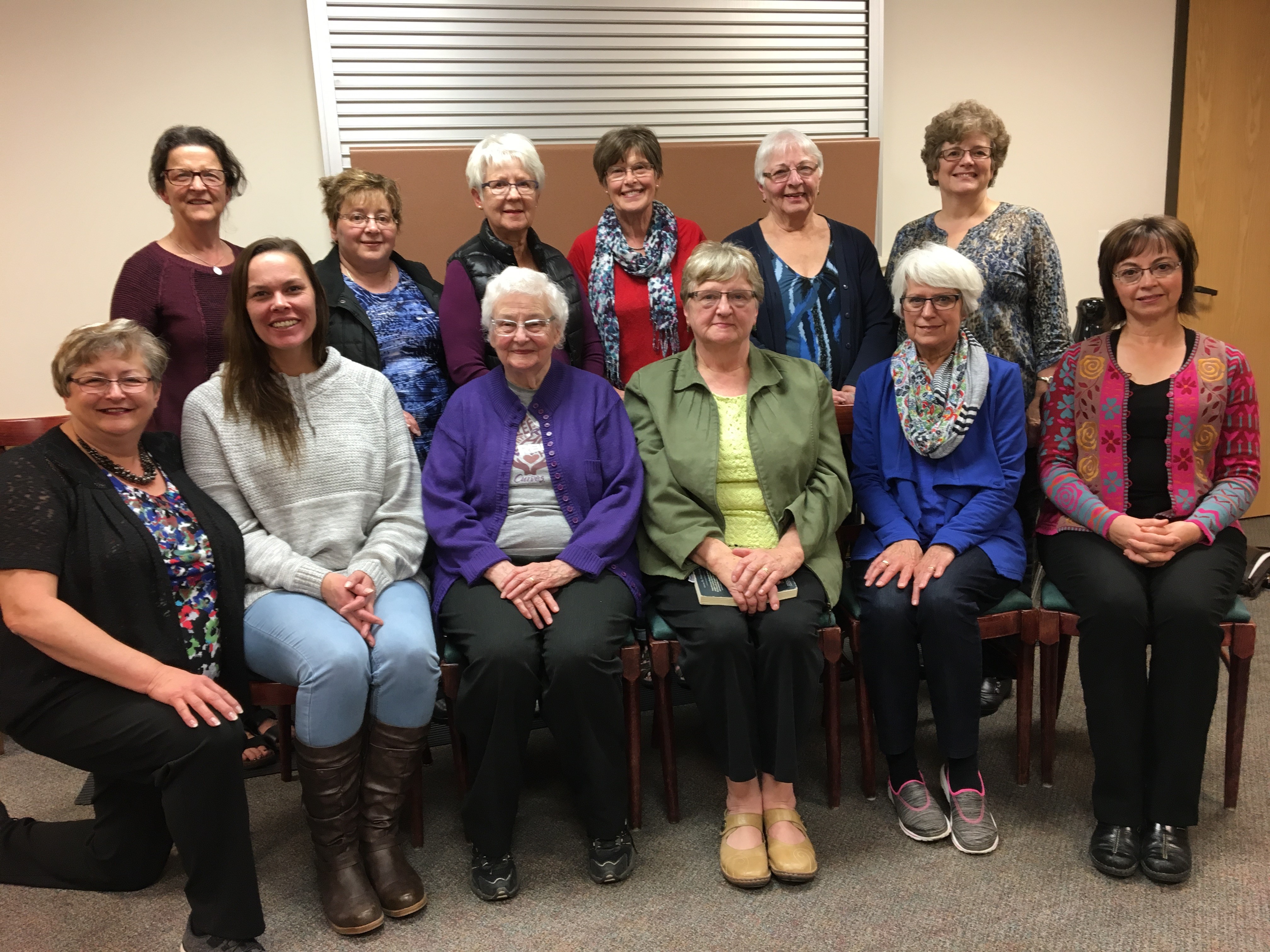 Back Left to right: Isabel McCrea, Shirley Carriere, Elaine Verbonac, Cathy Kary, Pat Anderson, Maureen Smith-Windsor
Front left to right: Adele Giblin, Guest speaker Mika Lafond, Theresa Hall, Rose Rogers, Jane Moker, Camille Rochon
---
Invitation to St. Joseph's CWL Kindersley Diocesan Convention April 23, 2018

Welcome to Diocesan Convention 2018
St. Joseph's CWL KINDERSLEY
We are a group of Catholic women
Our town knows us well
We are friends and sisters in the league
We are St. Joseph's CWL.

Some visit the sick in the hospital
Some go to seniors at home
It helps to make the day better
When they are living alone.

We make lunch for funerals
So friends can come to grieve
And far-away friends can have
A snack before they leave.

We host birthday teas at Heritage Manor
Birthday cakes are always a welcome treat
We eat and chat and say a prayer
With new friends that we meet.

Some help in the church
When they are called to sing or read
CWL is ready
To answer every need.

We work and pray together
A few stories we will tell
We try to do our best
We are St. Joseph's CWL.

We don't think we are saints
On halos we don't dwell
We all love our parish
We are St. Joseph's CWL.

We try to help the poor
And those we know in need
Through winter, spring, summer and fall
Inspired by the Spirit

We respond to God's call.
We're happy to be welcomed here,
To extend an invitation,
To join us back in Kindersley,

For next years diocesan convention.
The date is April 23,
You will find us at the hall
Where we will continue this fellowship
As women responding to God's call
We will be inspired by the spirit
With hearts full of faith, hope and love
As we continue on this journey
With guidance from above
So please come join us in twenty eighteen
where we will come together as one,
As proud members of the CWL,
For a convention of fellowship and fun.
With St Joseph's CWL
Written by: Paula Haubrich and Jeanette Martin
Kindersley St. Joseph's CWL
---
St. Peter's CWL 70th Anniversary Celebration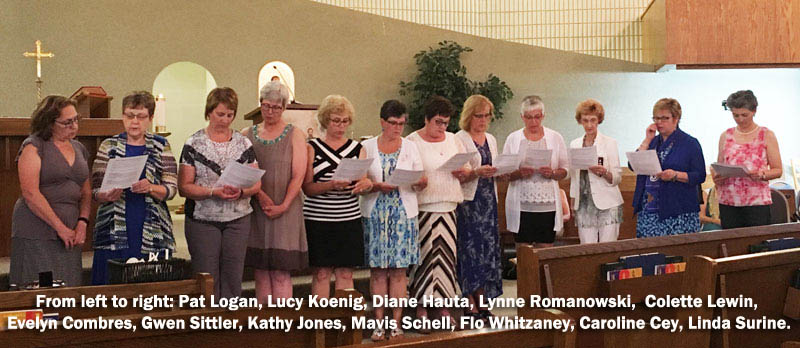 On June 7th St. Peter's CWL of Unity, SK celebrated the 70th Anniversary of their council. Mass was celebrated by the council's spiritual director Father Gregory Roth, followed by installation of the officers.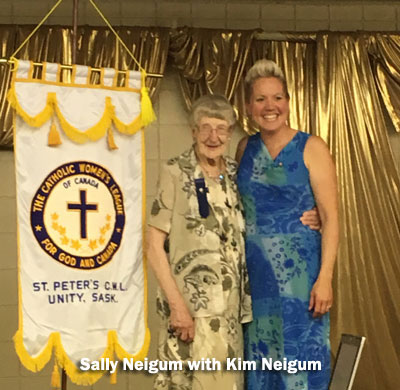 An excellent catered meal was had, followed by a short meeting and presentation of pins. The evening ended with a speaker from the health district on mental health.
One of the most special moments was the presenting a 70th pin to one of our founding members, Sally Neigum!
---
Saskatoon Holy Spirit CWL hosts live streaming of the 2017 National Convention
Holy Spirit Parish, Saskatoon welcomed 19 members from different CWL Councils. We started our early morning with a potluck breakfast and were seated by 7:45 AM to watch the live streaming from the National Convention in Prince Edward Island. There were some good questions submitted and discussion took place between and after the streaming.
You can download the report from the event HERE.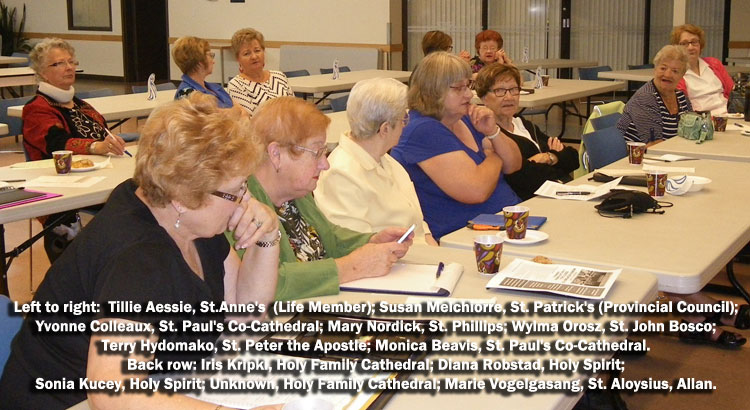 Women gathered for streaming from the 2017 CWL National Convention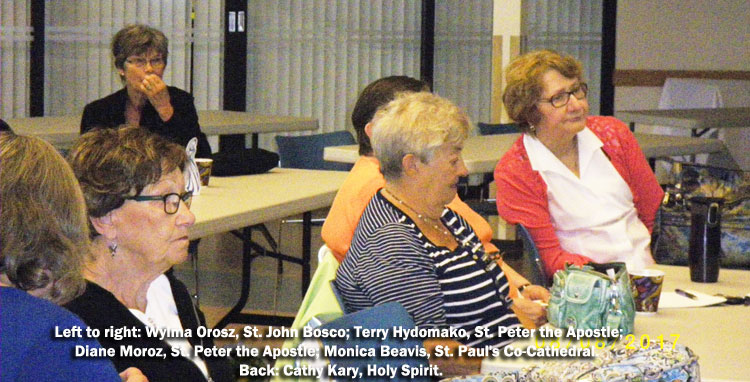 Others in attendance but not in Photos: Elaine Easton, Holy Spirit;
Letty Zereselaise, Holy Spirit; Yvonne Rogers, Holy Spirit.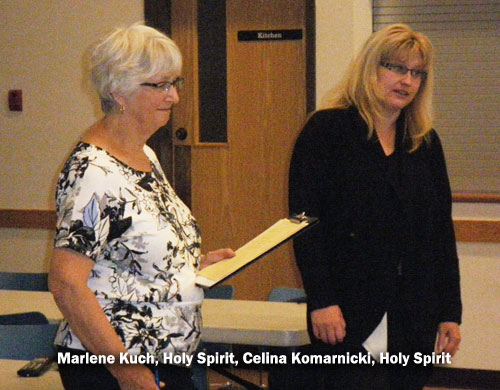 Marlene Kuch thanked Celina Komarnicki for getting the live streaming working for our Town Hall session.
---
Saskatoon Holy Spirit CWL Golf and Lunch 2017
For years, Saskatoon Holy Spirit CWL and Friends Golf and / or Lunch twice a year. Golfers meet at 9:00 am. We have a good round and do not "count our scores". At noon, we are joined by other friends who do not wish to golf. We have lunch, visit, and many laughs. Lots of good memories are made.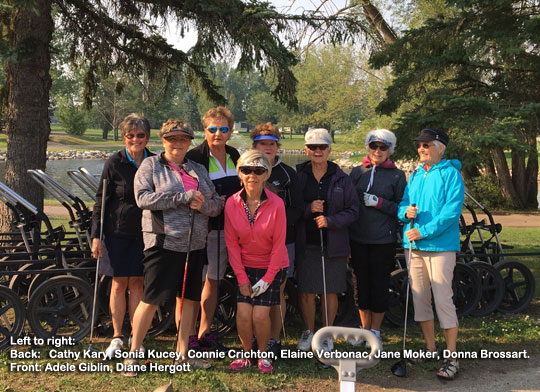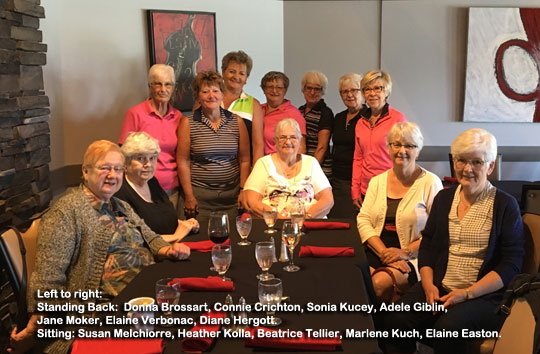 ---
St. Bruno CWL celebrates their council's 90 Anniversary

On June 15th, we celebrated mass followed by a banquet in the parish hall.

Abbot Peter Novecosky, Fr. Kevin McKee, Fr. Cosmas Epifano (our parish priest), local dignitaries and our CWL Diocesan and Provincial presidents joined us in the event. CWL members also received their anniversary pins.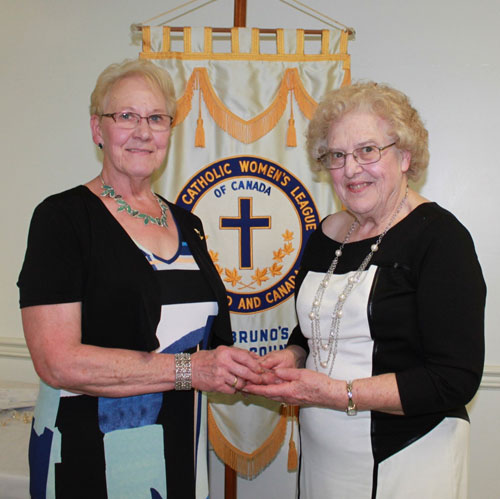 President, Betty Welter with Louise Schmeiser receiving her 65 year pin
Past presidents of St. Bruno CWL council with our anniversary cake.
---
Saskatoon Diocesan Executive CWL Oral Reports May 1 2017
The 82nd Saskatoon Diocesan Annual Convention was held on May 1, 2017 in Watrous, Saskatchewan.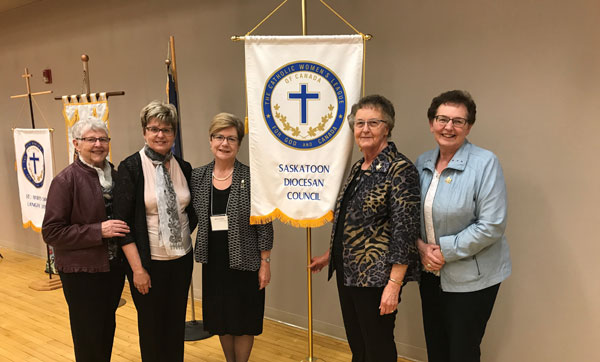 Regina Diocesan President, Marilyn Schuck, having a happy reunion
with CWL members from St. Theresa's, Rosetown , her former hometown.
L to R: Lucille Schultz, Helen Mourre, Marilyn, Armella Rolheiser, Dorothy Rollheiser
The reports from the convention can be viewed or downloaded HERE.
---